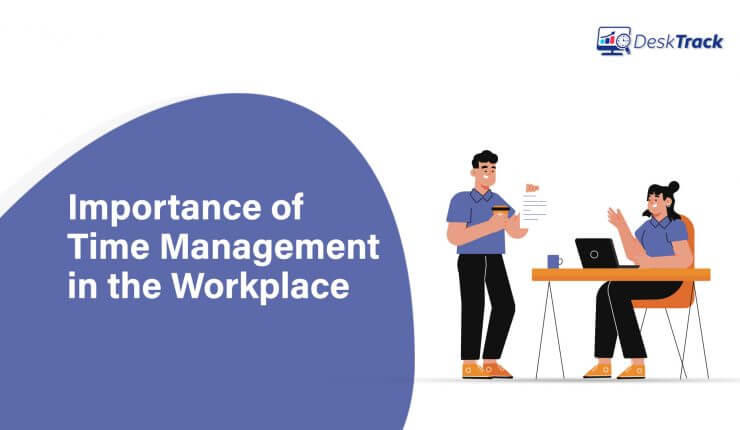 Imagine you are working on a project assigned by your senior manager. However, with too many distractions on your way and a short deadline, things go haywire. This is where the importance of time management comes into the role. Time management, when wisely followed can help you to increase your productivity along with the overall performance at work. It can improve the efficiency of an employee and allow him to produce high-quality work on their deadlines.  An employee goes through multiple distractions, resulting in a delay in work completion.
Table of Contents
Importance of Time Management in the Workplace to Get Success
According to one study, on average employee spends around 1-2 hours recovering from the distraction. This completely affects time management. Once you understand the importance of time management in the workplace, things become easy.
Following a time management strategy is crucial for every company to prioritize the tasks and meet goals faster. You can take on the excellent opportunity and sustain the company's growth with a good plan.
Lack of Time Management at the Workplace Can Lead to
Procrastination
Procrastination is the leading problem in time management at work. Once this issue starts overpowering, you will start facing a lack of time and delays in your regular work. In an organization, projects run on a deadline basis, and you need to work on the mentioned timeline. The procrastination issue doesn't limit to the workplace, but in personal life too.
Lack of Professionalism
Delay in completing the projects will showcase your lack of professionalism. Clients and your manager won't be happy enough when you keep delaying your part of the work. Once the tag of unprofessionalism hits you, it can damage your career path. When you know the importance of time management in the workplace, there is no space for a lack of professionalism.
Unwanted Stress
Delays in work and pressure from the higher authority will lead to unwanted stress. There are employees who end up leaving their job or face health issues due to unwanted stress in the workplace. If you are good at strategizing your time management at work, things can be eased down and limit the stress you.
Importance of Time Management in the Workplace
Time Management is one of the most important skills in a professional's toolbox. Time management is also known as To-do lists, and it can be accessed at any given moment to add tasks for your day-to-day routine or business activities. So, here are some points that will definitely define the importance of time management in the workplace.
On-Time Submission of Work
Setting a time frame or deadline for every task you perform can help you complete it on time and help you manage the workload & time more efficiently at the workplace, and increase your productivity.
Producing High-Quality Work
Another major importance of time management in the workplace is presenting top-notch work quality. If you increase your productivity with employee productivity monitoring software, it will naturally turn into high-quality work. You are responsible for delivering the work to some standards and quality as an employee or boss. It is easy to produce good work quality if you manage the time and prioritize the tasks.
The time management skills will help you prioritize the work. You can complete the high-priority work with total dedication and focus and give all your time. It will help you a lot to increase the work quality.
Finishing More in Less Time
If you learn to control your time, you can significantly improve your focus. If you can focus more on the task, your efficiency can improve because you will not get distracted for a moment. You can complete your whole task with minimal effort.
Enhanced Decision-Making Skills
With an improved method of time management, you will hone the skill of enhanced decision-making. In a short period, you end up taking a quick decision without thinking about its result. It can lead you to make poor decisions. With good time management in the workplace, you can quickly eliminate the feeling you are abiding because of limited time. By managing your time, you can feel calmer. It will help you to avoid wrong decisions.
More Productive, Less Stress
There is no secret that good time management at the workplace makes you even more efficient and productive as a working professional. Every skill is helpful to help you finish tasks as soon as possible without compromising work quality.
The overall productivity goes tossed up while working on unimportant work, but good time management techniques will help you to complete the tasks that are urgent and important simultaneously. Some employees are overwhelmed by excessive work on their desks, which hampers productivity and affects your health.
Help in Team Growth
Once you have the knowledge of the importance of time management at work, you can improve your productivity, efficiency, and work quality with good time management. Applying this technique to your team will lead to team growth. You can divide the task with your team and finish it on or before the deadline.
Types of Time Management Skills for the Workplace
Have you ever wondered what types of time management skills are most important to having a successful career? If so, then read on and find out all about the various types of time management skills.
Prioritizing
Prioritizing the tasks is means noting down your tasks in order of importance and urgency. If you cannot prioritize the tasks, you cannot know which one is important and urgent to achieve the goals. It is crucial to focus on the priorities to get successful in your profession. When people prioritize their tasks, they will realize the unimportant things they do daily. You can eliminate those tasks from the list and assign some more critical tasks to help you reach your goal much faster. The management tools will help you set the priorities from the start of your project.
Scheduling
The scheduling is crucial as some work must be done at a particular time. Scheduling will affect the month, week, day, and other people's workflow. Most of us have one specific time in a day when we are less or more productive according to our energy levels. Schedules can even be great for avoiding procrastination.
Read more: Major Activities for Employee Engagement to Motivate your Workforce
Task Management
Task management skills are the best way to avoid something fundamental. They are the best ways to avoid spending your entire day thinking about the tasks you will do. Reminding of tasks can be very exhausting and takes a lot of energy. You can split your necessary and important tasks on the daily list, and you will not have to worry about tasks at once. You can take on important tasks according to the urgency.
Workload Management
Pacing up the work, even it might seem you like an odd thing to be considered as a skill. But it is a very crucial thing in the concept of workplace time management. Skipping breaks or working long hours might improve productivity, but it will exhaust you in the long run, and after some time, your productivity level will drop. Until you face any emergencies, it is crucial to control your temptation. You can include the necessary breaks in the schedule. Enforcing workload management will ensure consistency in performance and will avoid burnout. The employers will be able to depend on you in the long run.
Delegation
Depending on what sort of work you perform, you might be able to delegate a few tasks. Knowing when and what to delegate is a crucial skill to master. Few resist delegating because they wish to control or save extra money by not hiring someone. Each of these approaches will only raise costs and hurt your productivity. Remember, if you diligently practice your time management skills and can't get all things done, you are forcing yourself off your limits. It's better to succeed in some tasks than fail at more tasks.
Tips to Improve Time Management at the Workplace
Since we have covered the importance of time management in the workplace and types of management skills, let us check tips to improve time management at the workplace:
Try to figure out the time you are spending:
If you want to improve your personal time management, you must first determine where your time is going. Try documenting your daily activities for a week and attentively logging your time. You need to check what activity is taking away your time with activity time tracking software. Focus on activities that offer you the best return. During this time audit, you will notice how much of your time is spent on unproductive thoughts, discussions, and activities. You'll get a better understanding of how long particular chores will take you.
Creating Daily Schedule
This phase is critical for learning how to manage your time at work. Don't even think about starting your day without a to-do list. Make a list of the most important duties for the next day before you leave the workplace for the day. This stage allows you to get started as soon as you arrive at the office.
Prioritizing Things Wisely
Prioritization is essential for effective time management at work as you structure your to-do list. Begin by removing jobs that you should not be doing in the first place. Then, choose the three or four most important jobs and complete them first; this ensures that you complete the necessities. Examine your to-do list and ensure that it is ordered according to the importance of a task rather than its urgency.
Save time by attempting to finish all of one type of to-do before you move to the next job. Set aside time for responding to emails, making phone calls, filing, and so on. Responding to emails and messages as they arrive is a distraction at its finest.
Conclusion
Setting up goals with a focused mindset will help in delivering proper results at your workplace. Having a concrete idea about the importance of time management and following the strategy will positively impact your professional life. The ultimate aim is to deliver quality and on-time work to seniors and clients.