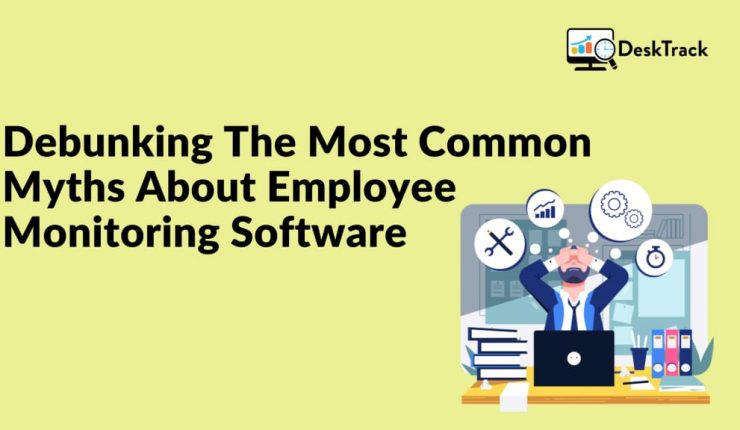 Employee Monitoring Software is a debatable topic, discussing the topic can give us many different opinions. This software is considered as a spy tool and even to micromanage but the truth is different from the conception. There is an endless debate about its pros and cons and many questions arise on its implementation.
There are irrefutable facts that how this tool helps in HR management, workforce and employer relation, and general organizational workflow. The main objective is to create transparency and collaboration.
There are some most common myths about Employee Monitoring Software and an explanation of why they are wrong
Myth #1 Employee Monitoring is Illegal
Workplace monitoring is legal. If company resources are being used by individuals, organizations are legally allowed to monitor all activities performed on the device. In many countries, no permission is required, and the law is in employers' favor.
Employers should be fully transparent about software implementation and usage. Mentioning the importance, benefits, and need of the tool.
Myth #2 Employee Monitoring Creates Trust Issues
Many organizations need Employee Tracking Software to organize the workflow according to their needs. These tools give a great way to gain insight into the team's habits, requirements, and actions. Employers can give data-based feedback on individuals' performance. They can even know when their team needs help. This way there will be no trust issues between organizations and employees.
The software helps to stay focused and connected with the task. Even individuals can also track their break, productive hours, meeting hours, and organize workload.
Large organizations can also use this tool to protect them from malicious attacks and information leaks.
Myth #3 Employee Tracking Interrupts Teams Privacy
The most common myth individuals think Monitoring Software can be interfering and hampering their privacy. Teams are not allowed to conduct private business during working hours.
It is also true that no one can be 100% productive throughout the day, for there is a pause button in the software, that time can be used by Individuals as private time. This tool doesn't invade privacy but helps individuals to stay focused and productive.
Myth #4 Monitoring is All About MicroManagement
The monitoring tool can contribute to making individuals more self-governing, as managers will get the information they need at a higher level without going into details.
This software helps to create short and medium-term goals, establish realistic deadlines, and observe phases of the project.
Myth #5 Demotivates The Team
This tool stores employee data, reports that help them to improve their performance, work ethics, motivation towards work, and dedication. Employers can understand individuals better and assist them accordingly.
The software lessens the communication gap between the employers and employees, as individuals can take possession of their work and increase their efficiency. This also helps to create a positive, productive, and motivated workplace.
Myth #6 Only Beneficial For Employers
Individuals can also examine their work by being able to see how much time they spend on each app, website, task, and project. Individuals can also easily pop up the analytical dashboard and see their largest distraction & at what time they are most productive. This can be valuable for them as Individuals can manage their future tasks more accurately.
By tracking data, employers can provide proper, data-driven evaluation and can find out which employees are performing well, and also find the area of improvement.
This way Tracking tool is beneficial for both individuals and employers.
Summary
When software is implemented properly by notifying your team about its benefits so all the myths can be disappeared. Knowing all the data and reports offered are to increase team engagement, morale, and efficiency.
Employee Monitoring Software like DeskTrack can help managers to identify which individuals need training. The workplace becomes more transparent. The team will take ownership of their work and have the motivation to achieve success.