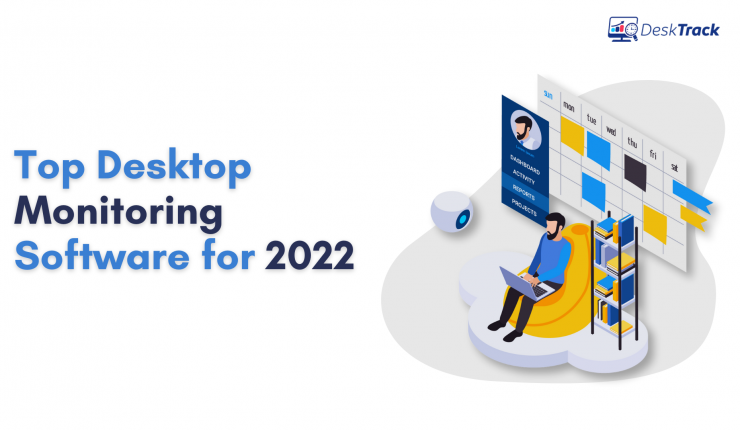 With remote and hybrid work setups being central to the new normal in business, it has become crucial for leaders to acquire new technologies and adopt new practices to accommodate changes. One of these changes is the inability to closely and personally monitor remote employee desktop productivity during a workday with top remote employee desktop monitoring software. 
While it is still the best practice to shift the focus to results, rather than presence, it is still in the business's best interest to utilize technology to monitor the employees' work-related activities, especially on company-owned devices. Here we are sharing the list of top desktop monitoring software for 2022. 
What is Employee Desktop Monitoring Software?
It is also referred as Remote employee pc monitoring software. Desktop monitoring software gives business owners and leaders insights into how employees spend their workdays. It goes beyond clock-ins and clock-outs, and schedule management. The features of these monitoring platforms can include monitoring screenshots, logging keystrokes, and location tracking, to name a few. Although these features and services are designed for large businesses, they are for the purpose of tracking activity, rather than specific individuals. Some employees might feel that such measures are a bit heavy-handed, so it takes careful consideration and efficient communication when implementing them. 
Generally, here are the key features that you'd want to look for in desktop tracking software:
Automated Time Tracking

Productive Time Calculation

Desktop Activity Logger

Application and URL Tracking

Project Time Tracking

Performance Analytics

Mobile Time Tracking

User Logins Tracking

Screenshots, live feed of monitors
Here's a List of the Best Desktop Monitoring Devices for 2022.
DeskTrack is the optimal PC monitoring software solution for evaluating performance and increasing productivity by up to 40%. Its top features include automated desktop time tracking, productive time calculation, desktop activity logger, application tracking, and URL tracking, among many others. Through DeskTrack's remote employee desktop monitoring software employees, managers, and employers alike can benefit from the platform's detailed reports, identify gaps, boost productivity, and improve efficiency. You can choose from three packages, namely DeskLite – @RS 99/M, Stealth – @RS 350/M, and Tagger – @ RS 500/M. They offer a 15-day trial, with no credit card information required. 
An extremely secure employee pc tracking software, Teramind offers features that track employee desktop activities. Such as email activity, website, and app usage, online meetings, webchats, file transfers, social media activity, clipboard functions, keystrokes, and print jobs. They also offer access to a wide range of reports, policy management functions, and real-time alerts. Aside from these, you also get access to behavior analytics, such as insider threat detection, anomaly detection, and dynamic risk scores, among others. You can choose from three plans available, depending on the level of monitoring you need for your team: Teramind Starter, Teramind UAM, and Teramind DLP. 
This employee pc monitoring platform offers quick, organized, and user-friendly insight into remote employees' productivity by tracking desktop/laptop log-ins and log-outs, idle time and active time, and how productive the active time was. Other key features include tracking screen captures, emails, website visits, chats, and files. Available for both on-premises and cloud-based monitoring. Interguard also features an organized and intuitive user interface that can help you spot trends and gaps with ease. This platform supports Windows, Mac, Android, iOS devices, and Chromebooks, as well as VDI and terminal server environments. 
This straightforward and budget-friendly desktop monitoring tool can track the activities of employees, such as logging in and logging out, enabling or disabling two-factor authentication, changing or resetting passwords, and installing or uninstalling applications, among others. Reports include software logs of the activity details, timestamps, and the IP address associated with the activities. There are six plans to choose from depending on the number of PCs to monitor. Starting at $59.95 per PC per year under the Basic plan.
Controlio offers all the standard features you look for in an Employee PC Tracking system software. Attendance tracking, recording file usage, monitoring app, and website usage, and storing data. It also allows you to set website filters to restrict employees from visiting risky websites. A key feature of Controlio is real-time monitoring of employee screen activity. It also lets you review past activities through recorded video footage. Controlio's cloud plan offers a low monthly fee of $7.99 per user. They also offer a free trial for 14 days for up to three users.
Especially useful for large enterprises that require complete insight into remote employee desktop activity. Veriato is a comprehensive software for employee monitoring and insider threat detection. Key features include tracking workplace productivity, conducting employee and forensic investigations, maintaining legal compliance, detecting insider threats, and preventing data loss. With the platform's advanced features, Veratio may be deemed a bit complex to learn. The company offers three plans, namely Cerebral, Vision and Investigator. Your plan of choice would depend on your hosting method, features required, and target size.
The employee desktop/PC monitoring platforms available on the market today include many features, and the ones you need will depend on your specific requirements. The size of your company, and the level of monitoring you will be doing.