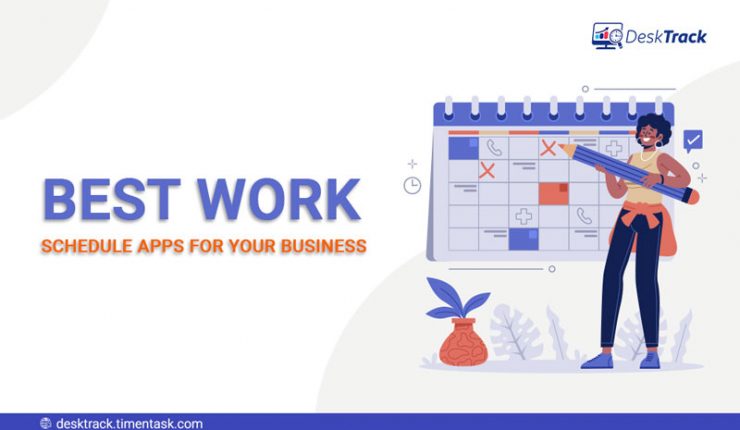 Applications for work schedules have developed into essential tools for businesses to manage their personnel scheduling procedures effectively. These applications offer numerous benefits, including enhancing productivity, enhanced communication, and easier teamwork. We'll go into the advantages of activity scheduling for your business in this in-depth post and look at why it's necessary. We'll also recommend the best work schedule Apps to help you optimize your scheduling procedures. 
Scheduling Activities Is Most Important 
Any firm must have productive and efficient operations. By putting work scheduling into practice, you can ensure tasks are organized, deadlines are met, and resources are allocated effectively. By removing conflicts and overlaps, this method enables your team to function as a unit and make the most of their time and abilities.
Increased Efficiency and Productivity
Work schedule apps are vital in increasing productivity and efficiency within your organization. These apps help you prioritize tasks, assign them to the right team members, and set clear deadlines. By streamlining workflows, you can eliminate time wastage and ensure that essential activities receive the attention they deserve.
Enhanced Ways of Conversation and Collaboration
Effective conversation and Collaboration are critical to the success of any business. Work schedule apps facilitate these essential aspects by providing a centralized platform for task assignments and sharing updates. With real-time notifications and clear visibility of everyone's schedules, team members can coordinate seamlessly and stay aligned on project progress.
Benefits of Scheduling Resources
Work scheduling plays a crucial role in the success of any business. By effectively managing and allocating resources, companies can optimize productivity, reduce costs, and enhance Collaboration among team members. Work schedule software are powerful tools that streamline the scheduling process, making it easier for businesses to manage their workforce efficiently. This detailed guide will explore the benefits of scheduling resources and recommend the best work schedule apps for your business.
1. Improved Time Management:
Work schedule apps help businesses prioritise tasks and deadlines, leading to improved time management. Employees clearly understand what must be done by assigning specific time slots to activities and when. This ensures no essential tasks are overlooked or delayed, increasing productivity and timely project completion.
2. Resource Allocation at Its Best
Resources must be scheduled effectively if their utilization is to be maximized. Organizations may use work schedule software to assign employees with the right talents to particular tasks or projects. Companies may guarantee that resources are used effectively and lower the risk of overstaffing or understaffing by matching the abilities and availability of personnel with the requirements of each assignment.
3. Better Interaction:
Any company's smooth running depends on Collaboration. Applications for work schedules provide a centralized location for employees to access their schedules, assignments, and due dates, promoting greater Collaboration and communication. Consequently, as it encourages transparency and clarity, team members can coordinate their work, share information, and communicate.
4. Streamlined Workforce Management:
Work schedule applications make it easier to manage a workforce. They make it simple for businesses to create, amend, and share schedules. Schedule modifications that are communicated immediately guarantee that everyone is guided and on the same page. Additionally, these applications frequently include practical features like shift shifting and time-off requests, easing the operational responsibilities of managing staff schedules.
What is the Purpose of Work Schedule?
A work schedule serves the purpose of establishing a structured workflow and ensuring adequate staffing in your business. It helps you complete tasks effectively and efficiently, improving team members' coordination and productivity.
1. Establishing a Structured Workflow
Clear Task Assignment:

The work schedules app assigns specific tasks to individuals, ensuring everyone knows their responsibilities.

Time Management:

Schedules app prioritises tasks, enabling a structured workflow and efficient time allocation.

Consistent Routine:

Work scheduler establish a consistent employee routine by providing a predefined schedule.
2. Ensuring Adequate Staffing
Avoiding Understaffing

: Work schedule software help businesses avoid understaffing situations by ensuring the correct number of employees are scheduled for each shift or project.

Managing Workload

: Schedules apps enable efficient workload distribution among available staff, preventing overload on individuals.

Adaptability to Demand

: With a work scheduler, businesses can adjust staffing levels based on seasonal or fluctuating demands, maintaining optimal productivity.
Top Work Schedule Apps for Your Business
DeskTrack: 
DeskTrack is a user-friendly platform designed for businesses that pay hourly. It streamlines shift scheduling, onboarding, team communication, and Labour Cost Management. The app simplifies scheduling, tracks hours with GPS, and enables easy wage calculation and payment.
DeskTrack Key Features:
Simplifies shift scheduling, onboarding, team communication, and labor cost control for businesses operating on an hourly rate model.

Unified timetable creation and sharing, built-in time tracking, and GPS clock tracker for accurate hours and wage calculation.

 Configure Productive & Idle Time of Employees.
2. Humanity: 
Humanity is a user-friendly job scheduling app that simplifies the process, saving time and minimizing errors. It enhances the customer experience by empowering employees to request shift changes and enables managers to approve them quickly. With Humanity, businesses can reduce overhead costs associated with scheduling.
Key Features of Humanity:
User-friendly interface for easy scheduling across devices.

Time-saving templates and availability rules for error-free schedules.

Employee empowerment through shift change requests.

Manager approval system for seamless scheduling adjustments.

Cost reduction by optimizing shift scheduling and reducing overhead expenses.
3. DeskTime: 
DeskTime is a comprehensive work schedule app that offers personalized scheduling for teams and individuals. Managers can set total working hours and minimum hours for employees. The app also provides time tracking, productivity analysis, and the ability to generate efficiency reports. It caters to various industries and work environments, not just computer-related tasks. With its accessible and transparent dashboard, DeskTime suits large and small teams.
Critical Features of DeskTime:
Personalized scheduling for teams and individuals.

Time tracking and productivity analysis.

Efficiency reports and analytics for informed decision-making.
Connecteam: 
Connecteam is a user-friendly communication hub designed for deskless teams in various industries like retail, hospitality, security, and construction. This work schedule planner simplifies shift planning, task assignment, and time tracking within a single app. It offers in-app chat, a shared knowledge base for employee onboarding, training resources, and the ability to create surveys. Stay connected and enhance workplace efficiency with Connecteam.
Main Features of Connecteam:
All-in-one employee management app for scheduling, communication, and task management.

Customizable mobile on-site and remote workforce management app.

Shift scheduling and time tracking with GPS.

Mobile-first communication platform with group chats, private messaging, and push notifications.
Main points and Factors to consider while selecting
Work schedule Apps
When selecting a work schedule app for your business, consider the following factors:
User-Friendly and Easy to Implement:

Look for an app that is intuitive and easy to use, ensuring quick adoption and minimal training. The app should streamline scheduling and save time for managers and employees.

Integration with Existing Systems and Tools:

Ensure seamless integration with your current systems, such as payroll and communication platforms. This eliminates manual data entry and improves overall efficiency.

Flexibility and Customization:

Choose a work schedule app that is adaptable to your company's needs. Look for features like customizable shift templates, employee availability options, and scheduling flexibility to handle complex requirements.

Mobile Access and Notifications:

Opt for an app that provides mobile accessibility, allowing managers and employees to access schedules, make changes, and receive notifications on the go. This enhances communication and keeps everyone updated on schedule changes.
Consider these factors to make an informed decision and find the best work schedule app for your business.
Conclusion
Integrating work schedule Apps into your company may significantly improve productivity, efficiency, and teamwork. With the right technology, you can simplify work assignments, maximize resource allocation, and enhance time management. The top work schedule applications to consider are DeskTrack, Humanity, DeskTime, and Connecteam. Prioritise features like user-friendliness, integration, customization, mobile accessibility, and reporting capabilities when selecting an app. You may manage your employees successfully and promote success in your company by using the finest work schedule software.