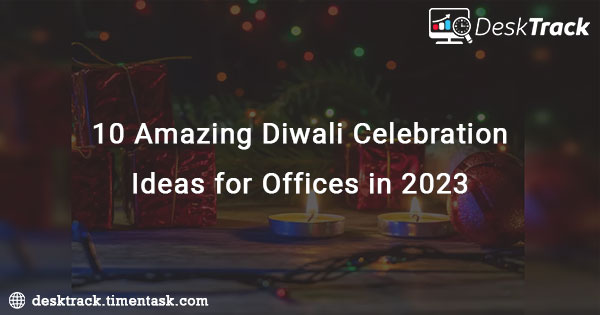 Diwali is here. Are you finding Diwali celebration ideas for the 2023 Diwali celebration at your workplace?
Diwali is the festival of lights. It is a cultural masterpiece that connects people irrespective of boundaries, the festival promotes unity and employee engagement in workplaces. It symbolizes the triumph of good over evil and can purify corporate spaces from negative elements like segregation and favoritism. 
Celebrating Diwali at the office provides an opportunity to create an inclusive and eco-friendly workplace. However, to explore creative celebration ideas, it's vital to consider the environmental impact of fireworks during the festival.
By including innovative ideas and planning  a cleaner, healthier environment, workplaces can use Diwali as a platform to promote sustainability and inclusivity. It can promote a brighter, and more sustainable workplace.
In this blog, we will explore 10 innovative and creative Diwali celebration ideas in the office. 
We will let the glow of this festival illuminate not just your workspace but the path to a brighter, and more sustainable future.
So, let us begin the exploration of the Diwali celebration ideas.
Benefits of Diwali Celebrations at Office
Before finding the Diwali celebration ideas for 2023 office Diwali parties memorable. Let us find some key benefits of celebrating Diwali in offices. 
Since Diwali brings people together irrespective of existing issues. It can also connect employees irrespective of the departments they belong to.
Celebrating festivals like Diwali at the workplace promotes cultural inclusivity among individuals.
These celebrations promote team bonding and provide feelings of togetherness among employees. They are also helpful for employers to understand their employees better. Just like

DeskTrack

does by monitoring employees.
Office celebrations are a golden opportunity to understand employees in a casual setting apart from daily work-related activities.
Such activities help employees find hidden talents in employees. And, they can make plans to utilize them for the betterment of the organization.
10 Diwali Celebration Ideas to Make 2023's Office Diwali Memorable
Let us now find the 10 amazing Diwali celebration ideas at the workplace here:
Create the Diwali Vibe with Amazing Office Decorations
The first thing to do to make the office Diwali party amazing this year is decorate offices with lights, rangolis, and attractive art pieces. After all, how offices look will be the first attraction points for employees. You can seek employees' help to find amazing ideas for Diwali decorations in the office.
Make Diwali a Family Affair
Since Diwali is a festival where we meet and greet with family and friends, creating familiar vibes in offices is essential. Organizations planning Diwali celebrations at the workplace in 2023 should invite all employees irrespective of hierarchy and teams. They should let everyone come together and make Diwali 2023 an event worth remembering.
Keep Potluck Party in Office
Well! Every celebration is incomplete without food. Then how can a Diwali celebration at the office be complete without food and sweets? If you are planning to celebrate Diwali in office this year then conducting potluck parties can be a great idea! You can plan to keep different traditional dishes from multiple communities and regions a part of Diwali party food. This will surely bring smiles to your employees' faces.
Conduct Themed Photoshoot/Fashion Shows in the Office – 
"Say no to usual Workplace attire" on this year's office Diwali celebrations. Plan themes for this year's Diwali celebrations in offices. Ask your employees to dress accordingly. Since Diwali is a traditional event, keeping Ethnic wear as a theme can be an amazing idea. Also, seeing your employees in ethnic wear different from normal workday formal dresses. It will bring a new freshness to the Diwali Office Celebrations.
Office Talent Hunt can be Fun on Diwali
Finding new talents for your organizations? Diwali celebrations in the office can make it happen too. Conducting talent hunts in Diwali office parties can be fun. It has two benefits; 
Employees will be happy to showcase their talents, apart from daily work-related deliveries.

Employers will find new skill sets in their employees and they can plan how these skills can help to better the organization's productivity.
What can be Better Than Office Diwali Melas?
We all have unforgettable childhood memories when we think about the fair or mela. So, organizing fairs for Diwali celebrations in offices can really help your employees to relive their childhood. You can ask employees to organize their stalls and activities and invite outsiders, family, and friends of the team on tickets to make this event more grand and remarkable.
Rewarding Annual Achievers
Organizations can keep the annual award ceremonies recognizing their best performers. Using efficient productivity monitoring software to identify the best performers can help. Along with dance, fun, and food during the party, employees will take back home awards to make this office Diwali celebration unforgettable.
Conduct Decor Competitions
Finding how to decorate the office in Diwali for the 2023 office Diwali celebrations? The best activity is conducting decor competitions for employees. This will serve two purposes, keeping employees engaged and getting offices decorated amazingly. This is one of the best Diwali activities for adults in offices, especially female employees will love it!
Diwali Puja is a Must
No Diwali celebration can be complete without Puja. Although it's not so creative or different, it is a mandatory activity to do for the Diwali celebration in the office. Everyone will enjoy Diwali puja together as conducting Diwali puja with co-workers. It is a bit different from conducting puja with family at home.
No Office Celebration is Complete without Dance
Everyone loves to celebrate with music and dance. So, will your employees love it? Playing nice songs and allowing the team to showcase their dancing talents will make this year's office Diwali celebration amazing.
Conclusion
We hope these amazing Diwali celebration ideas will help you plan an amazing Diwali celebration for your team. We wish you the best Diwali celebration for your employees this year! Wishing happy office wali Diwali in advance on behalf of the DeskTrack team!