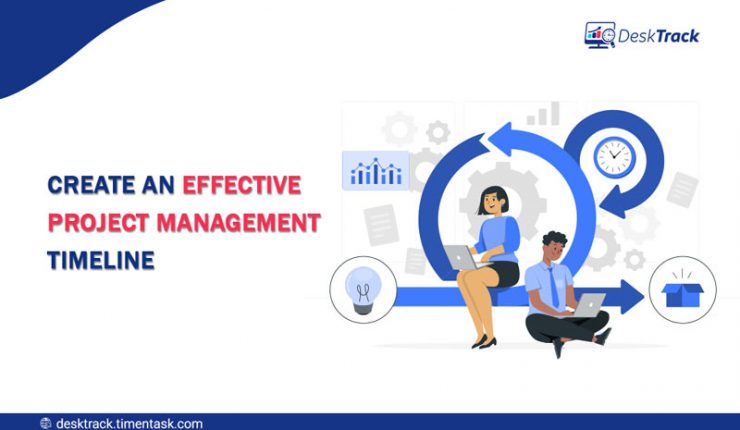 A Project Management Timeline is a detailed task schedule that helps teams to set clear directions and priorities to close the most critical tasks first. It is an outline or draft including details of the tasks to be done and their respective deadlines. A project timeline enables the entire team to track when each task will be fulfilled and when the whole project will be completed.
An effective Project Management Timeline will help each team player to structure all their delegated tasks and activities. As a result, every team member will be able to keep a tab on every step they accomplish, ensuring optimal time management. Besides, project timelines also enable employees to deal with errors or mishaps on time before they cause serious damage, thus maintaining business continuity and work efficiency.
9 Ways to Create an Effective Project Management Timeline
The answer to "How to Create Project Plan?" is described through the following effective methods.
1. Define the Project Scope
Identify and define the project scope by reviewing and listing all the steps you need to take to accomplish the project within the given deadline. Define the project goals and objectives by adding details about key deliverables and milestones.
Besides, determine the probable limitations and constraints of the project, and mention backup plans accordingly. By limitations, we mean the possible issues with research procedures, time constraints, limited access to data, and a lack of resources. Plan these ahead to stay covered during emergencies.
2. Identify Project Tasks and Activities
Make a project brief by identifying the tasks and activities to be performed. Break down the large steps into bite-sized tasks to make them more manageable. By breaking down your entire project into smaller tasks, it will be easier to attach timelines to them.
After breaking your big project into bits and pieces, assign the right resources to each task or activity. It may include the project schedule management tools, budget, and human resources required to complete each assignment.
Furthermore, determine the relationships between different tasks and their dependencies to make a more detailed project timeline overview. Tasks dependencies refer to the order in which every step or task needs to be fulfilled, thus offering the fastest route to wrapping up the project.
3. Estimate Task Durations
For effective project timeline management, estimate the specific durations for every task or group of activities. To determine the expected durations for task completion, use historical data, expert judgment, and knowledge from previous experience.
Consider all the factors that may impact task durations, including resource availability, the proficiency of your team players to use different tools, task dependencies, etc. Document these estimated task durations and create a detailed task list.
Being a responsible team leader, you should estimate the project duration by estimating the time taken to complete each individual step or task. Allot a reasonable Amount of Time for Your Project. And keep some room for errors and unseen situations, such as lack of availability, holidays, etc., when the tasks may need a little longer to close.
You can sequence and schedule  your work in this format:
Task A: 2 days

Task B: 4 days

Task C: 3 days

Task D: 1 week, and so on.
4. Sequencing and Scheduling
Arrange all your tasks in a logical sequence, preferably in terms of priority. Keep the most crucial tasks first and delegate immediate actions to capable team members who can handle on-priority jobs efficiently. Allocate the right resources to every step of the project by identifying the strengths and weaknesses of each.
Furthermore, determine the critical path to be taken to accomplish each task. You can also take the help of project schedule management tools to schedule and sequence your tasks effectively. These tools help manage both simple and complex projects and help teams scale their tasks through efficient task management and Employee Time Tracking.
5. Define Project Milestones
Identify the project's key milestones to mark specific points throughout the Timeline for Project Management. The milestones will be your checkpoints to track the activities that have been completed and will mark the end of an old phase before starting a new group of activities. By defining project checkpoints, you can highlight the successful completion of vital tasks or events, measure the team's performance, and track the project's progress.
Set clear criteria for the completion of every milestone. A project milestone is a vital event that marks the start and end date of a particular task, such as the planning phase, the designing phase, the implementation phase, and so on. Also, assign responsible parties and other resources for every milestone to get it done efficiently and within the specific time frame.
6. Establish Deadlines and Timeframes
Set realistic time frames for every milestone, task, or event. Avoid having unrealistic expectations regarding durations and deadlines, as it will confuse the team players as well as the client. Consider factors like dependencies, resource availability, etc., while balancing work deadlines. Be as practical as possible.
Create a timeline with clear deadlines or time frames for every event, group of activities, milestone, or task. It's better to keep a few days extra at hand to manage unforeseen issues or crises. You will also need some window for the final revision of the completed tasks and to check whether all the deliverables are met.
7. Monitor and Track Progress
Make a habit of updating the project timeline regularly by mentioning their real-time progress. Identify any possible deviations from the originally planned timeline. If your team is lagging in a particular area, take corrective actions to help the team players get back on track to pace up.
Also, if possible, arrange backup plans whenever the proposed path faces obstacles. And if you can, try making up for the lost time if one or more team members face challenges meeting deadlines for their delegated tasks. Motivate and help your associates to keep going and stay on the right track.
8. Communicate and Collaborate
Share the timeline for project management with all your team members, clients, and stakeholders to keep everyone in the know. Communicate all the project expectations and deadlines clearly to every concerned individual. Foster a positive work culture of team collaboration and encourage the exchange of positive feedback to help them stay on track.
9. Review and Adjust
Review and assess the effectiveness of the project timeline by tracking its progress and keeping tabs on whether every task is being achieved on time. If necessary, make some fine-tuning and adjustments to your project timeline management process based on the changing project requirements and lessons learned. In this way, you can improve the timeline creation process continuously.
Moreover, check the progress and performance of each team member. Throughout the process, you will also identify the strengths and weaknesses of every member, enabling you to make any changes or modifications in task delegations.
Conclusion
To conclude, planning a project timeline enables teams to decide whether the project is going to be a success or not. By providing an overview of the deliverables and deadlines, an effective project management timeline acts as a roadmap, allowing team players to plan their required tasks and define their sequence of actions. We hope the above approaches on how to create project plan will help you manage your projects and tasks efficiently and meet deadlines confidently.