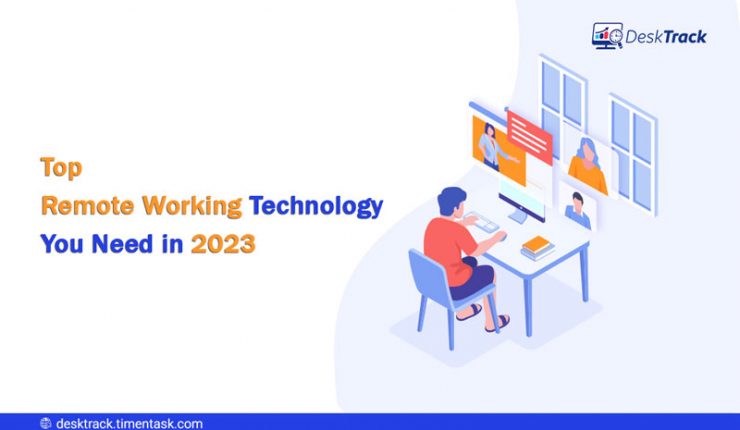 Working from home (WFH), also referred to as telecommuting, is a sort of flexible work arrangement that enables an employee to do business away from the corporate headquarters. If a person is able to work remotely. This configuration may help to ensure work-life balance, and career opportunities, or reduce travel costs. The business will reap the rewards of enhanced productivity, higher employee retention rates, and cost savings on physical resources if it permits employees to work remotely using Remote Working Technology. 
It cannot be denied that, for organizations on a worldwide scale, remote work will overtake in-office employment as the preferable option. 
How Does Remote Working Work?
Today, a lot of businesses prefer to work with candidates who are open to working remotely. Remote working is now more productive and easier than ever thanks to constantly developing technology.
Remote working, also known as working from home allows individuals to carry out their routine work much like their office life. As long as they have access to the technology and resources required to do their jobs. Employees are free to work from any location, including their home, a co-working space, or any other site.  A dependable internet connection, collaboration tools like project management software, communication tools like video conferencing software, and cloud-based file storage services are typically necessary for remote work.
In simple terms, doing work from a location other than the main office is known as remote working. Any location other than the office may qualify as one of these locations, including a worker's home, a co-working space,  etc.
There are many different types of remote employment opportunities. Such as those that are temporary or permanent, part- or full-time, infrequently or frequently. 
When working remotely, it's essential to establish standards for the use of equipment, network security, and performance.
How important it is to use technology for remote work is highlighted by the benefits listed below: 
These tools make it possible for remote workers to communicate with peers, view and share files, and collaborate on projects in real-time.  
The fact that remote work helps both businesses and employees is its biggest advantage. The fundamental advantage of remote or at-home employment is the freedom for employees to choose their own timetables. 

Additionally, the beauty of remote work is that it aids in stress reduction and the promotion of work-life balance between employers and employees.

When a crisis arises, organizations can function more successfully thanks to remote working. Which enables employees to continue working even when they are not physically present at the office.  
Technology Allows for Remote Working
Remote working is now possible because to the current era's technological advancements. Thanks to technology advancements, employees may now work from anywhere as long as they have the proper equipment and an internet connection. The following technologies are some of the most significant for remote work:
1. Video Conferencing 
Video conferencing enables distant workers to participate in meetings and have real-time conversations with coworkers. To communicate while working remotely, many people use video conferencing tools like Zoom, Skype, and Google Meet.  
2. Cloud Computing 
Remote workers now have access to and the ability to share files from any location thanks to cloud computing technologies. The majority of the workers who are employed remotely utilize renowned cloud storage platforms like Dropbox, Google Drive and OneDrive for their benefit. 
3. Collaboration Tools 
With the help of renowned collaboration tools like Trello, Asana, and Slack, remote workers are able to work together on projects, schedule tasks for themselves, and have real time communication with their peers, thus ensuring proper work management. 
4. Virtual Private Networks (VPNs) 
The beauty of employing VPNs is that it empowers employees to utilize the resources of the company and apps when they are working remotely. 
5. Remote Desktop
With the help of remote desktop technology, remote employees are able to access their workplace system which includes saved software and files. 
Top Remote Working Tools
Organizations that have plans to hire remote employees must possess appropriate tools that help in keeping their workforce on the same page. 
Let's look at some remote working tools that will help organizations in ensuring proper workflow even during remote work
1. DeskTrack
DeskTrack is a thorough time tracking software made to track and examine your online activities. It keeps track of the time spent on various programs, websites, and jobs and offers insightful data about your productivity trends. DeskTrack assists you in locating time wasters, enhancing attention, and improving work-life balance.
With well-known project and task management programs like Trello, Asana, and Jira, DeskTrack connects without a hitch. You can use this connection to track the time spent on particular projects and tasks, ensuring precise project tracking and convenient collaboration.
2. Trello
A common remote working technology among startups is Trello. It is versatile, user-friendly, and built with the Kanban system project management application. Additionally, it makes it simple for managers to design cards and train staff members using a flexible lean methodology. 
Trello's success might be attributed to its visual list creation feature, which makes it easy and visual to monitor a project's progress. By creating task-containing cards and moving them around, you may assign tasks, track progress, collect and save data, plan and arrange work processes, and more.
Its basic functionality and straightforward yet effective design make it a great choice for teams who need to collaborate on a variety of challenging projects.
3. Slack
Slack is an easy-to-use chat/channel communication tool that can keep everyone in touch.
How a remote team would interact without Slack is tough to imagine. Its necessity in project management is stressed by its tagline, "Where work happens."
Because Slack is accessible on the web and mobile devices, users can collaborate and coordinate from any location. Due to its affordable pricing and practical features, it is a favorite among many remote work monitoring software development teams as a great communication tool.
4. Zoom
One of the most well-known tools for remote work technology, Zoom is an extremely portable video conferencing solution that integrates seamlessly with Google Calendar. 
A premium package also gives you access to a lot more, like webinar hosting options that can be quite beneficial to your online marketing initiatives.
One of the things that customers use the most is video recording. These recordings could be used to create instructional videos or compile a list of common practices.
5. Dropbox 
Customers may store all of their data in one spot and make it accessible to anybody they wish with Dropbox, a cloud-based file hosting service.
This online library, designed to organize and organize content such as papers, photographs, movies, and music, now supports a dozen other file types that Dropbox provides. It is compatible with a wide range of devices and may be accessed from a computer or mobile device.
You get 2 GB of cloud storage space with Dropbox's free edition, but if you plan to use more, you should choose one of its paid solutions, which starts at $8.25 per month.
6. Asana
Asana is the top remote working technology and has a lot of capabilities. It has been around since 2008. From timelines and project boards to automation and connectors, Asana is a comprehensive toolkit with a solution for any organization's needs. 
Because of its task-oriented user interface, Asana is a fantastic tool for managing remote work. Its task assignments being integrated into bigger projects helps team members spread their workload during the development stage. 
Roles and duties are unlikely to be confusing due to their straightforward architecture, which makes it possible to track the development of the project and identify who is in charge of certain project components.
Remote Working Technology Challenges
While technology has made it simpler for workers to work in a remote working model. There are still a number of difficulties associated with it. Some of the major issues with technology for remote work include the following:
1. Technical Problems 
The biggest difficulty for those who work remotely is the potential for interruptions, which can result in lost productivity. Technical problems including slow internet access, software glitches, and device problems are the cause of this.
2. Communication Roadblocks 
Team members may find it challenging to communicate while working remotely. Poor communication, a lack of context, and time zone differences could cause decision-making and project completion to be delayed.
3. Security Risks 
Employing remote workers exposes businesses to security risks like phishing attacks, cyberattacks, and data breaches.
4. Isolation and Burnout
Remote employees are often plagued by a sense of loneliness and disconnection from their colleagues as they are not able to physically meet them. 
5. Managing and Monitoring Performance 
Managers may find it challenging to oversee and control the performance of remote workers. 
Conclusion
There is no denial in the fact that with the introduction of remote work technologies. Businesses have arrived at a feasible solution that is beneficial for both employees and employers. It might lead to an increase in the productivity of the employees as they will feel comfortable working from home with the help of the correct Remote Working Technology and tools. 
Even though there are multiple organizations that have allowed for the remote working of employees. They are also aware of the drawbacks associated with remote working conditions. Such as fatigue, loneliness, communication gaps, technological changes,  and lastly, security risks. It is expected from organizations to do some expenditures in utilizing the services of technology, equipment, and training that is necessary to overcome these obstacles to ensure the safety, productivity, and engagement of employees who are working remotely. 
Everything has its pros and cons and the same thing is with remote work. So organizations that have plans to open for remote work must be well aware of the same and be prepared for every situation. Also constantly motivate their employees to perform their best even if they are working remotely.