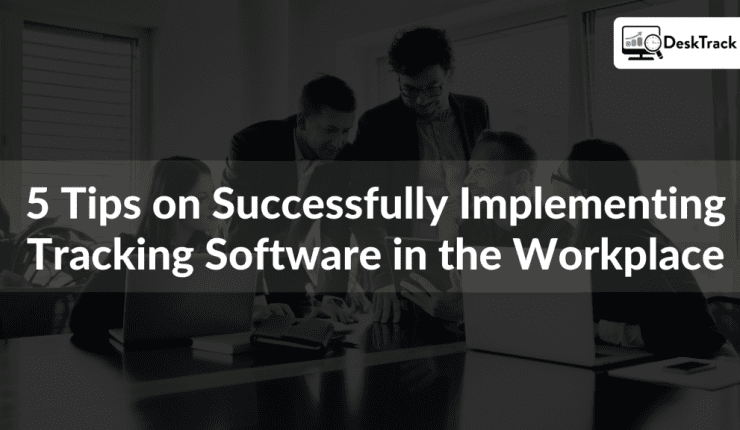 Implementing a Time Tracking software for employees enables you to reinforce your team's accountability in completing their respective tasks. Understanding how your employees use their time in the workplace is one of the most vital things to help your business strive even more.
Effective time tracking strategies can help your entire organization become more productive and gain more insights, which can help you create a healthy workflow that contributes to your business's growth and success.
Aside from that, implement Time Tracking Software allows your employees to become highly motivated. When your employees are fully aware of their time being monitored, this can challenge them to complete their job while ensuring quality results quickly.
Even if you have the Best Time Tracking Software, you might not be able to maximize all its features if you could not implement it successfully. 
Here are Top Five Tips to Implement Time Tracking Software Successfully
Explain to your team
The first and one of the essential things to do when implementing a time tracking system is explaining to your employees why you are doing it. Make your employees understand why your company should adapt to new software and the beneficial features that come along with it.
Discussing some of its advantages and how it can improve your employee's work can also be helpful. By providing a reasonable explanation to your employees, the adapting stage can become faster and less challenging.
Even more so, your employees might have a few comments in mind about your previous time tracking software. You can use this opportunity to get their thoughts about the specific features they need and gather ideas about the options they can think of.
Explore all available options
Hundreds of time tracking apps are available to implement at workplace. Now, how can you find one that fits your business? You can do so by determining your pain points and features that alleviate them, creating a shortlist of products to choose from (here is some CompareCamp list of time tracking software examples), and comparing which tool suits your needs best.
A study from Statista shows that 22.7% of companies in Italy declared that they needed to track work activities but did not have the right tools to monitor them. This data shows how important it is for companies to explore time tracking software options, given that there are many vendors available in the market nowadays.
You need to explore all of the available options and learn more about their differences, advantages, and drawbacks. To do this, you will need the feedback from your employees regarding the features that they need and other business requirements. Some of the functionality you should consider is human resource functions, integrating with existing software, overtime monitoring, reports, and forecasting, and paid time-off tracking.
Run a comprehensive test
After selecting a potential Time Tracking Software, request for a free trial (if available) and test run how the software works on your company's average day. You can also try to exhaust the new software to help you learn more about its capabilities. Doing this also allows you to see potential issues that you might encounter in the long run.
DeskTrack offers a free trial, so you can explore its features without spending anything. You can also book a demo if that suits your schedule better.
You can then discuss with your employees about the performance of the new software. Furthermore, when you encounter issues during your test run, you can take that opportunity to contact customer support. This helps you see how much the support team knows their product and whether they can instantly resolve your issue.
After all, finding a competitive vendor is exceptionally crucial. Bear in mind that an excellent time tracking software should help resolve the difficulties of your employees. You can further read this article to learn more about how time tracking can solve your work issues.
Track relevant employee activities
When you have already settled with a specific time tracking software, consider tracking the tasks that keep your employees busy. May it be checking emails, sending a reply, scrolling through relevant sites, and the like. Whether these activities only take a few minutes, tracking them is necessary to ensure that your team is spending their time wisely and productively.
Also, you can help your team avoid procrastination at work and complete assigned tasks on or before the given deadline. Remember that every minute counts. Hence, lost or wasted time might lead to revenue loss. In line with that, here is an article you can read about how time tracking can terminate employee procrastination.
Assign time tracking responsibilities to one person
When multiple people are responsible for completing time tracking methods, your employees will likely get confused with the rules set. Meanwhile, if you assign this responsibility to a specific person, the rules can become more apparent and consistent.
When rules are consistently set and relayed, it can guarantee employees' cooperation in efficiently completing their tasks. Besides, it is also easier for employees to look for a specific person when issues arise or whenever they have clarifications.
Time Tracking Software Implementation Made Easy
You can do many things to ensure that the implementation of Time Tracking Software gets a good start. However, aside from making sure that it gets off to a good start, you should also make sure that it guarantees long-term and excellent performance. Not only that, but it should also allow you to implement time tracking best practices for the whole organization. Through this, you can be more confident that your new software is worth the fortune.