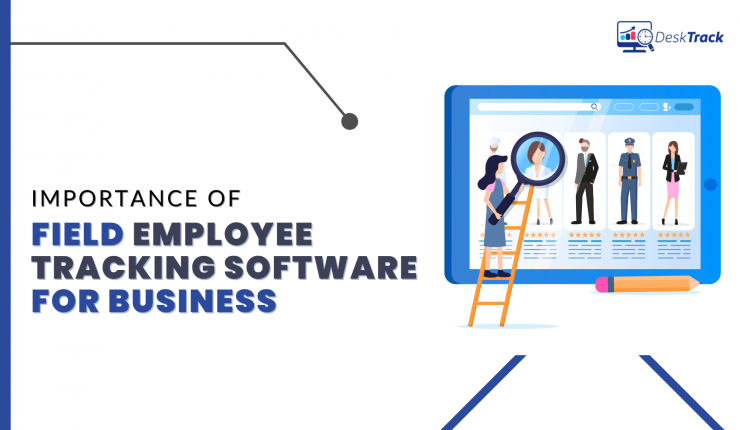 Time waits for no one. Do your field employees utilize their time effectively? Are they wasting their productive time or focusing more on that? How do you analyze your workforce work patterns and processes? So, tracking and monitoring can help your business grow in multiple aspects, but firstly, you have to understand the importance of field employee tracking apps for business. 
And with this blog, we will be going to let you know the essentials of tracking your employees and the importance of the best field employee tracking app. 
Table of Contents
Importance of Field Employee Tracking App for Business
In order to streamline effortless business processes, there are multiple tools available in the market that function as excellent companions to encountering an acceptable key for any issue that may occur in that individual business. 
Whether it's about on-site tracking or field employee tracking, having a tab of employee work is crucial for businesses to stay up-to-date on the existing position, how to make work more effective, or what matters to work on. 
Therefore, having a solution existing to monitor and manage the working patterns of individuals working for your organization with the amount of time and effort provided by an employee to evaluate them.
What is the Field Employee Tracking System?
The field employee tracking system is an app for gathering relevant data by monitoring and tracking field employees with the time spent on field and hours worked. The field staff attendance app allows managers to have a tab on employee working hours with employee performance and progress in the allotted tasks or projects. 
As per statistics, 35.9% of field employees are women, and 64.1% of field employees are men. Therefore, having a track of individual work is very important for their team leaders so that they can identify the gaps, struggles, top talents, and under and over-utilized resources for better organizational outcomes. 
A field staff management app helps managers have the complete status of the employee and their work and the current location, routes traveled, etc., on a timely basis. 
However, many people think that tracking and monitoring systems are spying tools. But the field staff tracking software helps employees and their managers to get the complete data of work done throughout the day, where employees are working, and what will be next. Therefore, employee time and location tracking apps improve workforce productivity, employee engagement, and transparency among the team. 
Is it legal to track your employees?
In this modern digital era, monitoring and tracking employees to boost employee performance and workforce productivity has become a common practice. 
These systems are like CCTV surveillance which helps company leaders or managers to monitor employees' devices, emails, social media, and more. But have you ever thought if it is legal to track your employees working in the field? We cannot say exactly yes, but it is legal in most countries. A manager is lawfully allowed to track the location of company-owned appliances operated by its employees. But tracking your employees without letting them know might be considered illegal tracking. 
So, companies can easily track their employees working in the field by letting them know about the software and its functioning. Also, employees should agree with your implementation so that they can work with more focus and engagement. 
The Importance of Field Employee Tracking App for a Manager
The best field staff tracker can help managers in multiple ways so that they never miss out on any updates about their employees and work. Below-mentioned points will help you know the importance of field employee tracking apps for managers:
Be with your field employees with effortless communication, and stay in touch if they face any problems or if you want their work updates.

Know the amount of time spent by an employee on a customer visit with location tracking.

The field employee tracking app allows managers to save a lot of time by guiding their employees to the proper destination. Also, they can manage assignments as per their existing sites.

Calculate and pay for the accurate bills of fuel by identifying the traveling distances. 

Analyze and monitor the work efficiency of your on-field employees with ease.
The Importance of Field Employee Tracking Apps for Employees
With the help of a field employee tracking app, employees can self-assist themselves as the software lets them know the time spent on a particular task or site. 
Therefore, the DeskTrack field employee tracking tool can help the user know the complete activities performed by them throughout the day with time spent on the same. 
So, if employees are wasting their productive time, the software helps them improve in all aspects and boosts their performance. Here is the importance of field employee tracking tools for employees:
Employees can provide complete updates about customer visits and work to their managers on time.

Employees can mark their attendance on a daily basis directly from the work location as they don't have to visit their office and waste their time marking their attendance. Also, with the help of field employee tracking software, employees can let their managers know about their client meetings and visits anytime and from anywhere. 

Employees can update their real-time information on work and orders through the field employee tracking app. Also, employees can easily store customer details, contacts, and order information. 

Capture and upload pictures directly of bills and receipts for proof in the app, so your managers can easily manage them.

Get error-free payments by providing your work report to your managers.
Features of Field Employee Tracking Software
Live Employee Location View
Daily Attendance Records
Save Customer Details
Assign Tasks to Remote Staff
Get Reports of Field Employees
Make Schedules for Field Staff
Get all Field Staff Messages
Analyze Daily/weekly/monthly reports
Benefits of Field Employee Tracking App
There are times when employers get busy with their work and are unable to process and maintain the report of employee work done in a day. And this is the time when the field staff tracking app helps managers get detailed data of employee per day activity, including location visited and route traveled. Therefore, the benefits of field staff tracking software is mentioned below:
Employee Performance monitoring:
The best employee tracking app helps employees specify their duties toward their goals. Field employee tracking apps can help companies with the below-given processes:
Track employees' performance on duty

Provide strategic space for trouble

Generate and get secret data and insights

Reduce security issues

Plan and strategize tasks and work assignments
Track Employee Attendance:
Employee attendance tracking is one of the most essential aspects for companies and especially for those who are working in the field. The field employee tracking app India can help managers and leaders to maintain the data and record of every individual with their login and logout time. Also, the field employee tracking app allows employees to clock in and clock out from anywhere and anytime and provides a complete record of their data to managers without disturbing them.
Track Location of Field Employees:
The employee time and location tracking app helps managers locate the location of their employees working in the field. It provides complete insights about the employee location like GPS tracking and lets you know the actual location of employees. Therefore, it helps in managing the proof of work done, builds trust among the workforce, and creates a better work culture. 
Better Coordination and Follow-up:
The implementation of the best field employee tracking app allows the comfort of handling, designating, and cooperating with the workforce. The software provides complete transparency in work, specifies the locations clearly, and live updates to allow adequate performance of the problems. Also, allow executives to execute better determinations to serve the work course of the particular team on site.
The Final Words
With the help of the field employee tracking app India, employees can easily specify their work and get paid fairly for work done and for the amount of time spent by them on each project or task. Also, they can provide their deliveries and services in real-time with complete data. 
Therefore, introducing your field team or employees working on-site with the best time-tracking software can be beneficial for your organization as it helps them improve the overall productivity and efficiency of the complete workforce. Also, it helps them bring better revenues, reduce workload, remove micromanagement, and create a healthy environment for employees to work with. 
So, with this article, we have stated the benefits of using field employee tracking software for your employees and organization for improved security and organized record-keeping.