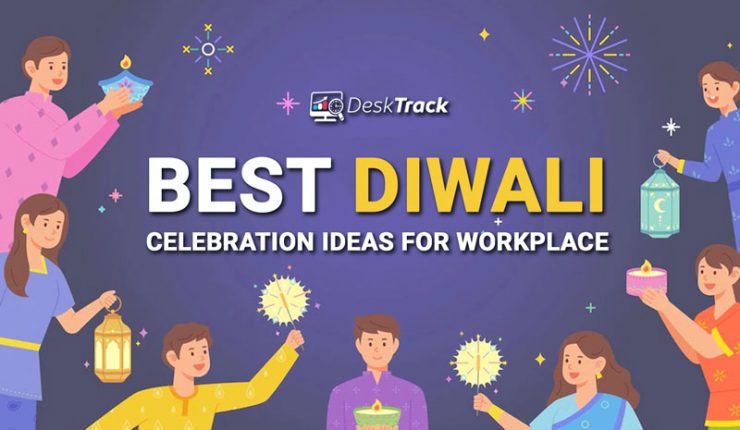 Diwali is considered as one of the most celebrated religious festivals by people all over India. People celebrated Diwali-2022 in India with great enthusiasm. People welcome it with much joy, passion and spirit. It is a festival which celebrates the victory of good over evil and light over darkness. This traditional festival is celebrated as a day to light up homes & workplace with candles, lanterns and diyas. Apart from lighting up the home, there are many other Diwali celebrations ideas that you can apply at your workplace on this occasion. 
In order to make Diwali-2022 celebrations more delightful, here are some ideas that will make it a memorable experience for your employees:
1. Office Decoration
Diwali is the festival of lights. It is a great time to decorate your office and make it more festive than ever. You can use LED lights, candles, 3D wall decals and many more things to decorate your office.
2. Wear Ethnic Dresses
Deepawali in 2022 is a perfect occasion to wear traditional clothes. You can wear traditional dresses or sarees. You can also wear traditional accessories like bindis and bindis with tikka on your forehead. The best thing about wearing traditional clothing is that it makes you feel more festive and happy during this occasion so don't miss this opportunity to try something new!
3. Rangoli Competition
Rangoli is an art form which is done using rice flour dipped in water, turmeric powder and colored sandalwood paste which is then tied together into intricate patterns by hand. The art form originated in India some 2,000 years ago and has since spread across cultures worldwide. It symbolizes prosperity, fertility and longevity in Hindu mythology – all of which are perfect celebration ideas for Diwali in India 2022.
4. Diwali Puja
Host an evening of pujas (prayers) at your office on Diwali day!, It is the best diwali celebration ideas for 2022. We know many people who host these events every year and they always turn out to be a ton of fun for both participants and spectators alike. If you want to try something different this year, why not host an evening of prayers?
5. Dance Party 
Bring out your favorite moves and get down with friends. If you've got a big office space, we recommend hosting a dance party in one of your common areas. You'll need some decorations (like balloons or streamers), some music (and maybe even a DJ), and some snacks and that's it!
5. Diwali Treasure Hunt
A treasure hunt is a great Diwali celebration ideas to get your employees excited about the holiday and encourage them to participate in it. It can be as simple as hiding candy or money around the office, or you can go all out and host a scavenger hunt with clues that lead to prizes.
6. Cubicle Decoration 
Decorating your cubicle can make all of your coworkers feel more like family than colleagues, which will make working together even more enjoyable during this time of year!
7. Tambola Game Play with Team
Get everyone involved by playing Tambola together as a team! You can even make it more challenging by giving each member of the team different roles like a blocker or leader who has specific tasks when it comes time for each round!
8. Team Competition 
Come up with something fun like a "speed round" or "who can solve the puzzle fastest" type competition. Give everyone an equal chance at winning prizes by putting in their own names into random drawers throughout the office space.
9. Organize Virtual Party for Remote Employees 
A virtual party can be organized through online video calls and chat sessions. This will help in staying connected with each other even when they are away from their homes during this eventful day of Diwali 2022. 
10. Get Gifts Anonymously 
Don't reveal the name: In order to keep things interesting and fun, each person should get a gift box on the day of Oct 2022 Diwali without knowing each other. Employees can give surprise gifts to each other without knowing them & unboxing it in front of each other. 
11. Group selfie with lights
A group selfie with lights can be taken at night when everyone is gathered in one place so that everyone can see each other clearly while taking the photo. This will give you a beautiful group image with all eyes on you!
12. Give Reward to the Top Productive Employees
Employees work the whole year with their different efficiencies. To make them more appreciated & confident to give more results, you can give them rewards according to their productivity for the whole year. You can use DeskTrack as productivity monitoring software to track employees productivity. DeskTrack provides you customized productivity reports of employees on different levels, like company level, team level, department level. This feature will help you to get out the most productive employees this Diwali. 
Diwali 2022 Shubh Muhurt for Pujan
Diwali falls every year on the new moon of Kartik month. But this time Diwali is caught in the screw of two dates. This year both 24th and 25th October is Amavasya. According to the Hindu calendar, October 24 will be Amavasya Tithi in Pradosh Kaal. Amavasya Tithi will be there in a certain time on that day. At the same time, on October 25, Amavasya Tithi is ending before Pradosh Kaal. Therefore, on October 24, Diwali will be celebrated all over the country.
This year Chaturdashi Tithi will end on October 24 at 5:28 pm. After this the new moon date will start. Amavasya Tithi will remain till 4.19 pm on October 25.
Best time for diwali pujan will be 5.28 pm on 24 October 2022 to 4.19 pm on 25 October 2022.
Lakshmi Puja Muhurta on 24 Oct. 2022: 18:54:52 to 20:16:07
Duration : 1 hour 21 minutes
Pradosh Kaal : 7:43:11 to 20:16:07
Vrishabh Kaal : 18:54:52 to 20:50:43
Diwali Shubh Choghadiya Muhurta on 24 Oct. 2022
Evening Muhurta (Amrit, Chaal): 17:29:35 to 19:18:46
Takratri Muhurta (Benefits): 22:29:56 to 24:05:31
Takratri Muhurta (auspicious, nectar, running): 25:41: from 06 to 30:27:51
Surya Grahan on Diwali 2022 Timings
The Sutak period will starts 12 hours before. The touch of the sun will happen in India at 11.28 am and will happen at 07:05 at 5.24 pm. 
The Sutak of the same eclipse will be held 12 hours before that is from 11:28 pm on the night of 24 October. Therefore, the next morning of Diwali will be in the Sutak period of the eclipse.