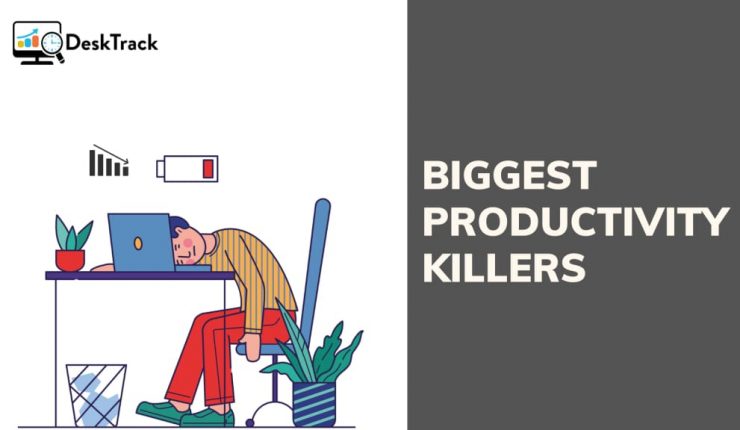 All business owners want to achieve a high level of productivity and for that, each organization sets some goals. In the process of achieving those goals, they have to face many obstacles and the biggest productivity killers in the workplace.  These obstacles are the biggest problem in everyone's life.
Employees spend half of their day working but have you ever thought about how much actual time is spent on working. Distraction in the workplace can lower productivity and degrade team performance and affect the revenue generation of your business.
Table of Contents
Biggest Productivity Killer at Workplace that Makes Your Employees Unproductive
Productivity killers at the workplace are unavoidable. These days, Social media are everywhere in the workplace & it becomes a major productivity killer in everyday life.  if you will don't pay attention, you will be going to waste many hours watching YouTube, & scrolling on Facebook over and over again.
Now, We are going to share some common productivity killers in the workplace for you to avoid.
Top Productivity Killers in the Workplace
Excessive Meetings
To overcome meetings' productivity killer, Try to make your meetings short and the agendas of meetings should be clear before the discussion. Standing meetings or daily scrums can be good options for meetings. And ask your employees not to bring gadgets or any work in meetings for better results.
Social Networking Sites
You should prohibit the use of social media at the workplace or should allot a specific time duration for that. Create a policy to eliminate this issue.
Email Checking
Employees may have a habit of checking emails numerous times a day which leads to unproductiveness so they should have a habit of checking email at the start or end of the working day.
Unwanted Talks
Employees waste hours gossiping. This can lead to office politics, and workplace conflicts, and can ruin your workplace environment. Make sure you cut down on this gossip and chit-chat time. In terms of software, Slack productivity killer at work is the biggest name. Social media platforms are the common productivity killers.
Employees Working in Different Directions
When all your team members are working in different directions this can decrease your workplace productivity. Make sure all your team members should be on the same page and should have a clear vision so they are working to achieve common objectives.
Numerous Tasks at a Time
Overloading a number of tasks to an employee at a time can be a productivity killer. This causes low-quality results and poor performance. Organize more constructively and prioritize tasks accordingly.
We can take the example of workplace distractions. It is a common problem for many people, especially those who work from home. While it's impossible to eradicate distractions altogether, you can reduce their occurrence by identifying and planning for them.
Must Visit: Work From Home Monitoring Software
How to Manage Productivity & Remove Productivity Killers at the Workplace
Setting objectives
As a classic rule of thumb, SMART objectives are specific, measurable, achievable, relevant, and time-bound. Employees can feel confident about working towards an objective that meets all these criteria and can know when they've achieved it.
Delegating responsibilities
Successful teams are built on trust. Shared team responsibilities will give managers time to focus on more strategic tasks, empower their reports, and give them the opportunity to grow.
Reporting feedback to employees
Employees need a manager who is a mirror to show where they are going and what they should be doing. To enhance team performance, managers should offer team members feedback that is specific and actionable.
Take a Productivity Tool
Productivity Monitoring Software can help to solve this problem as this offers communication and teamwork features that can reduce unproductivity in your workplace. This even reduces the communication gap between you and your employees. With the help of teamwork and fruitful communication, you can achieve your targets.
Conclusion
Productivity is a challenge for everyone, no matter how busy you are. There are so many distractions at the workplace that harm your ability to do your job well. This article lists down some of the biggest productivity killers at the workplace and what can you do to diminish them and avert them in the future.