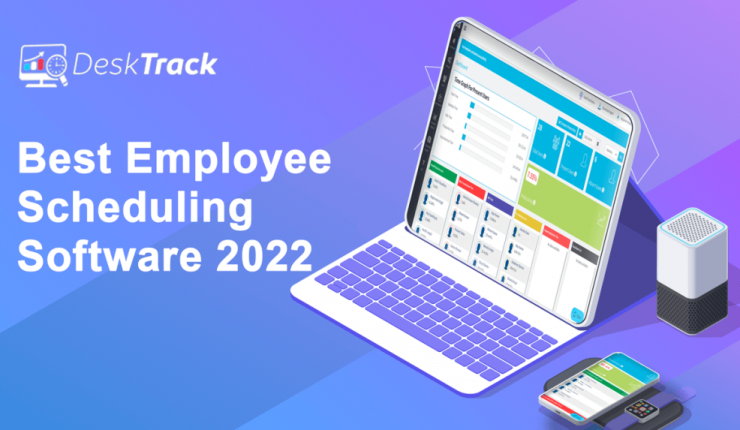 'Scheduling is all about assigning the work to your team members.' Now, it may sound like 'walking in the park,' but Employee Scheduling is a lot more than that. From employee competency to availability, expenses, and project deadline, there is more than one factor to consider regarding employee scheduling. Scheduling daily with a pen on paper or just in your mind can create confusion and make your workflow crumple. However, the right employee scheduling software for small businesses can automate the whole process with your bare minimum inputs.
Table of Contents
Top 10 Employee Scheduling Software
If you are looking for the best employee scheduling software in 2022, you must check out our article here. 
How to Choose the Best Employee Scheduling Software?
From the user interface to ease of use, you need to consider various factors before choosing the best hourly staff scheduling app for your team. Here is what you must check in,
Ease-of-use
Usability should come at the forefront of any SaaS product. Your employee monitoring software has to be easy to use. The reason is simple; all your employees are not tech-savvy. Thus, an application that is difficult to hover around won't definitely suit all your team members.
User Interface
A well-organized and simple user interface is a must when it comes to employee work scheduling apps. A simple interface improves usability and makes things engaging for your employees. Also, employee time tracking software with a simple interface helps managers with features like all employee activity tracking stats under one dashboard.
Seamless Integration
Best employee scheduling tool for manufacturing and call centers makes scheduling easy and helps to calculate employee working hours, budget, cost, etc. However, there might be additional software programs that you use with your business operations. Thus, the employee monitoring software has to integrate with the other software you already use.
Impeccable Customer Support
On-boarding new software into your business operation may seem hectic for your employees. Starting from organizing proper training for all your team members to assisting them when they are in difficulties with the application, customer support can come in handy throughout the software life cycle. Thus, choose a service with decent customer support service that is easy to reach and has a minimum turnaround time.
Read more: Online Employee Shift Scheduling Software
Easy Collaboration
Scheduling app for employees has to be easy to collaborate with so that all your team members can communicate through it. Certain software comes with hierarchy mapping that allows you to offer and restrict access to project data and employee performance data to the admins and other team members. You may also look for such features depending on your requirements.
Top 10 Employee Scheduling Software List
Get the list of the top 10 best employee scheduling apps which provides the best result in your organization and reduced the business cost 
The next application on our list is not just a mere employee scheduling software but more monitoring software that allows you to schedule tasks and calculate employee productivity. If you are looking for a feature-rich tool that can help you with employee tracking, as well as task scheduling, then DeskTrack brings the best solution to you.
You can easily add more value to your remote team by increasing engagement with instantaneous time graphs and sheets. Also, DeskTrack boosts transparency in your system through timely screenshots and active hours tracking features.
Price: Basic plan starts at $2.99/ user / month.
Pros
Real-time Employee monitoring to increase engagement and boost productivity

Workforce analytics for data-driven impactful decision making

App-Url tracking and daily activity log
Cons
Not dedicated to employee scheduling
The top employee scheduling app that we have on our list is the ScheduleAnywhere. It is easy to use and best for teams who are always on the go. The application comes with features to eliminate common scheduling conflicts and track employee training programs and progress. Even managers can make easy shift rotation, keep track of employee availability, and calculate overtime hours.
Price: Available at as low as 2 USD /user/month.
Pros
Comes with Cross-platform support

Light-weight mobile app for on-the-go scheduling

Pocket-friendly pricing
Cons
No trial plans for the monthly users

Lacks essential time tracking features
With simplified repeat scheduling systems, Ximple now Paycor is an excellent employee scheduling software that covers all your basic delegation requirements. The application offers AI-powered tools backed by historical data mapping to assign the right task to the right employee in each shift. Also, Paycor offers state-of-the-art time-tracking and efficient staff management tools to help managers track employee availability and make decisions on time-off requests.
Price: Starts at $1/user/month
Pros
AI-powered tools for automatic repeat task delegation

Salient time tracking and employee monitoring features

Multiple platform support
Cons
The user interface is a little more complex than its peers
If a simple user interface and easy-to-use features sound more of the thing that your team needs, then Humanity is the go-to app for your business. The application has an incredibly easy-to-use interface that ensures a fantastic employee experience.
Apart from that, Humanity comes with custom templates and rules that are specific to the unique scheduling needs of your business's operations. The AI-powered tools make 80% of the employee scheduling tasks automated. Thus, human errors remain much lesser, which helps in long-term employee retention. 
Price: Yearly subscription is available at a minimum of $2/users/month
Pros
Highly customizable as per industry need

Automated task scheduling

Seamless integrations and visibility across schedules
Cons
A long feature list is enough to overwhelm basic-level users 
WorkSchedule.Net can be your perfect employee scheduling tool if you are operating in hospitality or any other public service domain. From time attendance and availability management to payroll, the application offers you all your employee data under one dashboard.
The best part about WorkSchedule is they offer amazing convenience to managers and operation teams with their mobile application. Through the app, you can manage your employee schedule on the go. Also, since the live dashboard remains visible to all your employees, they can easily keep track of real-time changes and work accordingly.
Price: Monthly plan starts at $2.99/user/month 
Pros
Easy to use mobile app for on-the-go scheduling

Can easily manage 50+ employees under a dashboard

Great customer support experience
Cons
Not a good fit for freelancers
Formerly known as TSheets, QuickBooks Time is another great time tracking cum employee scheduling software that offers features such as a GPS time tracker, employee timesheets, etc. If you are in search of an employee scheduling tool at a much pocket-friendly price, then it's probably one of the best available in the market.
Price: Available from $4/user/month
Pros
Can easily integrate with QuickBooks Accounting software

GPS tracking & GEO fencing features

Easily accessible through mobile, desktop, and kiosk
Cons
Customer support experience is not good

Expensive
Price: Starts at $2/user/month
Deputy is superb workflow management & employee task scheduling tool with some amazing features. Large businesses with a lot of compliance requirements can use the application for employee scheduling. The best thing is you will be able to integrate your POS system, payrolls, and other operations with Deputy. It supports integration to more than 35 applications. 
Pros
Easy to integrate with existing business software

Offers great customer support

Simple yet intuitive user interface
Cons
Slow to load 

Can't filter employee location
If you are looking for a feature-full app that not only does employee scheduling but also helps you in staff management, then Planday is the best option for you. The application comes with a Punch Clock feature that lets you embrace a flexible work schedule in your organization. This especially helps in remote workflow management since it easily helps remote employees punch in and out as they start and end their work.
Price: Basic plan starts at 2.49 euro / user / month
Pros
Simple and easy-to-navigate application

Offers reporting and attendance feature

Customer service is decent
Cons
Difficult to integrate with other software
With some state-of-the-art features, Workforce makes an excellent employee scheduling software for managers working on the go. You can change shift timing for your available employees and replace unavailable staff from the schedule on the go with the mobile application. Workforce lets you integrate existing payroll software seamlessly. Also, its BI custom reporting feature allows you to send reports to clients and executives to offer them an accurate picture behind the operations.
Price: Starts at $4/ month/user
Pros
Simple user interface

On-the-go task scheduling

Mobile time tracking for small business
Cons
Expensive than most other options with similar features.
If you want the simplest solution at zero additional cost, Google Sheets are superb to start with. It's an excellent option for businesses that run with small teams or individually, and the scheduling does not involve any complexity. The best thing about Google Sheet is that it comes as Google's free cloud software and saves all the changes you make automatically. Thus, none of the changes gets lost for network errors or any other issue. Also, you can easily share the sheet with your team members in their emails.
Price: Free
Pros
Available for free with Google Cloud Solution

Simple and easy to use

Easy to start with
Cons
Lacks essential scheduling features
Conclusion
That's all. Now you have the list of 10 best employee scheduling software to choose from. Get the application that matches your use cases. Also, it's always better to invest in scheduling software that offers multiple solutions like employee performance tracking, timesheets, easy payroll, other software integration, etc. In terms of that, DeskTrack brings the best solution at a much more cost-effective price. You can check out the software features with a free demo.