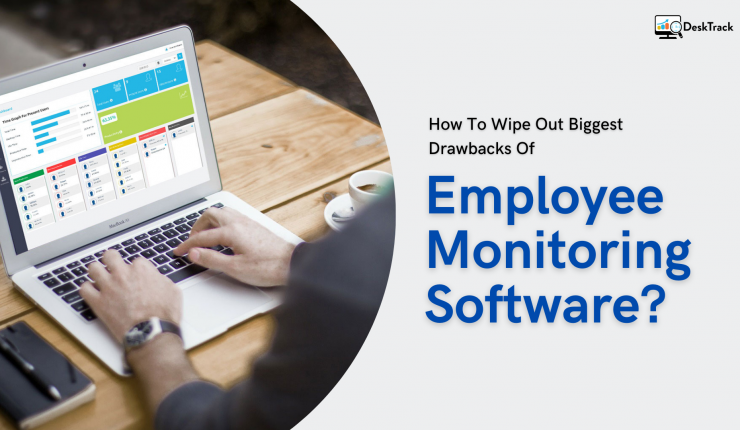 Employee Monitoring Software helps to boost productivity, evaluate employee performance, time management and understand the reasons behind why someone is not being able to put enough effort & output. It has many other awesome benefits but like everything in this world – it also has its cons, there are some minor drawbacks of employee monitoring software; It's just how you choose to handle it and how you have to be prepared for the negative effects of employee monitoring as well.
In this article, we'll go over the biggest disadvantages of employee monitoring software and how you can naturalize them easily to get the most out of your employee monitoring software.

Table of Contents
How To Wipe Out Biggest Drawbacks Of Employee Monitoring Software?
Disadvantages of Employee Monitoring Software and how to eliminate them?
Employee Inconvenience
A disadvantage of software monitoring tools is that employees must have to click "Start" when starting work on a particular task and click "Stop" after they have done it. It seems too easy, but it becomes very difficult for the employees when they are working on multiple tasks or projects at the same time. They become compel clicking the buttons continuously which can cost a huge amount of time as wasted. 
The second thing, employees sometimes can forget to start or stop the tracking which can lead to inaccurate working reports. It can be very inconvenient for the employees in the form of lost productivity.
Solution:
Automated Time Tracking Tool like DeskTrack has enough in-built technology to automatically track all the data, activity reports with specific application and file names, productive and unproductive hours. Employees don't have to do anything and can work on their projects fully focused.
Can Harm Employee Trust
When you implement employee monitoring software in the workplace. There can be a big problem when it comes to employee trust. They feel like you don't trust them that they are doing their job properly or have doubts about their commitment. 
Solution:
To eliminate this, you have to properly elucidate the solution to your employee, about its benefits. Let them know that this is used to know the working patterns among the whole organization, not to spy on an individual or a particular team. As well as it will also help to boost their own productivity, and accountability, manage schedules in a better way, and also helps in the billing process.
Causes Privacy Issues
Another misconception that can be a negative effects of employee monitoring is that they may feel like their privacy has been devalued or violated. They could start thinking that from now; you are going to monitor their personal activities, their non-working hours, all their movements are being monitored, and their environment is less personal. Ultimately it can build a false sense of security in employees' minds and for an organization, it can actually be a risk in and of itself.
Solution:
There is also a solution for this as well, explain to them you are not going to track anything after the working hours, not any data is tracing of their personal activities like social media usage, etc. Help them to understand that this is just a productivity tool, once they understand this they will be more open and happy to use your monitoring tool.
Can Reduce Motivation
No one likes to be monitored. Make sure that you are monitoring your employees after letting them know. It can affect employees' motivation and their commitment to the organization when they figure out that you are secretly monitoring their all activities. 
Solution:
We need to understand employees' feelings & try to give a training session & describe all the pros & cons of employee monitoring software. Make sure your employees know the benefits of this solution and understand the intentions behind implementing it.
Who Will Watch The Watchers?
Unfavorable rumors may crop up among the employees as you have managers to analyze all the tracked data of employees but who will monitor the managers' data. It can pose a risk of discrimination. 
Solution:
To overcome this, you have to assign a person or a team who can make sure that none of the managers are taking the wrong advantage of their positions.
Can Be Expensive
Implementing Employee Monitoring Software can be quite expensive for some businesses as it requires an amount of investment. Any monitoring software can only be successful for the organization if it's studied well before. First, you have to understand what your requirements are.
When choosing the Best Employee Monitoring Software for your company you think about the cost which is definitely an important consideration. No one has extra cost to waste on a time management system that doesn't fit in their organization. So you have to choose wisely and be absolutely sure about the purchase.
Solution:
Software provider companies also understand this concern, that is why most of them offer a Free Trial on employee monitoring software. Allows you to check whether their software is perfect for your organization or not. Business owners expect a greater level of control over their assets, increased productivity, and data security. There isn't enough time to see results but you can get an idea.
Advantages of Employee Monitoring Software
Employers can track and analyze employee activities, from website visits to keystrokes, with Best Employee Monitoring Software like DeskTrack. While some may argue that employee monitoring software is intrusive or violates employee privacy, there are many advantages to using this type of software.
1. Increased Productivity
The first advantage of employee productivity monitoring software is that it can help you increase your productivity. This is because it allows you to keep track of the time spent by each employee on different tasks, which will help you to identify the areas where they need improvement. This can be done by comparing their performance against the standard set by the company.
2. Improved Security
The number of security breaches and cyber attacks is on the rise, and it's only going to get worse. Employee Tracking Software can help organizations better protect themselves against potential risks. This is especially true when it comes to employee misconduct, which can be costly for companies who don't get it under control quickly enough.
3. Better Time Management
Time management is a challenge for many employees. With technology, it's easier to manage your time, and that's not just true for employees who are in the office. Employee Time Tracking software can help you improve your time management and even help you become more productive at home or on vacation.
4. Enhanced Employee Training
Monitoring employee performance and behavior is essential to the success of any business. The right software can help you to keep track of your employees, analyze their work, monitor their performance and recognize their contribution to the company's success. Employee monitoring software allows you to track your employees' performance in real time and provide them with training on how to improve it.
5. Compliance with Regulations
Compliance with regulations is a top priority for businesses. This is especially true in the financial services industry, where companies must adhere to strict government regulations and standards. As a result, many financial institutions have implemented employee activity monitoring software that can help them keep track of their employees' misconduct.
6. Reduced Legal Liability
Employee monitoring tools can help reduce the risk of legal liability for employers. It allows companies to monitor employees' work hours, their productivity and whether they are at work when they should be. Employers can also use this technology to train new hires on the company's policies and procedures, which may include training on how to use equipment or computers.
Advantages of

Employee monitoring software

Disadvantages of

Employee monitoring software

Enhance employee productivity
Stressed employee
Performance evaluation of employees
Feelings of insecurity among staff
Organize the office properly
Trust level is reduced
Watch the staff with vigilance
Costs a fortune
Conclusion
If you are looking to adopt Employee monitoring software at your organization, make sure your employees know the benefits and Drawbacks of employee monitoring software and understand the intentions behind implementing it. Establishing significant strategies for your organization and team will help in more excellent performance and higher productivity.