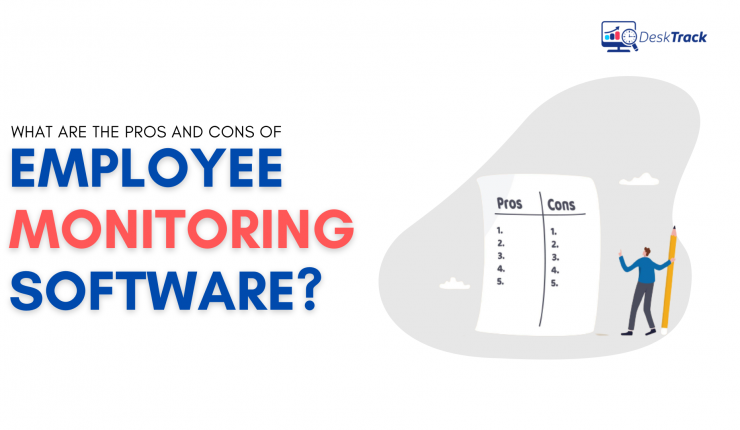 Employee monitoring software isn't just a means to keep your employees in check; it has the promise of being a great management tool as well. When used correctly, employee screen monitoring software can help you improve your bottom line, enhance workplace safety, and streamline your workload. Companies are getting more conscious day by day for their business to grow and shine.
It is their primary objective to develop results extremely polished and remarkable. Best Employee monitoring software is here to help companies assess employees' working patterns. As you know every positive thing comes with some negative things. So There are many pros and cons of employee monitoring software In this article, I'm going to go through the pros and cons of employee monitoring software so that you are well-informed when making your choice about whether to choose Employee Monitoring System or not.
According to a statistic, 68% of hired managers like to work remotely. The pandemic breakout has changed business shape into a different dynamic, and monitoring software is used to assess the work process and timing for the employees. Screen & computer monitoring software is of the top-most priorities for companies, as it helps to measure their profit scale for them. This Article Shows employee monitoring pros and cons. let's begin. 
What does Employee Monitoring Include?
Employee monitoring software is a software solution that allows you to monitor employees. Employee monitoring software can include:
1. GPS Tracking Software
You can monitor your employees using GPS tracking software. The software monitors the location of your employees, and sends you notifications if their location changes. You can also set up automatic reporting for when they leave their desk or arrive at work.
2. Email Monitoring
In email monitoring, employees are monitored for their emails sent and received. It includes tracking the emails that are sent, those that are opened, read and deleted. Email monitoring can be done manually or automatically through software.
3.
Recording Phone Conversations
Employee monitoring includes recording phone conversations. The purpose is to ensure that employees are following the rules and the organization's policies. This can be done through employee activity tracker or by having an employee record the call themselves. It can also include recording any other forms of communication such as emails or instant messages.
4.
Monitoring software and app usage
The process of Employee Monitoring Involves collecting and analyzing Employee Data. Employee monitoring software and apps can be used to gather information about how employees are using their devices, how they are interacting with the work environment, and how they are performing their tasks at work.
5.
Tracking Employee Time
Employee monitoring is a process that involves tracking employee time as they perform their duties. This can be done with a variety of tools and software, such as:
Time tracking software – Time tracking software is an essential tool for managing employee time and productivity. You can use it to track which employees are spending the most time on specific projects or tasks. Using this information, you can then better manage employees' workloads to ensure they are getting the most out of their day.
Employee time sheets – Employee time sheets are another way to track employee time. These are usually emailed or printed out daily and contain information about how much time each employee has spent on specific projects or tasks during the day.
Employee data – Employee data is another way to track employee time. This can include things like hours worked, billable hours, average productivity levels and more. Using this information, you can better manage your business so that it runs smoothly and efficiently at all times.
The
Pros & Cons of Employee Monitoring Software
The best employee monitoring software in india has both pros and cons. Employers and employees can benefit from best employee tracking software. Most active employees like it because it helps them track their productivity. However, some dislike employee screen monitoring software and make unusual comments about it. Others do not work where their organization does not trust them, etc. Nevertheless, we believe that monitoring software should be the first thing you focus on when you want to monitor your employees. In this way, you will be able to weigh the pros and cons of employee monitoring software.
Benefits of Employee Monitoring Software
Once you read how employee activity monitoring software benefits employees and your organization to build a million-dollar company, you will see how beneficial it is for employees and your organization. Pros of Employee Monitoring Software With the right employee monitoring tools, you can see exactly what your employees are doing at work. The benefits of employee monitoring software are given beneath-
1. Analyze the "Real-Time-Activity" to Assess Productivity
There is a famous saying by Peter Drucker, "you can't manage what you can't measure." Following the quote, it is clear that one cannot be successful until and unless that particular success is measured and appropriately tracked. The key role of Employee monitoring software is to measure their actual working timing. It is based on how many times they touch their keyboards and use a mouse. It also helps find the practical bottlenecks and check-in times on the same page.
2. Increasing Employee Productivity and Performance
Does employee monitoring increase productivity? Employees are aware that their productivity is being measured using employee productivity tracking software. They tend to concentrate more on their task during working hours and remain productive. When employees accept this working environment, distractions are decreased by implementing employee productivity tracking software at work. On the software's dashboard, real-time productivity reports for all employees and a list of the most productive employees are presented. This allows the rest of the team to compete on the most productive workers' list.
3. Cost-effective

The majority of employee monitoring software is inexpensive and efficient. The price you pay is determined by the features you want. You may save your organization money on staff monitoring and enhance productivity with this small cost.
4. Protect Data and Valuable Information for Companies

The software has an alert system that sends the alert message to the management team if any employee intends to enter any private or protected areas. It also captures screenshots during surfing to alert the authority to distrust employees.
5. Effective on Project Management

Employee monitoring software India helps the authority manage, assess, plan, schedule, and analyze the task. Through this software, one can plan activities and how much time they may be done. This software helps to schedule work according to the given time and prioritize it.
6. Stream all Communication Channel

Clear communication and seamless presentation of your issues are the two major parts of accomplishing a project profoundly. The employee monitoring software presents streamlined communication tools where you can deal clearly with others as a project team member or manager.
7. Evaluate work

When employees are connected to productivity tracking software, it is much easier for managers to notice mistakes that they make at work. Employee Productivity Tracking Software aids in the real-time evaluation of all employees. It is possible to highlight and correct errors at the time. It improves the quality of the job and makes completing a successful project delivery simple.
8. Helps to understand real-time Activity

Managers can take a screenshot while their employee is working, to check workflow and quality. It means this software is helping to bring a profound and professional presentation as a result. Through the tool, the authority can scan and evaluate a true working time depending on the span of using the keyboard and mouse.
9. Build a healthy Professional Relationship
Through a right understanding of employees' strengths and weaknesses, managers or the management head can deal better with the employee to improve. A proper understanding, monitoring, and communication always help build a solid and healthy relationship. Healthy communication while having any work or project-related issues is essential to avoid unprecedented circumstances during the project. This tool aids in breaking that ice between remote employees and management.
10. Monitor Employees' and their Surfing Exposure
This software also captures a screenshot and sends an alert message to the management head so that the entire set of company papers, folders, and files is safe with the employee. By monitoring software, an employee is not allowed to surf any malicious site while working because it takes all notes.
11. Providing Remote Working Options

Pandemic has shaped our lives differently and changed the dynamic of work. Many dedicated and honest employees who live far from their offices can work safely and better through this monitor. It generates a high rate of adaptability and shows effectiveness in the workplace.
Cons of Employee Monitoring Software
However, there are some cons of employee monitoring software which can be turned into positives if employees and employers put effort into learning it and turning negatives into positives.
The entire disadvantages of Employee Monitoring are listed below
1. Enough understanding the data can be Time-Consuming

Some tech-freak employees may find it a little difficult to adapt, and it takes some more time to understand the software and how it works.
2. Employees may feel unnecessary pressure

Being monitored and controlled may make the employees afraid and pressured. They may develop resentment for their managing body. It might give birth to a distrust situation between employees and management. To get a good result in the competitive market, building a good relationship with management and employees is essential. However, it needs to understand that it is not for work under pressure or monitored. It is for their higher good and the company's productivity.
3. A threat to Employee's Privacy

It might approach like a threat to an employee's privacy and a harmful intervention to his sites surfing. The tool also recorded and captured many personal areas; this feeling can make them awkward and uneasy. Although it seems like an intervention of privacy, it is not. Because the tools are set to record everything while working.
DeskTrack- Best Employee Monitoring Software in India
The above discussion shows how employee monitoring software can play a pivotal role in working proactively. Although the article has shown enough pros and cons of employee monitoring software, the pros outweigh the cons. Employees are the assets of the company. They are working hard to get success.
Are you looking for India's best employee monitoring software for your own organization? Your search ends here. Desktrack is the one-stop solution in terms of employee monitoring and time-tracking needs. Irrespective of the place and nature of a job, Desktrack can work mellifluously as it has features like desktop monitoring, workforce analytics, activity time tracking, productivity booster, etc. Contact today to get jaw-droppingly good deals to save your bucks.