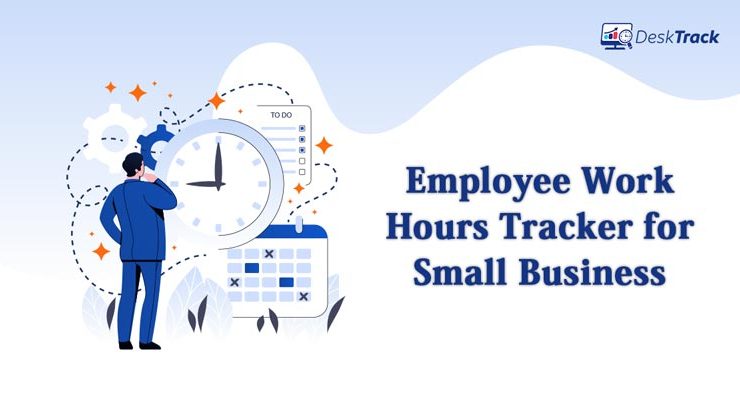 In this fast-growing digital world, every business is operating to grow and improve its productivity at its best. And with the growing business requirements, the need for an employee work hours tracker has become very important to improve the overall efficiency of the complete workforce. 
In simple words, employee hours tracker is a tool that permits you to track work done and time spent on work by employees during their working hours, where they are struggling, and what they are doing. 
Table of Contents
Employee Work Hours Tracker for Small Business
Presently, there are multiple options available in the market, and not all contain the same features, so choose the one which is the best fit for your organization. Therefore, the best option for small businesses is to pick the work hours tracker that can help them manage workloads and maintain employee engagement. 
Why It's Important for Small Businesses to Track Time?
Time tracking is the best practice for organizations to improve productivity, output, and team engagement. The employee hours tracker software helps supervisors to know the working pattern of each employee and where they are struggling. As well as, they can monitor the time spent by employees on each activity that is essential for their business goals. Also some of the major reasons mentioned below that show the importance of track time of employees.
1.) Budgets
Maintaining budgets can be a difficult thing for small businesses, and at that time, the working hours tracker come into place to help. With the help of this software, managers can see if the employees are wasting much time on any specific task or project, and this will help them make changes to save company expenses. 
2.) Employee Utilization
It is the most important reason why you should track your employees. By tracking the time of your employees, you'll get to know the under and over-utilized employees who are working hard to achieve better revenue and those who need more help to achieve their goals. 
3.)Employee Capability
How many hours employees can work is the main thing a manager should know. Therefore, tracking time with hours tracking software will help you know the actual hours of working of each team member. It is essential because it will help you meet your deadlines on time by having sufficient hours left with your employees to complete the projects. 
4.) Employee Billability
By tracking the time of employees, managers can specify the billability speed of each team member. Determining the billability rate is essential because meeting deadlines on time is not feasible continuously. The administrators can generate detailed data of employees, which will let them know the specific time of work of employees as per their allotted tasks and projects. 
5.) Client Over-Servicing
Determine the time and efforts your employees provide to your clients. By tracking hourly employees' time, managers can know the time spent by them on projects which are not worth wasting much time on providing over-services.
How does the employee work hours tracker work?
Employee work hours tracker has now become an integral part of businesses as it helps to improve the overall productivity of the complete workforce and lets the executives know the functioning of their organizations. In addition, it provides multiple advantages working as a time tracker. 
As long as the software has been developed for tracking each activity performed by employees during their whole working day, they all work in an authentic manner. So have look at these points which will let you know the benefits of using the software in your organization:
1.) Create User
Admins can have complete access to the software as they can provide the tasks and projects to their employees as per their roles and responsibilities. Therefore, only the managers can provide the tasks or projects to their team members and which cannot be changed by any of them.
2.) Work with a timer
It is very simple to know how to track employee work hours with a timer. While working on any task or project, employees can start the timer by entering the details and time and make it stop when they finish their work.   
3.) Software develops data
The time tracking software helps you track the hours spent at work by the employees and records every piece of information from login/logout to work done in timesheets. And with the help of this employee data, payroll and all the other things get managed. 
4.) Detailed reports
The reports generated through employee activities can be used to analyze the data. Also, this will help you manage the invoices and overall management of the complete workforce. 
Features of Best Work Hours Time Tracker
Below given are some of the important features which will help you understand why you should have automated software for your organization. This help you manage many aspects that can make your employees more efficient in work and boost the overall productivity of your workforce:
Attendance tracking

GPS tracking

Online timesheets

Mobile applications

Easy integration with other applications

Scheduling details

Analytics and user report

Payroll integration and many more.
Benefits of Time Tracking Software for Small Businesses
Here are some of the benefits of time tracking software for small businesses:
1.) Enhances timesheet accuracy
Know the time spent by your employees on work during the day through their login and logout time. The timesheets will help you get a complete report of time spent at work and actual hours spent on tasks and projects. It will help your employees stay more focused on their work and maintain transparency among the complete workforce. 
2.) Better workflow
Manual recording may affect your employee performance and work management. While working and manually recording a project may lead to more focus on work but this may let employees forget to follow up on the next. Therefore, using automated time tracking software leads to better workflow and boosts employee productivity in multiple aspects.
The software will help you specify your projects and streamline business tasks. Also, it will provide you with clear insights into the complete workflow of your employees to better understand the processes and what is done throughout the day. 
3.) Managing PTO days
With the help of time tracking software, employees can focus more and can work with more enthusiasm by having a sense of control over their job. They can use this software to self-assist themselves, consider their payment details, check their advantages, and determine how many PTO days they have left. When employees can manage their time, they can monitor and schedule their personal days off, and this will help them be more productive at work. 
4.) Efficiency in payroll
The manual calculations or paperwork for payroll management leads to multiple errors and confusion during estimating employee working hours. Therefore, having automated software that helps you record the data of employee working hours leads to accurate calculation of their time utilization, and work done for achieving the organizational goals leads to proper payroll management. 
How do you select a work hours time tracker for your small business?
Employee working hours tracking software can help your organization in multiple ways and help you stand out from competitors. But before selecting the one, you should know the software properly, and that must have these points:
Automate employee time and attendance

Create timesheets and store them online

Import data directly for error-free payroll 

Punch in/out 

Geo Tracking and geofencing for tracking mobile workers

Employee self-service 

Team management 

Easy and flexible integration

Shift scheduling and remote team management
Working hours tracking software will help you manage your team proficiently. The software will help you lower your labor cost and make your team more engaging in achieving organizational goals.                       
The bottom line
An employee time tracker for small businesses can help the admins or managers to better understand the employee work performance and progress. Also, the software will help them identify the gaps, know where their employees are struggling, top talents in the complete workforce, and who needs more supervision to grow better. 
Perfect integration leads to better productivity and outcome for employees by tracking every activity performed by them during the whole working day. As we all know, implementing this tool and making your employees agree with the same is not an easy task, but the result of implementation will be well worth the struggle. 
Employee work hour tracker provides you with multiple benefits from automatic login/logout, error-free payroll, and better client interaction, to improved productivity and employee engagement. So, if you are searching for the best fit for your organization whether it is a small business or a large organization, DeskTrack employee productivity monitoring software can be the best fit for your business. Take the free trial now and get the results with better productivity.