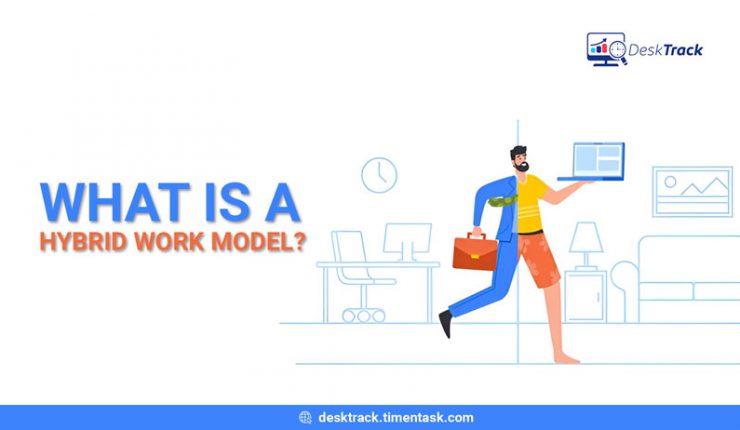 Hybrid working culture is now on its way to becoming the new standard for many businesses. However, it does need intelligent planning and customized support structured to offer full potential benefits. The transition to hybrid work may be a natural progression for some firms who have already embraced the shift to partly or to the new remote working during the pandemic. In that case, this article will discuss the hybrid work model meaning, how hybrid work model work, the hybrid working model benefits and disadvantages, and how you can implement them effectively.
What is a Hybrid Work Model?
We first should understand the meaning of the Hybrid Work Model Meaning. This way, we will also understand How Does a Hybrid System Work. The Hybrid Working Model combines Remote Workers with in-house employees, with some or all employees able to choose whether they want to work from home or get to the office. In-office time may be given by days, teams, or on a needed basis. According to statistics from Gartner, when and where the work will be done is determined by the most appropriate method that will drive the highest levels of engagement and Employee Productivity including How Does a Hybrid System Work.
The Hybrid Working Environment is not suited for every industry or company; it is best for those employees whose work is computer-based and does not require any onsite performance. The report from McKinsey found that remote work is possible without any loss of productivity. The report determined that about 20-25% of employees in advanced economies can work from their homes 3-5 days a week. It means four to five times higher remote work before the covid. 
We will now look at Some Hybrid Work Model Examples. 
One of the major Hybrid Work Model Examples of the hybrid work culture is Amazon. Amazon hired over 500,000 employees and became the second-largest employer in the United States. Amazon will not set the baseline for everyone coming to the office. Rather, they are leaving this decision to their leaders. Simply put, Amazon is going for more flexibility and customization by delegating the hybrid working responsibilities to the team's directors.
Benefits of Hybrid Working Model
1. Work-life Balance
According to statistics, more than 87% of employees would want more flexibility if their employers offered a hybrid work culture. According to Slack, it is a primary reason why employees are attracted to and prefer a hybrid working model. Its one of the Hybrid Working Model Benefits. 
Finding the right balance is easier with a flexible working arrangement. When employees are in control of their work schedules, they can free up their time to take care of the things they were not able to do, such as running an errand or picking up their kids from school, or being home for an order. 
2. Increased Productivity
Amongst the hybrid working model benefits, the major benefit is that your business will experience increased productivity. Whether your employees have to do coding, solve their customers' inquiries, or conduct a team meeting, their time is always valuable, and they want to perform better.
The Hybrid Working Statistics found that more than 48% of people are more productive working from their homes. Similarly to people who can work hybrid, team members who work from home are also reported to have higher productivity levels, with more than 60% reporting being more productive.
Hybrid work models have positively impacted the physical and mental well-being at work since the pandemic began. Human resources leading the initiatives have been a big success and have increased the general well-being of their team members.
3. Cost-Saving
In the hybrid working model, some people may be onsite anytime. For some brands and businesses, it may mean downsizing the real estate. Hybrid working will allow you to figure out how much office space your employees need. 
Rethinking and redesigning the workplace strategy will allow you to reduce real estate costs by 30%. With a Hybrid Working Model Policy, you can reinvest the saved costs in other aspects, such as offering more working options in the face of satellite offices with smaller spaces.
4. Greater Flexibility
Flexible working conditions will allow employees from different parts of the city or world to work together and operate on the schedule they deem best. The time saved on transportation and spending the saved costs with their family and friends will give employees a sense of job satisfaction. It is a major advantage of a Hybrid Working Model Policy.
5. Access to a Wider Pool of Talent
If your company wants to broaden the talent pool, then the Hybrid Working Culture is for you. In this working model, your office or company can hire talent globally. You can hire those with specialized skills by having access to a wider talent pool. It will give your company a competitive edge and allow you to shift into new markets. You can also ensure around-the-clock productivity. 
Disadvantages Of Hybrid Working Models
Here are a few Disadvantages of Hybrid Working:
1. Harder To Get In Touch With Remote Employees
Hybrid work will generally attract people from different times of the week. With this, people may sometimes miss each other, and collaboration chances may fly away. To get around, you should follow the best Tips for Hybrid Working and the right technology. With the appropriate workplace technology, employees can communicate better.
2. Not Suitable For All
Hybrid working models may not be best for every industry. Some companies also have chosen to go fully remote, whereas others should be onsite to function, such as teaching, nursing, or manufacturing industries. Due to this, employees are looking for different industries based on their flexibility level. It is one of the major Disadvantages of Hybrid Working. 
Implementing Hybrid Infrastructure 
Hybrid Work Model Implementation steps: The hybrid working paradigm will require certain adjustments due to the company's infrastructure. The ideal steps for Implementing Hybrid Infrastructure are:
1. Usage of Communication Platforms:
It is the next step for Implementing Hybrid Infrastructure. Through one program, team members can text, video, and talk. This program will simplify team meetings, project collaboration, and question-asking by offering many communication methods.
2. Schedule in-person and remote work:
Adjusting working hours for teams in different states or time zones will boost productivity. You may advise team members to work during the middle of the day or in different time zones. This ensures that everyone works together on projects for several hours each day.
3. Make Communication Guidelines
Setting the communication guidelines will help everyone have the same expectations for the chat or email time when team members work in different places. For instance, you may ask the members to respond to the internal emails within one work day or chats within 2-3 hours. This will enable the team members to set their tasks according to priority.
4. Defining the results:
The other way How to Implement Hybrid Working is to ensure that team members know their duties and how they judge success to deploy a hybrid working paradigm.
You may also create weekly or daily task requirements for the team or an individual, listing the duties or the needed outcomes while discussing the expectations with remote and in-person employees. You can also invest in task management software that will allow the hybrid team members to measure their progress toward the team and individual goals.
Hybrid Team Management Tips:
We have now a fair idea about the way of adopting the hybrid work culture in your workplace; here are some best practices to improve it:
1. Employee Communication:
When it comes to successful hybrid work, communication is fundamental. Hybrid words are also affecting everyone within your organization when you implement them.
Consult them before adopting hybrid work.
2. Having the Right Workplace Environment is Crucial:
Hybrid work means that the office should be where employees want to work. Hence, you should focus on creating a dynamic workplace.
3. Work with IT/HR: 
Hybrid work requires cross-functional collaboration to streamline workplace technologies and enable remote workers.
Hybrid Work Policy Implementation Considerations
Consider critical criteria and employee experience before introducing hybrid work culture in your organization. Remember these:
1. Flexibility
Flexibility empowers workers to meet company goals. To allow teammates, colleagues, and direct reports to fulfill company goals, you must build trust.
2. Scheduling
You must schedule each team member efficiently. This way the members can work is a highly effective way.
3. Productivity
Without the necessary tools, employees may burn out and perform poorly. As their supervisor, you must make sure your staff has everything they need to work efficiently.
Conclusion    
The hybrid work model has its share of benefits and disadvantages. However, you must balance them both based on your business and the size of your employees. Find out what they have to say by speaking with your employees. You must take into account your employees' opinions to ensure that they feel heard in order to have the highest level of employee satisfaction.