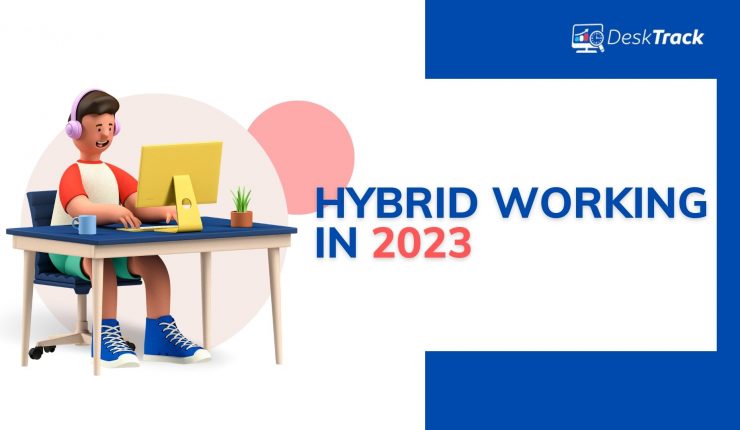 The last two and a half years have been a rollercoaster in the world of work. Too many changes have taken effect as organizations looked for ways to keep their employees safe. We can't quite say that everything is in the clear yet, especially with the emergence of the Omicron variant. It is highly probable that things will continue to make unexpected turns.
However, amidst all the chaos, one thing is clear about the future of work – hybrid working. The hybrid work model is a reality for most organizations in 2023. Even as organizations continue to call employees back to the office, most workers don't want to let go of the flexibility of working from home, but they also want the connectivity of working from a traditional office. Organizations have to find ways to make hybrid working work for their businesses in 2023.
Table of Contents
What Does 2023 Have in Store for Hybrid Working?
What organizations need to know 
Conclusion
Hybrid working in 2023: What organizations need to know
Let's take a look, what organizations need to make hybrid working successful in 2023
1. Integrating Productivity Tools into a Single, Secure Platform
Managing a team where some individuals are working in proximity and others from remote locations requires a robust strategy. Having a single source of truth for teams becomes necessary. Successful organizations are investing in a single platform where they consolidate information, productivity & collaboration tools and communication to enhance team efficiency and collaboration.
However, cybersecurity remains a top priority keeping in mind that some team members still log in from insecure connections and their own devices. For this reason, they are working towards enhancing security through secure logins such as implementing multi-factor authentication. In addition, organizations are setting access permissions appropriately to ensure individuals have access to only the tools, data, and applications that they need for work productivity. Moreover, creating policies and protocols for bring-your-own-device is minimizing vulnerability to organizations' systems.
2. Outsourcing HR Functions
When it comes to remote working, there is no limit to where employers can source talent. The global talent pool is accessible for hybrid organizations. In addition, employee wellbeing is becoming an important aspect as individuals look for more than just monetary compensation when choosing an ideal employer. Taking off some tasks from the HR department is a good way to prevent overworking and burnout.
For these reasons, hybrid organizations are increasingly outsourcing the HR function to third-party agencies. Outsourcing to an employer of records, for instance, is helping organizations hire and pay remote workers compliantly in different countries without establishing a legal entity. In addition, outsourcing is helping organizations save time and money, and redirect the two in running other important functions in the business.
3. Eliminating Distance Bias
Proximity bias is a prevalent challenge for hybrid teams. In workplaces where proximity bias is at play, the team working in proximity is often at an advantage to access information and growth opportunities. This makes those working remotely feel left out and disadvantaged.
Hybrid organizations are working towards ensuring equality between the two divides by creating collaborative workspaces. This includes building conference rooms to ensure all conversations happen collaboratively between those working remotely and those in the office. In addition, adopting asynchronous work tools and models ensures that everyone works on the same page regardless of where and when they are working.
4. Mixing in-person & Digital Communication
Communication is crucial in managing hybrid teams. It is the only way to keep the team updated on organization news and changes in work policies among other updates. Communication is also important in giving feedback and building trust within the team.
For hybrid teams, members are likely spread across different time zones. Ensuring effective communications is forcing managers to think outside the box. Moreover, using both digital and in-person communication allows organizations to cater to all individuals' communication preferences.
5. Offering Support to Remote Workers
Remote working has widened the talent pool for employers. Without the restriction of a 9 to 5 schedule, more talented individuals who couldn't fit in the model such as parents, people living with disabilities and full time caregivers now have access to employment. 
However, the success of these individuals depends on the support they receive from their employers. They need to have a clear balance between work and life to remain productive at work without interfering with their success at home. Hybrid organizations are stepping in to train their managers on the best practices when handling these individuals. Setting clear policies on issues such as communication outside work hours is becoming necessary.
Conclusion
We may be yet to see the end of transitions that the way of working will potentially experience, but we can be sure that hybrid work will be in the future of work. That is why organizations are embracing hybrid work and finding ways to make it work for their teams in 2023. While there is no one-size-fits-all strategy, organizations that have adopted the above tactics have seen tremendous success.