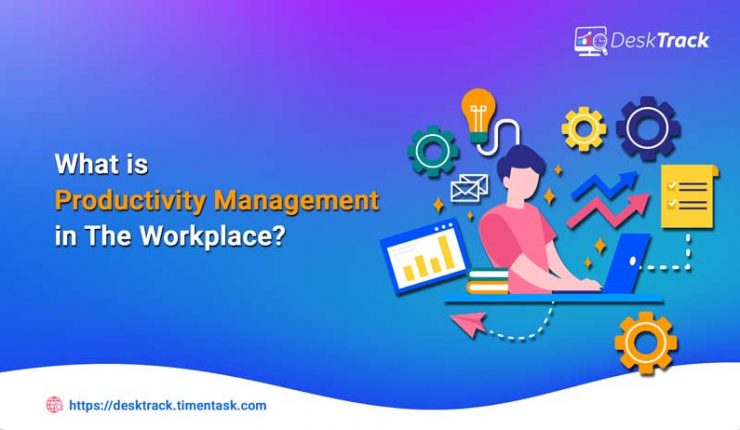 In this fast-moving digital world, productivity management in the workplace plays a vital role in the success of any business as it holds an essential measure. Therefore, improving productivity has been a challenge faced by companies globally. 
Table of Contents
Online Employee Shift Scheduling Software for Small Business
But why should you focus on productivity before all else? In easy words, the result you get from an input is known as productivity. Thus, the work done by employees leads to the actual profit for the company as the company's value depends on the performance of its employees. 
Managing productivity can help the entire workforce improve productivity. It is an essential element for workplace management, where managers use incentives, plans, growth, and communication strategies to support employees so they can improve their overall productivity. With the help of this blog, we will discuss the importance and factors that help in Productivity Management. So, let's get started.
What is Productivity Management?
Productivity management is the process of improving workplace productivity in a manner that helps employees and team members to work efficiently. Productivity measures the input given by employees for the overall output. Team leaders help their members to fill the gaps and identify where they are struggling by motivating them to maintain focus and engagement toward their work performance and boost productivity. 
As a result, enhanced productivity help businesses to grow better and gain more profits by maintaining the top talents, upskilling them, and delivering extra duties. 
However, teams who work with a pattern by streamlining each activity with suitable management come out with increased productivity. Whereas, companies that hold poor management can be one of the most prominent causes for uninspired employee performance and engagement.  
How do you Measure Productivity in the Workplace?
Different businesses have different methods of estimating productivity according to their work culture and purposes. Therefore, measuring productivity is essential to know about the present position of the company and the work performance of employees for a better outcome. So, here are the measures that might be used to evaluate productivity: 
Total admin tasks conducted

Revenue generated

Sales call completed

Deals closed

Quality/quantity of products 

Total products marketed

Quantity of data inputted

Total reports generated

Working hours logged

Training completed
Why is Productivity Important in the Workplace
Productivity is essential in the workplace because of multiple aspects. If your employees are enjoying and being motivated while working, it means your workforce is productive and engaged in their work. Below mentioned are some points that will let you know the importance of productivity in workplace:
Productivity leads to better work management and work-life balance that leads to more acceptable employee engagement towards the organization, which brings more profit and revenue to the business with immense growth. 
Productive employees are attentive, dedicated, and persevering in taking organizations towards success and helping achieve the targeted goals with more motivation and engagement. 

The enhanced productivity brings more customer satisfaction and the new connection in the long run because of a positive employee work culture and a motivated workforce. 

Therefore, if your employees are stressed and unmotivated in their work, then their work performance goes down, and that leads to less production and increased loss. 

Productivity brings success and growth to the company and without it, the business can lose a lot of profit, targeted goals, and position in the market among competitors. 
When you measure things that are irrelevant to your business growth, it never brings a suitable result.
For Proper Productivity Management, You Can Constantly Maintain these Below-Given Points:
Efficiency in the workplace plays an essential role as it is the capability to accomplish things excellently with less waste of effort and time. When the workforce becomes efficient in their position, it helps them save costs with quality work. Productivity and efficiency help you achieve the best out of your time, practices, finances, and struggle.
The increase in profitability for an organization is the most ordinary aspect and increased productivity leads to better organizational outcomes with proper management. The more productive a company will be more revenue and growth it can bring. Businesses can invest earnings by providing encouragement, development, productivity, and forthcoming, possibilities for the company and its team. 
When employees are productive while working in an organization leads to better management and work-life balance. Therefore, companies provide more satisfaction and fulfillment to the employees so that they can maintain higher wages and better standards of living, as businesses produce better returns with an effective team. Also, productive employees feel more motivated and trustful in their job because they know they are giving their best to the company. 
An effective and dynamic workforce usually has increased job fulfillment. When a company builds an environment with productive and high-morale circumstances it faces less absenteeism, increased retention rates, and better teamwork and creation.
Better employee engagement indicates employees feel inspired about their position, dedicated to their managers, and pushed to set considerable struggle into their job. You can boost enthusiasm and concentration with a combination of techniques, like credit, team growth, recruit possibilities, sociable tours, and independence.
A productive team plays an important role in maintaining customer assistance as they provide complete satisfaction to their connections while providing the best services with quality work. When employees lead to better customer service that brings more profit and revenue to the organization and enhanced employee enthusiasm and effective measures.
Tips for Improving Productivity in the Workplace
Is there any way a company can improve its productivity and efficiency without effort and struggles? No, there are not, but there are some strategies by which managers or leaders can help their workforce operate better and help them maintain the organizational morale, and balance their work in a manner that can bring better revenue and outcome to the company. So, have a look at the below-mentioned key points that may help your business improve productivity in multiple aspects: 
1. Help workplace plan more effectively
Motivate your employees to achieve their daily targets on a regular basis as the delay in work leads to workload, frustration, and employee burnout. Make your employees plan their work as per their roles and responsibilities by providing a proper work procedure with a to-do list of upcoming and ongoing work. Also, help your employees track and monitor their daily activities so that they can never cross the deadlines and that can help leaders identify the top performers of the organization. 
2. Provide clear direction
Managers should be transparent while handling a team or a small crew of employees as they should motivate them and communicate with a clear direction about what are the plannings and what employees have to do for better and precise workforce management. Therefore, scheduling a weekly or daily meeting helps employees trust the management and the way their leaders provide directions to them, and this helps the organization bring more profit as the employee will work with more focus and enthusiasm. 
3. Show the team you trust them
When managers stay transparent with their team members, it helps them build a better work environment. Maintaining transparency and engagement is very important for leaders as it helps improve employee morale and professional growth. 
4. Provide suitable resources
Nowadays, tracking and monitoring employee performance is taking place in organizations as a new normal, and it takes minor efforts to maintain better workforce management and productivity improvement. So, providing your employees with the proper tools with technology helps them be more productive by dodging the boring manual work and delivering the more suitable key to understanding.
5. Build a better workplace environment
If organizations maintain a better work environment, it leads to improved and increased productivity. Therefore, creating a healthy and independent work environment makes employees feel more pleased at the workplace. There are companies who help their workforce overcome their distractions by providing them with the right environment by making the surroundings physically relaxed and friendly. 
6. Help create an effective workplace at home
Employees who work from home or remotely experience multiple benefits which they never get in their office that are: a more flexible schedule, no commute, and less frustration, hesitation, and stress. But it is essential to take measures to assure your individuals stay productive when operating remotely. Building a reliable, distraction-free workspace, planning the day-day work processes, and also operating with time management techniques can help employees perform better.
The Final Words
Productivity management in the workplace is an essential aspect of managing business success and result-driven objectives. And if your workforce maintains the proper schedules and planning, that will help you bring great advantages to your company. Knowing every fact about organizational productivity is the motive that can help manage and maintain organizational projects and employee engagements. 
Therefore, after reading this blog, if you think maintaining workplace productivity is an essential factor, then you should surf the market for the best employee productivity monitoring systems that will help you track the overall status of your employee's work performance and organizational productivity. 
However, if you are searching for the best employee productivity monitoring software that can best fit your organization then you can undoubtedly go for DeskTrack employee monitoring software. This tool can help you manage your complete workforce by providing you the real-time insights about employee performance and progress with screenshots as proof of work done throughout the day. Also, DeskTrack helps managers get all the employee data from anywhere and anytime and help employees improve their productivity in every aspect.