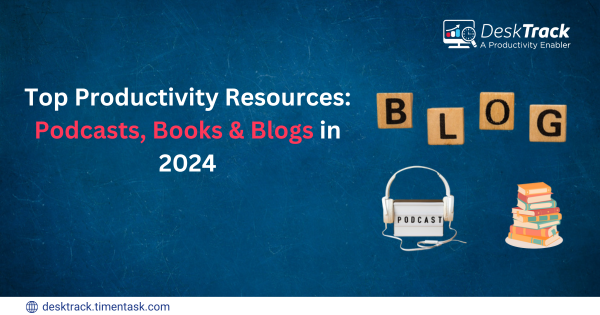 The increased workloads and responsibilities, both at work and home have forced people to think that productivity comes with being busy all the time and pushing oneself to work for longer durations. But is it really the case? Do we actually need to work for longer to be productive or do we need a better focus, creating a to-do-list and working in a planned manner?
If you also struggle to work productively and struggle to meet your daily targets within working hours, we have got you covered. In this blog, we will share the best resources to be productive. Here we have the best productivity resources including podcasts and books list for you to grab in this year's end so that you can be the most productive in 2024.
So, let's get started!
Podcasts
Podcasts have become the  easily accessible productivity resources which people love these days. This is because they are easy to complete. One can listen to podcasts anywhere, at any time.
Here are the best podcasts that can help you be more productive.
5 Steps for Planning Your Day For Optimal Creativity
This is a 30 minute episode, the best productivity resource for those looking for Optimal Creativity. This is a perfect resource showcasing resource allocation in 5 easy steps. People who want to save their time, focus, and energy must listen to this podcast.
3 Strategies for Dealing with Procrastination 
This is a 30 minutes HBR podcast featuring a conversation between an author and a psychologist showcasing procrastination of work. It is a great productivity resource for working people.
Masters of Scale
Reid Hoffman founded LinkedIn and was a part of the notorious PayPal Mafia. He currently hosts Masters of Scale and is a partner at Silicon Valley's prestigious VC company Greylock Partners. Hoffman is a virtuoso at growing startups into billion-dollar enterprises. Hoffman's reputation allows him to draw high-profile guests like Netflix CEO Reid Hastings and Mark Zuckerberg. The discussions are always insightful and it is a great productivity resource for working people.
Recode Decode
Recode Decode is the only place for those who want to stay up to date on the newest technology news. Tech writer Kara Swisher hosts the program every week. Swisher conducts interviews with legislators, journalists, regulators, and tech innovators to give readers a range of viewpoints on how society and technology interact.
MFCEO Project Podcast
This is a free insights podcast by Andy Frisella who generally charges approximately $75,000 for a single session  sharing business advice. These free insights are not less than a bumper offer for those who want successful business strategies.
This is a perfect podcast for those who want to develop a mindset to seek personal and professional success.
The McKinsey Podcast
McKinsey is a renowned consulting firm with over $10 billion business business evolving elite strategists that solve the most challenging business problems. This is why the consulting firm is able to produce different ground-breaking studies and podcasts. 
These are great resources for those who are keenly interested in the latest business developments, and willing to know new happenings in the world of marketing, finance and everything.
Books
Books have always been the best resource for people. People in the digital age as well want to read books. Here are the best productivity resources, i.e. productivity boosting books you must read before 2024 arrives to boost your productivity.
The Hard Thing About Hard Things
One difficult aspect of difficult things. In 2007, Ben Horowitz sold Opsware for a price above $1 billion. Later on, he co-founded the venture capital firm Andreessen Horowitz, which has stakes in Facebook, Box, and Airbnb. In his best-selling book, Horowitz shares his hard-won knowledge about what it takes to create a profitable firm.
Because the chapters in The Hard Thing About Hard Things are brief and action-oriented, they're a perfect read for entrepreneurs with limited time.
Good to Great
"Good is the enemy of great." In his thoroughly studied business book, Good to Great, Jim Collins posits this notion. Collins and his research team looked at a few publicly traded companies that had made the transition from mediocre to excellent companies in a comparatively short amount of time.
Entrepreneurs may rapidly apply the data offered in the book to almost any firm and see obvious improvements, as it offers a number of actionable insights.
High Output Management
The late Andrew Grove was a famous figure among Silicon Valley entrepreneurs, despite not being a household name. Grove held the position of CEO at Intel and mentored numerous individuals, including Ben Horowitz and Steve Jobs.
Grove provided a useful framework in High Output Management to help managers maximize the productivity of their workforce. The practical aspects of the book, such as how to run a productive one-on-one meeting, are its main focus.
The 7 Habits of Highly Effective People
This book covers everything one needs to know to approach improvement in life. It showcases methods to examine and adjust one's character and motives to behave in the world and interact with others. 
This is a must read book for those who want to learn the best way to define personal missions, manage time and build productive relationships with others.
Final Thoughts
Productivity is the key in today's busy environment to maintain work life balance.  Hope these useful books and podcast lists help you to be more productive at work and in life.