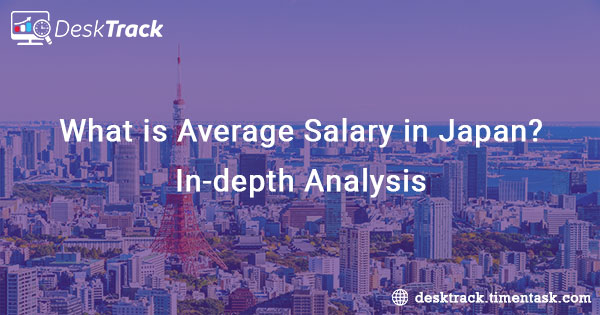 Japan is a country where ancient traditions exist peacefully with the latest technologies. It is a dream job destination for many people in India. This is because Japan is a dynamic hub in the global economic world. It offers numerous opportunities that fulfills the need of both seasoned professionals and aspiring talents. Today everyone is keen to know this island nation's economic expertise. There is a common question in the minds of those considering a career opportunity in Japan: "What is the average salary in Japan in 2023?"
This blog is an in-depth analysis on the average salary in Japan. Our aim is to help people with a comprehensive understanding of the minimum wage in Japan and what amount is ideal to live in Japan.
In this blog,  we will guide you to deal with the complexities of earning livelihood in Japan. We will also share important facts and figures that contribute to the Japanese job market in 2023. We will also offer invaluable insights for the people who want to make informed career decisions in Japan's unique and diverse environment.
Insight into the Average Salary in Japan
In 2021, the  average annual salary in Japan was approximately 4,530,000 Yen or 41,000 USD. This figure provides only a partial view of the elements affecting an individual's income. The average monthly salary in Japan is 3,794 USD.
The industry in which one works is a primary component of salary. Different sectors offer different compensation packages. The high-demand fields like technology and engineering generally provide competitive salaries. However, less popular industries may offer lower basic salaries in Japan.
Work experience is also a crucial factor which influences the Japanese wage. Entry-level candidates generally earn less than mid-career people who have at least three years of experience. People with over five to seven years of experience with specialized certifications, and above-average expertise generally have higher salaries.
Geographic location also plays a key role in salary differentiation. Cities like Tokyo, with higher living costs, typically offer higher average yearly salary in Japan. Whereas, areas with lower costs of living may offer lower salaries.
Individual qualifications, education, and specific job roles also significantly affect income. Professionals with advanced degrees or specialized certifications often earn more, and complex or high-demand roles within a sector attract more salaries.
Median Salary in Japan
Before knowing it, let us first understand what does median salary mean.  The median salary is the midpoint differentiating working people into two. This represents that half of the working population gets more salary than this value whereas the other half receives a salary lower than this amount.
The median salary in Japan in 3, 470 USD i.e. 471,000 JPY per month. This indicates that 50% of the working population in Japan earns less than USD 3, 470 and the other 50% get higher wages than this amount.
Minimum Wage in Japan
Workforce in Japan generally work for 40 hours per week and the minimum wage in Japan is decided by the regional Minimum Wage Council in the country.
The average minimum wage in Japan is 931 JPY (USD). This amount increased to  961 JPY (April 01, 2023).
Also, employees working higher than their working hours get overtime pay as decided by the Labor Standards Act of 1947.
The minimum wage in Japan is also different from one location to another. For example, people in Tokyo get approximately 985 Yen i.e. 8.5 USD per hour. This indicates that the basic salary in Japan is higher in some areas. This is because of improved business operations and better infrastructure.
Salary Range in Japan
The average pay range in Japan per month from around  958 USD or 130, 000 Yen to 16, 944 USD or 230, 000 JPY.
Average Salary:
Japan 
Profession Wise
We have shared the industry-wise average compensation in Japan for popular industries and professions in Japan in the given table:
| | |
| --- | --- |
| Average Salary in Japan – Industry/ Profession | Salary in JPY |
| Engineers | 21,874,424 |
| Doctors | 9,220,000 |
| Real Estate | 6,990,000 |
| Accounting Professionals | 6,360,000 |
| Education Sector | 6,550,000 |
| Science and Technical Sector | 8,270,000 |
| Entertainment Sector | 225,100 |
| Hospitality Sector | 208,900 |
| Construction Industry | 251,200 |
| IT Professionals | 315,500 |
| Research Sector | 301,400 |
Average Salary in Japan USD vs Global Average Salaries
This table helps you to compare the average Japanese salary with the average salaries in different countries:
| | | |
| --- | --- | --- |
| Country | Average Salary in USD | Average Salary in JPY |
| India | 387 | 58211.25 |
| Dubai | 4,570 | 687382.84 |
| US | 6,228 | 936765.94 |
| UK | 3,426 | 515311.51 |
| Australia | 5,032 | 9078397.16 |
| Pakistan | 287 | 43169.58 |
| Philippines | 500 | 75208.33 |
| Canada | 4,942 | 743359.10 |
| Russia | 730.402 | 109864.63 |
| Malaysia | 1,485 | 223368.73 |
Average Salary – India vs Japan
The average monthly salary in Japan is   3,794 USD whereas the per month average salary in India is USD 387.  This represents that the average salary of Japanese employees is 10 times higher than what people in India receive. The prominent reasons for better salary in Japan are better infrastructure and businesses operating more effectively as people are more productive than people in India.
For better understanding the average salary in India, read our blog on the average salary in India. 
Average Salary
–
US vs
Japan
The average compensation is lower in comparison to the average salary in the US. People in the US have better living conditions as they earn more than the Japanese working people. Know more details about the average salary in US in our blog here.
Average Salary
–
Dubai vs
Japan
The average salary in Dubai is USD 4,570 whereas the average salary of working employees in Japan is 3,794 per month. We can conclude that people in Dubai earn more than the ones in Japan.
For more information on the average salary in Dubai read our blog here. (hyperlink with the blog url).
Final Thoughts
Multiple factors influence the average salary in Japan. Some of the popular factors are the industry, work experience, qualifications, and geographic location. In 2021, the average annual pay in Japan was approximately 4,530,000 Yen (41,000 USD). The monthly average was 3,794 USD. The high-demand sectors like technology and engineering offer competitive salaries, while less popular industries may provide lower wages.
Comparison of Japan's average salary with global averages reveal that Japan's salaries are significantly higher than those in countries like India and Dubai, reflecting Japan's efficient infrastructure and productivity. After getting useful insights on Japan's average pay individuals can consider planning a career in Japan. 
FAQs
1. What is the basic Pay in Japan per hour?
The basic pay in Japan per hour is 1002 JPY as per the Ministry of Health, Labour and Welfare. This is an ideal amount for Japanese to live comfortably.
2. What is the average wage in Japan for software engineers?
The software engineers earn approximately 71,58,705 annually in Tokyo. Also, they get additional compensation in Japan.
3. What is the pay in Japan for Indians?
In Japan, the average salary in rupees for Indians is approximately 79,778.60 per month.
4. What is the lowest Japanese Wages?
The lowest wage in Japan is defined as the minimum wage. In Japan, the minimum wage for working people is 1074.675 USD per month.
5. Which industry is the highest-paying in Japan?
Some of the highest paying industries in Japan are:
Private Practice Equity Partner. 
1) Head of Medical Affairs. 
2) Human Resources Director. 
3) Head of Marketing
4) Business Development Manager
5) Pharmacovigilance Director
6) Country Manager