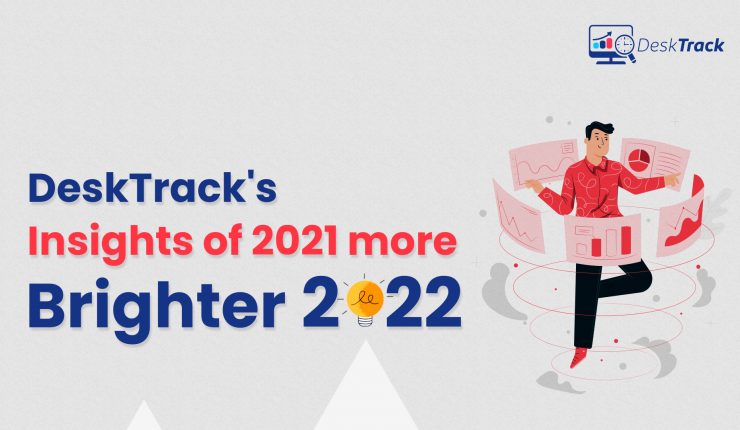 DeskTrack since the year 2018 always stands as a helping hand for the business by overcoming all of their work, team & productivity challenges. In recent years also it has stood alongside the business to fight against Covid and helped businesses to set up a hybrid work culture. Here are some insights on the DeskTrack 2021 path.
Over the recent years, DeskTrack helped almost 1000 companies' 50000 users to overcome all work challenges and also helped to boost productivity & efficiency by 40%. Everyone was suffering from the tough situation but with DeskTrack collaboration, businesses were able to function properly & manage the profits as revenue. It is not simply employee monitoring & time tracking but it helps all business operations to perform properly. 
Employees enjoyed working from home & hybrid work as they were able to manage work & health same time, also for the proof of work DeskTrack solution of activity time tracking helped them to stay at the top & avoid misshapen. Along with the employees business also continue to achieve their success with the new workspace, able to manage 100% transparency, save the 40% operation cost on top of it, optimize payroll & attendance process, overcome IT expenses, and so on. In between, the most important thing is businesses get proper client satisfaction with timely work deliverables.
DeskTrack to make available for all industry verticals launched a few add ons in 2021, here you go
Budget-Friendly
Launched DeskLite a budget-friendly module just @ Rs 99 only with one thought that this solution should be available to all of the business to manage the workforce with 100% transparency, it all together added a different value to the market with its consolidated timesheets & activity reports click to read in detail. 
Manual Time Entries for better compensation
 One more add-on to get to the employee work insights by manual time entries with DeskTasker, employees can simply add where they spend time for the day to the tasks they are performing along with the projects. This simply helps to provide the billable hours to the clients & get paid accordingly.
Mapping teams for more clarity
A hierarchical mapping for more than one login, to get more clarity for the team's work & take real-time fact-based decisions to improve the team's productivity & efficiency. These logins help managers to get their work done properly & help team members to find & overcome their work gaps.
All teams at one place
Apps for mobile teams to report their working hours, activities they do over the phone, call logs & locations they visit the entire day to make their work finished, by this reports mobile teams to make their work recognized, also it helps to remove & analyze distractions at work.
With this, all these field, onsite, remote & hybrid teams come to one place to undertake the reporting.
Steps towards achievements
Industry leaders like Crozdesk, Software Suggest, etc. have rewarded DeskTrack for its excellence, here are some major reasons for advanced features, user-friendly dashboards, value for money & remarkable support systems. Here are some:
Crozdesk – Crozdesk has awarded DeskTrack in different categories. It's an honor to be awarded by those who drive growth.

Awarded consecutively in 2020 & 2021 as the Leader in Employee Monitoring Software Award 

Awarded the Quality Choice Award

Awarded the Happiest Users Award


Software Suggest –

DeskTrack stands out among other software products for its outstanding features in multiple categories.

Awarded as Category Leaders Award

Best meet requirement award 2021

Best support award 2021

Best value award 2021

A quick check on the best software portals why DeskTrack is being loved 

Capterra

Software Advice

Trust pilot

Software Suggest
Conclusion
DeskTrack 2021 journey was great & it spreads productivity everywhere in recent years. Also rewarded many times for their contribution of high-end results. After all these, DeskTrack introduced itself for revolutionary change with new features. It satisfied all their new and old customers, to get their faith in a  positive approach. As a result, it stands in a Saas world between the top leaders with the big customer base and their trust.