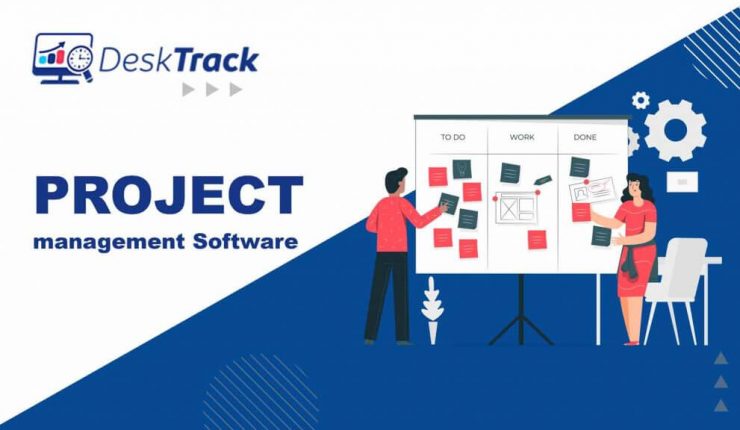 Every company works in its own way. whereas it may sometimes seem difficult to boost productivity while working together with numerous people. But, with the best project management software in India, you can modify the patterns followed by your company for project management. Project management & employee work management is the backbone of any organization. Well-organized companies generate more revenue at a low cost. It is the success mantra of the companies.
What is Project Management Software Explained?
Project management software is used to plan projects schedule, resources allocation, management & modification.  It is designed in a way to help you effectively manage projects and tasks. Whether you're managing a project for your company or for an individual in your family, project management software can be very useful.
Therefore, in a nutshell, project management system features help you to work more productively. Also, the software helps to collaborate and communicate among the project stakeholders to maintain project visibility. Have a glance to understand the benefits of using project management tools below-
Main Features of Project Management Software
Project planning: By using project management software, a project manager can map project tasks and visualize interactions.
Task management: Set up and assign tasks, set deadlines, and generate status reports.
Document sharing and collaboration: A central repository of project documents makes it easier for stakeholders to collaborate with each other.
Calendar and contact sharing: Scheduling meetings, activity dates, and stakeholders' contact information should be automatically shared across all PM and stakeholder calendars.
Bug and error management: It is possible to report, view, notify, and update bugs and errors in project management software for stakeholders.
Time tracking: The project management software should be capable of tracking time for all tasks and maintaining records for third-party consultants.
Benefits of Project Management Software:
The Project management software provides the essential features that help you to plan your projects efficiently, resolve issues, manage available resources, and involve all the project associates. Having the list of best project management tools applied to your company's services can provide you with a better outcome. Here are some of the benefits of project time tracking software which can help you understand the software better:
Planning and scheduling
Planning and scheduling play an important role in project management, and with these solutions, you can have records of previous projects that can help you in the present ones. Also, project managers can schedule tasks like assigning resources, setting dependencies, specifying deadlines, and creating project deliverables effortlessly.
Better association
Project management teams consist of different departments and handle their daily responsibilities as well. This creates inconsistency among the stakeholders as they are sometimes not available to have meetings or necessary discussions. Therefore this gap creates delays and issues in completing the projects on time. Project management system can help you achieve your targets on a timely basis. It creates an effective project team collaboration, maintains communications in a collaborative form, and provides insights with timesheets and status updates that can help in better management.
Remote working
At present times working on projects by being with your team at a particular place does not matter. Also, managing projects from different locations is not that flexible. But with the project management software for freelancers or remote teams, managers can easily maintain every project and lead their teams effectively.
Task delegation
Many of the time, team leaders find it hard to allocate tasks to their team members, which may impact the productivity of the complete team. Therefore with the project management software, managers can easily assign tasks to their team members per their roles and responsibilities.
File access and sharing
File accessing and sharing is the most essential task. Therefore, project management software tool help users maintain their records and offer storage for feedback, changes, etc. Also, it provides transparency among the employees regarding every project.
Improve productivity
A major benefit of using project management tools helps your workforce improve productivity and optimizes your decision-making approach at work.
Types of Project Management Software
Nowadays, most companies use technical methods for effortless work solutions. Likewise, types of project management software helps your company to achieve the organizational goals on time for better outcomes. Here are different types of project management tools that can help you in every way:
Individual Project Management Software
Individual project management software is the best option for solo project managers who need a light weight tool to manage project. It allows you to manage single projects at a time & gives limited features. You can get all the information you need in one place. This type of software helps with communication, tracking time and tasks, and creating budgets.
Collaborative Project Management Software
This type of software helps you share information with other members of your team or with external clients. You can create templates that will be used by everyone who uses the software, so everyone will have the same starting point when they start working on a project. This makes it easier for everyone involved in a project to work together as one team.
Online
Online project management software is beneficial for every type of company including small businesses, freelancers, etc. that is based on SAAS subscription with every type of internet connection. Also, users can use this from any location and device, PC, laptop, desktop, tablet, and smartphone, to get up-to-date project status.
On-Premise
This software works for on-premise project management. The server will be under the control of the company and leads. Most of the offices choose on-premise project software because of the issues as well as long-term expenses. When the company has its own servers, it can have complete control over data security and storage.
Free
Free project management system is a fully-featured and open-source system available for small businesses or teams of 2-4 people. Teams, who are just testing out a new implementation can have these opportunities that are beneficial to help in their decision-making methodology.
Industry-Specific Project Management Software
A standard project management software does not work for every industry, and that's why industry-specific software comes into place. It helps lower the amount of customization a business will require upon execution. Construction, architects, software development, civil engineers, financial services, healthcare, and law have features and customizations that make them fit for industry work.
Project Management software for Architects
Architectural project management software can help you manage all aspects of your architectural practice efficiently and effectively. From scheduling to budgeting, it's easy to see how these tools can make your job easier.
Project Management system for Construction
Project Management system for construction is a very important part of construction management. It helps in planning, scheduling, budgeting and controlling the project activities. Project management system for construction can be achieved by using a number of software tools as well as some manual methods.
Project Management software for Small Business
The benefits of using a project management system for small businesses are numerous. Managing multiple projects at once lets you prioritize tasks, manage deadlines and keep track of progress. You also get the added benefit of having one place where you can view all your project data, making it easy for you or your team members to access information about any project at any time.
Project Management software for Individual
Project planning software helps you to plan a project with your team or client in advance so that you have a clear picture of what needs to be done, when and how it needs to be done, who will do it and how much time it will take.
Project Management software for Non-Profit
Project management software is also used in non-profit organizations as a tool for managing their projects. Non-profit organizations may have multiple projects going on simultaneously so they need to have an effective project management system in place.
Project Management software for Interior Designers
Interior design is a profession that requires you to be organized. This is especially true when it comes to managing projects and clients, as well as keeping track of files and projects. Project management is an essential part of any business. It helps you keep track of all your projects, manage their progress and provide you with reports that show you how your business is doing.
Project Management software for Freelancers
Project Management software is one of the most important tools that every freelancer needs in their business. It helps you plan your projects, track progress and ensure that deadlines are met.
Project Management software for Accounting Firms
Project management software is a popular tool used by accounting firms and their clients. This type of software helps in tracking projects, managing deadlines, and providing reports on the progress of the project.
Project Management software for Consultants
Project Management software for Consultants is a tool which helps you in managing your projects, tasks, and clients. It helps you in creating a project schedule, managing the project budget, managing client expectations and keeping track of all the changes that are made during the course of a project.
Features of Project Management Software
While choosing a project management system for your company, you should check out the features as per your business needs:
Task Management
Task management is the most important aspect of project management. It allows you to specify expectations on a task, create and manage subtasks, set a task to repeat or recur, assign tasks, and import a list of tasks. Therefore, you can create, revise, and oversee the status of tasks during a project lifetime. Also, it provides detailed insights into project progress that is more effortless to understand than in a spreadsheet.
Team Collaboration
Collaboration software allows teams and stakeholders to exchange details, maintain conversations, mail statements or permissions, set the context to project files, and instant message others. Collaboration tools help large teams to maintain the project, alert team members for every change, keep it up to date, consolidate assets, and cross-team permissions to maintain workflow to achieve deadlines.
Support Documentation
Documentation and support tools that reduce the graphical record contain help desk articles, regular educational webinars, support videos, in-software tooltips, chatbots, and email or phone help. However, some tools offer phone and email support to only paying subscribers. So, if you want personalized support for your team, choose the software wisely with better implementation.
→ Benefits of hybrid working model for employees
→ Productivity tips for working from home
→ Why should companies invest in employee monitoring software
→ Which industries use employee monitoring software
→ Reasons why employee time tracking software important for employees
Email Integration
Email features will help you send notices to each employee about the progress of their projects, alerts for due dates, or status changes to the entire team. It helps create new or revise existing tasks via email and add files, comments, or custom labels to an existing task. Therefore, these tools allow you to increase workforce productivity as the employee can manage and update tasks from the inbox.
Project Portfolio Management
Teams who manage different projects at a time may need to track them individually while having the command to report and examine their progression. Project management software can maintain the projects effortlessly and provides an ease to companies who are functioning on multiple projects. The project managers can keep an eye on the progress, identify gaps and bottlenecks, and work done by an individual.
Mobile App
Mobile apps have been as useful as a laptop or PC which is beneficial for every type of company and mainly for remote teams. It helps them track project progress, get on to the work, and communicate with the team members without difficulties. Almost every software provides a mobile app solution for platforms like IOS, android, and HTML5.
Reporting and Scheduling
Reporting and Scheduling are integral features of project management tools for small business. The reporting features help track progress and its due date or task type, provide a checklist of incomplete tasks, update stakeholders on resource assignments, filter data, and help calculate on-time delivery. Whereas the scheduling feature allows users to establish schedules on tasks, make a project timeline with achievements, and specify dependencies.
Time Management
Time management helps employees to track their performance, time spent on each project or task, and their work progress. It allows managers to set goals, monitor employee work, manage team workflow, integrate with projects, and error-free payroll. This feature of project management software helps companies to manage multiple projects in the long term.
List of Some of the Best Project Management Software
List of The best project management software that can help you perform effectively and assure project success. If you are looking for an effortless and intuitive project management tool. Here we have listed some of the best software that comes with everything you need to effectively finalize your projects.
MeisterTask
Basecamp
Nifty
Teamwork Projects
ProofHub
Zoho Projects
Trello
JIRAHubstaff
Conclusion
Choosing a project management software for your organization is not an easy task. To pick the right one, it is essential to evaluate the aspects as per your business needs and the size of your team. Consider which of the factors are more useful for your business and team. Project management tools can help you make your daily work pattern more effortless. In order to select the best one, the above-mentioned software provides the best services with integrations.