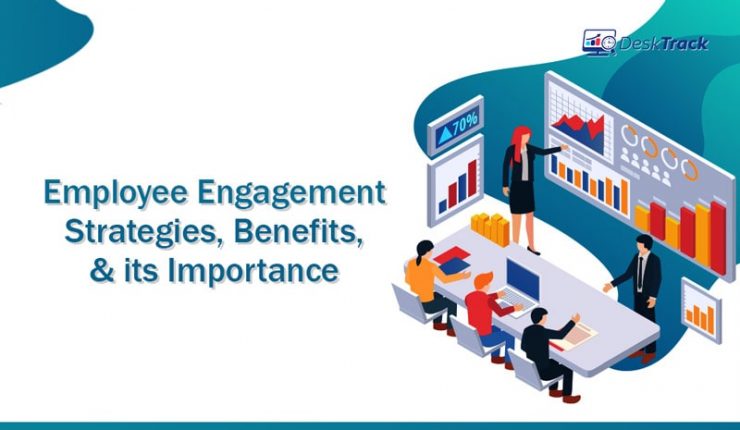 Nowadays, employee engagement matters the most for every organization as it helps employees to stay for the long run. So it is high time for you to create a better employee engagement strategy. Maintaining solutions in business for employees who are liberated will help you enhance maintenance, improve productivity, and eventually make a rise in your lowest series. 
Table of Contents
Proven Employee Engagement Strategies that Enhance Workplace Culture
Businesses know that drawing employees and maintaining them is not enough in this present era. While encouraging and engaging them to achieve organizational goals that demand employee engagement strategies. 
But from where do you get to start with it? What employee engagement strategies will you choose that can help your organization? 
Employee engagement is the extent of the desire and capacity of employees to bring immense success to their organization. An engaged workforce offers efforts and high-level engagement in their work performance and is always ready to take on new challenges to build a favorable work environment. 
What is Employee Engagement?
Employee engagement refers to the enthusiasm and dedication provided by an employee to their organization's growth and development. Engaged employees hold a meaningful relationship with their organization as they sense the significance of goals in their job. 
According to Gallup, in 2017, only 15% of the world's one billion employees were committed to the job. It was shocking data. Lower engagement brings on lower productivity, and this leads to slower economic growth. 
This happened because of the insufficiency of leadership and employee engagement. However, there are a lot of companies that still do not know the meaning and value of employee engagement. 
Therefore, creating a higher engagement among employees would be beneficial for your organization to achieve your targeted goals with ease. 
Why Employee Engagement is Important?
Employee engagement is the best way to make your workforce more committed and productive toward their organizational goals for the long term. 
Organized employee engagement would considerably improve a lot of key points in your organization:
Profitability

Productivity

Customer services

Job satisfaction

New innovations and creations

Health, illness, and safety

Lack of resources

Employee turnover and well-being
And to gain all these, the engagement measures ought to line up with your comprehensive business approach and concept. Executing any technology or approach in your organization for employee growth without letting them know may be a waste of time and resources as they do not know its impact and usage. Insufficiency in the planned approach may lead to a failure of the expected outcome. 
What Impacts Employee Engagement?
Below mentioned are some of the most essential points that can impact employee engagement. If any of them goes down, then it will affect the complete organization. 
Communication and Goal Setting

Work-Life Balance

Company Transparency

Training and Development

Work Advantages

Freedom and Challenges
What is an Employee Engagement Strategy?
Maintaining employee engagement is not an easy task as it needs proper strategy and planning. 
Studies of Zenefits showed that 63.3% of the companies have encountered that maintaining employees is more difficult than recruiting them. As this approach needs proper management and maintenance is a little bit difficult for the company on a big scale. 
Therefore, Employee engagement strategies will help your organization in every way. It will provide you with a planned segment for how your organization can keep your employees committed and engaged. 
But before that, you should plan an overview for your strategy, like how you are going to measure engagement, your objectives, productivity, budget, and precise tactics for how you'll enhance engagement. 
With this kind of strategy, you can definitely improve employee engagement in your organization and fulfill all your desired goals. 
Useful Employee Engagement Strategies
Here are some of the useful employee engagement strategies that you can apply to your organization for better management:
→ Start a Survey Campaign
The most important step in improving employee engagement is understanding where it stands now. Conducting a survey can give you insight into what motivates employees and how they feel about their jobs, their managers and other aspects of their workplace. It will also help you identify any gaps in your company's programs that might be preventing employees from being engaged or feeling like they have a say in decisions made by management.
→ Focus on your employees
An employee engagement survey can help your employees stay engaged within the organization. Discuss all the issues and experiences and plan employee engagement strategies to resolve them accordingly. Employee engagement surveys are very important as they help you understand the feelings and acquaintances of your employees and complete working staff. 
→ Act on the obtained data
As an organization, if you fail to know what are the concerns and challenges your employees are facing, then there is some serious issue. Execution of new things can help your employees perform better in many aspects. Therefore, when you receive any data that leads to disengagement among employees, you should take a measure against it and try to build employee engagement for better outcomes. Provide your employees the opportunity to make extra efforts with dedication and comfort to fulfill your organizational goals. 
→ Setup Committee to Engage Employees
Form an employee engagement committee. Once you know what's working and what isn't, it's time to turn your attention toward specific solutions that will make an impact on your workforce as well as on your bottom line. A good place to start is by forming an employee engagement committee made up of managers who are committed to making improvements in their departments' operations and culture. This group should include both employees who work directly for the management team (such as hourly workers) and those who work for the company as a whole (such as executives).
→ Provide authority to employees to speak
In an organization, not every employee likes or feels comfortable speaking in front of everyone, whether it will be a survey or anything. Implementing different communication channels can help them open up and help them know that their opinions do matter to the organization, whether it will be open communication or via an application in writing. 
→ Try open door approach
Many organizations are now turning to the free and liberated culture. Try to have an open-door approach, as it will help build transparency and let employees put all their concerns and issues in front of the management without any tension. Also, it will allow employees to provide feedback and motivate them to put their thoughts willingly. 
→ Keep Engaged Remote or In house Teams
One way is to use technology like video conferencing and video-enabled applications (i.e., Skype, Zoom, etc.). This allows you to connect with your employees in real time and talk about work issues or even conduct training sessions. Another way is to use social media platforms like Facebook and Twitter for team updates and conversations about the company's mission, vision, values and goals.
Advantages of a Highly Engaged Workforce
The Gallup Study of 2008 showed that employees who are engaged with their organization perform better and provide better results. Whereas employees who are disengaged feel their efforts do not matter to the organization as they get demotivated quickly and create a negative effect on their performance and overall results. Therefore, an engaged workforce builds a dynamic relationship with the association that enables them:
perform better to accomplish successful business agendas

experiment and create innovations in the workplace

draw customers and employees

work with dedication toward the company, its development, and its operations

invest power and positivity in the workplace.
Conclusion
These above-mentioned employee engagement strategies provide you with the positive results of higher employee engagement in the organization. Implementing employee engagement best practices leads to influential growth in employee talent, skill, and productivity. 
Low employee engagement is the most problematic issue in today's world. In every organization 10 of 7 employees are disengaged, and this eventually affects the overall growth and development of the complete workforce. 
Employee engagement strategies are now very important for every size of organization. As it encourages a positive and enthusiastic work environment and boosts the morals of every staff member. 
However, in this competitive market, the organizations that follow the ideas for employee engagement strategies beat their challengers in terms of profitability and productivity.