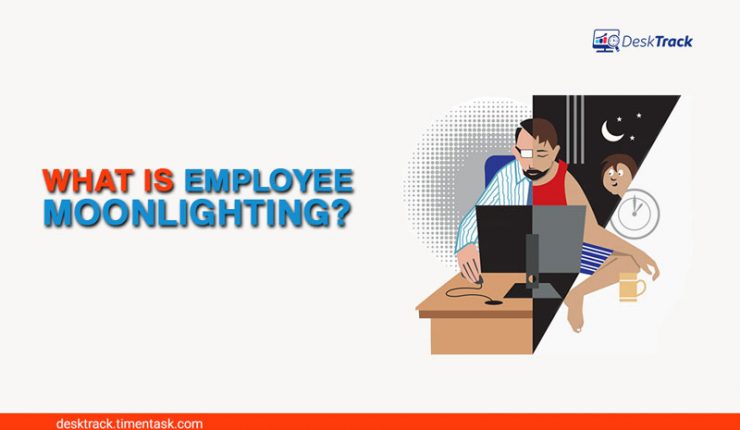 Every organization is concerned about the integrity of its employees towards it. No organization is willing to help its competitors through its employees 'directly'. Wait, but does that mean some organizations have no objection to such support towards their competitors 'indirectly'? And that's what they call 'Employee Moonlighting'.
Have you sacked any of your employees for 'Employee Moonlighting'? 
Do you think it is harmful to your business?
Let's know the buzz around this terminology since mid-2022.
Table of Contents
What is Employee Moonlighting & Its Effects on Indian Firms?
Employee Moonlighting Meaning
The meaning of Employee Moonlighting can be understood as taking up other assignments or projects besides your primary job, especially without informing your employer.
Informally, it is also called a 'side job'.
By the way, why is it called 'moonlighting'?
And the answer lies in the fact that historically in order to earn extra income, people used to work at night, hence it is termed as 'moonlighting'. This practice of moonlighting has become more often ever since remote work has become a new normal work mode. Also, several layoffs during the pandemic have made employees vulnerable to sticking to just one primary job.
The intent of employees indulging in Moonlighting is to supplement their basic income. The other intent of indulging in this practice is when an employee is planning to switch his profession to some other sector and preparing himself for the same.
Employee moonlighting has become a matter of concern in recent years due to a fall in productivity and unchecked absenteeism. Even if an employee is indulged in freelance work, it is considered a moonlighting practice. The reason besides losing integrity in moonlighting is the falling efficiency of the employee due to being overburdened with 14 hours of work shift in a day.
There are various types of moonlighting
Blue Moonlighting

Quarter Moonlighting

Half Moonlighting

Full Moonlighting
What is Moonlighting in the IT industry?
According to a report by Indeed.com, 43% of employees find moonlighting favorable. The terminology became popular in America when during the pandemic employees were given remote jobs, especially in the IT sector.
This practice of moonlighting in the same industry may lead to a Loss of Confidentiality and proprietary information which as a result may hamper the company's growth and progress.
Such a breach of data policy may cause humongous loss to an IT firm where data is everything for their business. Moreover, it was observed that employees with three-six years of experience are indulging in this practice with an aging slot of 26-27 years old/newly married.
As per a survey by Kotak Institutional Equities, 65% of IT employees know someone who is indulged in moonlighting or pursuing a part-time job.
Is moonlighting legal in India?
Since there doesn't exist any law against moonlighting in the IT sector in India, the practice cannot be considered illegal. However, as per labor laws workers of a factory are prohibited to take up any side job/dual employment. Though employees belonging to the IT sector can be prohibited from dual employment by their offer letters. 
In case any organization mentions in the offer letter provided to their employees before joining that they cannot indulge in moonlighting during their course of employment, in case they would be terminated, then definitely prohibition of moonlighting can be considered under the company's policy. Also, there are companies raising objections on moonlighting jobs for the same industry as this leads to a conflict of interest.
However, not all IT firms are standing against the practice of moonlighting some are thinking from employees' perspectives as well. Tech Mahindra CEO CP Gurnani finds this practice healthy if it helps its employees earn extra money. 
Companies like Swiggy supports moonlighting jobs for their employees under certain conditions after working hours. Nova Benefits also favors its employees towards moonlighting and promotes them to pursue their interests and passion outside work hours.
Also, IT Minister Rajeev Chandrasekhar took a positive stand on moonlighting stating that the latter is the future of work. Also, mentioned that it is the era of employee entrepreneurs, and companies to embrace the change in the minds of young Indian tech forces. He stated that companies who are expecting their employees to only work for them and not for their startups are surely destined to fail. Therefore, till now it is the discretion of organizations to claim to moonlight 'legal' or 'illegal' as per their company norms/clauses.
On the other hand, there are 81% of employees as per a survey found moonlighting unethical whereas only 19% of employees found it as an ethical practice. Besides, 31% of employers have the opinion that employees moonlight due to their less engagement while 23% of employees engage as they have ample amount of time to engage in other secondary jobs.
Moreover, as per a survey by Valuvox, 29% of employees surveyed engage in this practice due to the feeling of burnout while 23% of employees experience a lack of support from their managers and engage in the practice of moonlighting.
What are Moonlighting's Effects on an Organization?
Speaking of moonlighting effects, there are both pros and cons. Let's look at both closely.
Pros
1. An additional source of income 
If you are struggling to meet ends and need some extra income for your livelihood, then moonlighting can be a boon.
2. Wide Exposure to opportunities 
This practice of dual employment may bring wide exposure to opportunities and professional networks which in the future may get you good career opportunities.
3. Learning new skills 
Besides new opportunities, you get to learn new skills which becomes an add-on to your resume.
4. Variety of tasks 
If you are the kind of person who gets bored with your monotonous 9-5 job and looks out for some other variety of work of your interest/hobby, then indulging in moonlighting can be your call.
5. Experience 
Besides these, the experience that you are able to earn year by year by sticking to one primary job is also added up while you are indulged in dual employment for the same industry.
Cons
1. Conflicting Schedule 
You may end up juggling between two jobs if the latter has conflicting schedules. This may lead to frequent fatigue, tiredness, and unproductivity.
2. Exceeded
working
hours 
You may end up working for more than the usual 8 hours in a day which may again end up leading to frustration and mood swings.
3. Sacrifice of benefits 
You may end up sacrificing benefits like vacation days, and health insurance that you receive when you have solely your primary job.
In the case of moonlighting, both employers are liable to take into account the basic exemption limit and tax slab as per the respective salaries.
Case Study – Moonlighting in Wipro
Organizational opinions on moonlighting started when Swiggy came up with its moonlighting policy in August 2022. Moonlighting is a "complete violation of integrity in its deepest form", says WIPRO's Chairman Rishad Premji.
The statement comes into effect when WIPRO sacked its 300 employees on account of moonlighting. On ethical grounds, people who are on WIPRO payrolls are not allowed to work for its rivals at the same time.
Not just WIPRO, giant firms like IBM, Infosys, and TCS have too raised their voice against this practice. 
How to find Employee Moonlighting?
No wonder you turn vulnerable towards employee moonlighting and start enquiring about the ways to find and stop the practice.
Below are listed some symptoms how you can figure out about employee moonlighting:-
1. Frequent tiredness
Not to consider once in a while the type of fatigue and tiredness but if you observe your employee in such a state frequently then it becomes a matter of concern.
Employees indulged in moonlighting tend to spend at least 14 hours working on a daily basis and end up growing dark circles and exhaustion on a daily basis.
2. Delayed Response 
Have you started receiving delayed responses to your mail or phone calls during billed hours?
Watch out! That's an alarm to take a call and look out for the reason.
It is very much understood if your employee's focus is diverted to some other project during billed hours, then there would be frequent delays in responses to your correspondence or any type of communication.
3. So-called Poor Internet Connectivity 
In the case of remote work scenarios, employers and employees want to ensure high-speed internet connectivity for unhampered communication.
However, in case you have started noticing your employee making excuses for poor internet connectivity frequently and does not end up fixing the problem, then definitely such carelessness or foul intent needs to be checked.
4. Declined Quality of Work 
If you are observing a frequent decline in the quality of work delivered by your employees, then it's a matter of concern too.
Check if your employee even after multiple reminders and warnings is unable to cop up on quality delivery of work.
How to Deal with Employee Moonlighting 
In order to deal with employee moonlighting, you can adopt the following measures:-
1. Moonlighting Policy 
If you are observing employees moonlighting as a frequent practice in your organization, then coming up with a moonlighting policy makes complete sense.
This would let you take a call on whether you want to lay off such employees and stop this practice once and forever or put them under some other types of reprimands.
2. Daily/Weekly Goals 
Setting up daily or weekly goals would let you keep a check on your employee's focus and dedication. Well! To make the process easier, I have come across a SaAs-based employee productivity tool called DeskTrack.
The tool offers you all the ways to analyze your employee's productivity, punctuality towards work, and everything that you need to ensure your employee's integrity towards your organization. Below are some mind-blowing features provided by DeskTrack to check employee moonlighting at work:-
The exceptional solutions provided by the software don't end here. To know more or customize solutions as per your requirement, visit DeskTrack.
3
.
Dual EPF accounts 
Since companies have access to their employees' UAN, they can get to know about employee moonlighting if two PF contributions are being made to a UAN at the same time.
4. Accommodative Approach 
Employers who look forward to framing moonlighting policy in favor of employees may keep in account the following provisions so as to prevent their loss too in the business:
Organizations can list out competitors where they would not want their employees to give their service. This way such organizations can prevent their rivals from using their resources.
Also, such organizations can list out sectors where moonlighting jobs would not be an issue or a matter of concern for them.
The organizations willing to adopt an accommodative approach may make it a provision for their employees to seek prior approval before they plan to take up a second job. 
This step would not only ensure transparency between the employer and employees but also would give a mutual solution to employees' concerns about supplementing their primary income and the employer's concern about integrity from their employees' end.
Conclusion
After knowing to moonlight thoroughly, it becomes quite easier to analyze whether adopting the practice of Employee Moonlighting is suitable for you or not.
You simply need to check on your company's moonlighting policy or maybe you can speak with your HR regarding the same before you commit your employment to some secondary firm.
Also, you need to check on your capacity of stretching working hours in a day and the mental peace associated with your health. The effect of Employee Moonlighting should not adversely affect your family's peace of mind. In tots, you should be able to create a work-life balance out of it.
Last but not the least, it is not for everyone, therefore you need to know yourself before you actually get into this.