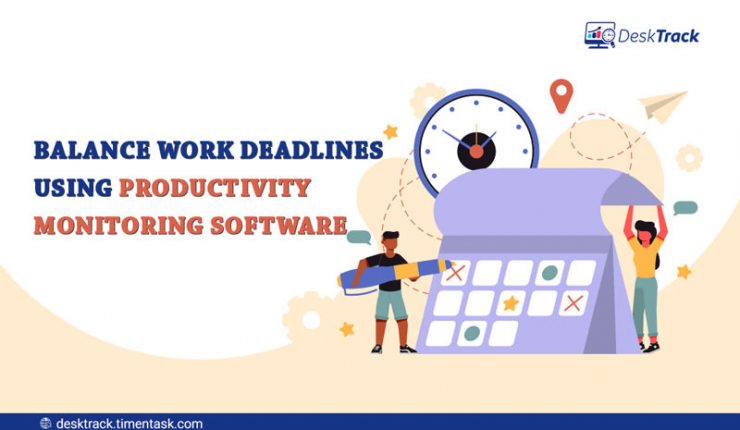 Do you know how to balance work deadlines? Do you want to accomplish your projects on time and before deadlines? Have you thought of the process at any time? If no, then here is the answer, you can balance work deadlines using productivity monitoring software. But how? Is it easy to maintain your work-life balance using trendy technologies? Yes, if a company wants to keep track of their employee work and activities for the complete day or the employees by themselves want to self-assist themselves to maintain their work-life balance. 
Table of Contents
Online Employee Shift Scheduling Software for Small Business
Then the solution that comes in place is the software to keep track of deadlines, which is commonly known as employee productivity monitoring software. There are multiple tools and technologies available in the market that are specially made to increase productivity. 
The significance of work-life balance has actually brought the use of time-tracking software. It is the best way of maintaining work-life balance, which helps businesses to operate with time-tracking software in building less time and exhausting workplaces. 
With the help of this blog, we'll focus on how to balance work deadlines using productivity monitoring software and effective time management. Similarly, if the employees focus more on their time management, then they can easily save a lot of time to spend on other activities, including personal.  
What is Productivity Monitoring Software?
Productivity monitoring software like DeskTrack helps you organize, schedule, and prioritize tasks and projects with better management. As a result, the tools help handle deliverables and deadlines with preference. Companies can enhance efficiency, employee engagement, and productivity using the proper productivity monitoring software. 
In addition, with the help of a productivity monitoring tool, managers can track employee attendance, login/logout, productive and unproductive time, away time, where they are struggling, needs help for better performance, whether they are working from home or on-site. 
Mainly, the productivity monitoring software contains features like:
Time tracking

URLs and app usage

Attendance tracking

Task and project management
Why is Productivity Monitoring Software Important?
Companies are shifting from daily office work practices to the hybrid and remote work model, or we can say as per the comfort of employees. So, if you want to manage and organize your work-life balance in a systematic manner by maintaining projects, tasks, and deadlines, go for the best productivity monitoring software. 
The tool helps monitor employee productive time and improves team productivity. Therefore, It is important to set a balance between work deadlines for better outcomes. So, here we'll let you know how productivity tracking and monitoring systems will help you create a better work-life balance and work deadlines:
Do you always miss your deadlines? Or are you searching for a solution that can help you manage your projects and tasks planning them to finish up to the deadlines? Implement the software to keep track of deadlines which means the best productivity tracking software will help manage and maintain all your work under a roof. Working on deadlines creates a lot of stress and pressure, therefore productivity-tracking software can help employees track their projects and deadlines in a flexible interface. 
Employees can save a lot of time and increase productivity with the software to manage timelines will make them stay on track with their work and deadlines. 
Do your employees know how to manage work to meet requirements? Or being a manager, you struggle managing deadlines at work. Having software to keep track of deadlines can help your complete workforce to streamline workflow in a manner that you can easily manage deadlines. It allows employees to visualize their work patterns and the time spent on each project throughout the day. 
Software like DeskTrack productivity monitoring tool can help employees to assure they are productive while operating and provides a well-organized experience. The software will help you provides the complete data of work done by the employees so you can organize the workflow accordingly. 
How to manage deadlines in the workplace is the most common question in every organization nowadays. As already mentioned before, integrating an employee monitoring tool can be the best option. But when an employee or a team is under pressure to handle work with deadlines, it becomes stressful for everyone involved. Therefore, the pressure creates stress that leads to low-grade enactment and increased blunders at work. 
So, it will be better for employees to take time off to re-energize themselves and readjust the ongoing projects to meet their deadlines. Therefore, the DeskTrack productivity monitoring tool can help you manage your workforce by letting you know the employees are productive during their working hours. Also, managers can get the actual insights and data of work done on user systems, from opening the web/app to the transfer of any file or document with screenshot monitoring. 
Stay productive with productivity monitoring software
When employees know their daily tasks, they tend to work more effectively by keeping in mind that they have to complete the allotted work in the given time before the deadline. This pattern improves employee productivity and makes them achieve their targeted goals on time as they do not waste much time because they know their task already. 
Therefore, employee productivity monitoring software can help managers know about their work and productivity and keep track of their daily work. 
Avoid delays and achieve targets
Managing teams and deadlines with their work is not an easy task as the managers have to keep complete track so that the company does not lose any valuable connections. But managing things manually can't be easy for anyone so employee productivity monitoring software comes in place as it helps organizations to manage and maintain their workflow and workload by organizing everything in a manner that can help employees avoid delays and achieve targets on time. 
Choose the Productivity monitoring software that can best fit your organization
Managing work and project deadlines is an essential task for companies to be on track in every aspect. While focusing on time management, it is essential to balance work deadlines for on-time and better outcomes. 
When employees have an idea about how long a project will going to take, they will prepare for the next accordingly, and this helps the company boost its productivity and efficiency. 
Therefore, the market has been loaded with multiple options that can be the best fit for your organization to choose from and help the complete workforce to improve progress, performance, and productivity while managing deadlines.
DeskTrack
DeskTrack employee productivity monitoring software allows managers to have a complete track of employee work progress and productivity and manage work to meet requirements of the company. 
Managing deadlines at work is not an easy task, but DeskTrack is the software to manage timelines that provides all the benefits by which employees can self-assist themselves, and managers can help them improve in every aspect with real-time insights. 
Features
Screenshot monitoring

Manage deadlines

Balance work-life 

Boost productivity

Employee self-assessment
Way of Life
Way of Life allows employees to set reminders as per their work patterns and help them improve the gaps and practices that affect their work. Therefore, by tracking user activity, managers can help them achieve their goals with complete engagement and focus. 
Way of Life software to keep track of deadlines and let users plan objectives for the day, week, or month, and gives a scoreboard to let them know if they're meeting their targets or not.
Features
Color-Coded System

Track Routine

Reminders

Diary Function

Charts
Noisli
Noisli is the site that provides background sounds to conceal annoying noises which divert employees and their productivity. Also, Noisil can help users stay rational while working from any other place, enhance their engagement towards work, and increase productivity. 
Features
Sounds

Playlists

Oscillation

Shuffle

Timer
Focus Booster
Focus Booster productivity monitoring system can help leaders manage their teams effectively and efficiently by having a tab on how they utilize their time and help them boost their productivity for a better outcome. 
The approach is about re-energize users frequently while working for better focus and engagement, which means when an employee knows they will going to take a break while working, they work with more focus, which leads to better productivity. 
Features 
Pomodoro Timer

Time Tracking

Mini Timer

Instant Timesheets

Manual Time Entry

Reporting
The Final Words
When you run a company by thinking of immense profit and growth, the question arises, how do you manage multiple tasks and deadlines? or how do you manage your workload to meet deadlines? So, the answer that comes up is you can easily balance work deadlines using productivity monitoring software. Get the software to keep track of deadlines and manage timelines so that you don't have to face struggles to achieve your targeted goals. 
Therefore, multiple productivity monitoring software is available to keep track of employee work and project progress. Employee monitoring helps managers have a more suitable knowledge of their productivity or work performance, which allows them to have a more pleasing work/life balance in the long run.