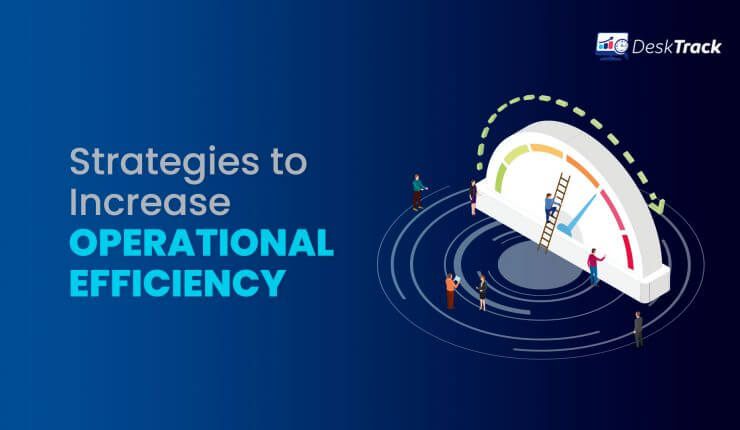 The success of your business depends on the effectiveness of your operations. Efficiency can be increased through evaluating and improving processes, personnel, technology, and finances. The aim is to continuously enhance these components in order to preserve and boost the operational effectiveness of your company. The rising volume of business needs is leading heavily to increase operational efficiency. Whether monitoring employee retention or improving onboarding, maximizing your working efficiency can help you fulfill your service level agreements (SLA).
You want to meet SLAs without eating into your profit margin, so identifying your underperforming assets can take a bit of work. Here are the seven best strategies on how to improve operational efficiency and productivity so you can implement them for a quick performance boost.
Table of Contents
What Is Operational Efficiency? 
Strategies to Increase Operational Efficiency
What Is Operational Efficiency?
Operational efficiency is the ability to get things done and make them happen in the most effective, efficient, and profitable manner possible. This is not just about having a great work ethic but also about knowing how to manage your time effectively.
It's also an indicator of your company's overall performance, which can have a significant impact on your bottom line. The way you do your job can have a huge impact on how much money you make or how many clients seek out your services. You need to be able to focus on what's important, delegate responsibility for non-essentials, and create systems that help you stay organized.
Seven Steps to Improve Operational Efficiency
Here we'll be discussing the 7 best operational improvement strategies in detail that show how to improve operational efficiency by reducing costs and leading to more opportunities for growth.
1. Understand Your Entire Operation
The operations of a business are often overlooked, to prevent it every employer needs to understand the business operations. While managers and employees work hard to keep things running smoothly, it's often difficult to determine the efficiency of day-to-day activities. It is the most effective strategy to increase operational efficiency.
The most effective way for managers to learn about their operations is simply by walking around and talking to people on the job. Managers can observe how employees interact with each other and with customers and see how long it takes for people to complete tasks.
In addition to informal evaluations by managers, there are also formal audits that can provide more comprehensive information on operations at a company. For example, many companies have internal performance reports that include measures such as productivity levels, employee attendance rates, and customer satisfaction scores. These can help diagnose potential problems that need fixing before they become major issues for a business.
2. Streamline Processes
Your company needs to prioritize its workflows so each process gets its attention to run smoothly. One of the reasons why increased operational efficiency is important is it can simplify your business process on every level. If one of your departments falls behind on its deliverables, the process must become the main priority.
Streamlining your processes can increase operational efficiency and lower operating costs. To improve operating efficiency, identify your low-performing assets and rework your policies. This might require changing how you bill customers. Also, it may mean eliminating unnecessary steps in your process.
Specific business processes take time, and you can't expect everyone to move quickly. A thorough analysis, though, enables you to find bottlenecks and take steps to eliminate them, such as using automated employee monitoring software.
3. Train Employees And Continue Upskilling
Your employees are your most valuable asset. If you don't invest in employee training and development, you're risking your company's success. Over time, your workforce will become disengaged, and your costs will increase. You need to train your employees to increase operational efficiency & decreased your costs employees.
Training can prevent this by empowering your employees to work smarter, not harder. Engaged workers produce higher quality outcomes, which improves your customer service.
Effective training improves your employees' capabilities; it empowers them, and this, in turn, boosts their morale. This, therefore, leads to higher retention rates and better customer service, leading to increased operational efficiency.
To maximize operations efficiency, you need to train your staff members. This allows them to use their skills effectively. It also ensures they are meeting their objectives. Moreover, it keeps them up-to-date with the latest industry trends.
Your training program needs to adjust to meet your specific business goals. It should cover both basic and advanced skills and allow your workers to understand their roles and responsibilities. This way, you can help them improve their achievements and results.
4. Prioritize People First, Always
The success of every organization depends on its human resources. Your employees are not only your strongest asset but also your biggest investment. If you want to optimize your business operations, then you need to put your employees first. Focus on your human capital by prioritizing their well-being. If you take care of your team, they will care for you.
Optimizing your human resources & lead them to increase operational efficiency. It requires efforts, including developing your talent and encouraging managers to provide effective feedback. Engage your team members, and they will become more committed to their work.
To grow your profits, you need to invest in your personnel. This, however, doesn't mean spending all your budget on bonuses and pay raises. Instead, work with your HR to develop incentive programs that reward your top performers.
To get the most out of your team, give your people what they want. Your team members want to work in an environment that welcomes their ideas and respects their opinions.
5. Encourage Cross-Departmental Collaboration
Silos are one of the biggest enemies of any organization. They create barriers that prevent your staff from collaborating. Without collaboration, your teams can only focus on their own tasks. They don't have time to consider the bigger picture.
Your customers want their problems solved quickly. They don't want to deal with long wait times and lengthy conversations. Your business needs to create an open culture to get your message across. This encourages cross-department collaboration and allows your people to learn from each other.
A good step to increase operational efficiency is to try introducing shared workspaces. This eliminates physical walls. Your people can communicate with other departments and share ideas. This, of course, makes the company more innovative, which, over time, can lead to increased revenues.
6. Reinforce Your Culture
You might have a high-performing team that works hard and achieves great things. However, if your corporate culture doesn't support their success, they're bound to fail. A strong, positive workplace atmosphere offers many benefits, such as increased operational efficiency, productivity, and job satisfaction.
On the other hand, a negative working environment drives away top talent and damages teamwork. A toxic office can deplete your resources and undermine your growth.
To reinforce your organizational values, communicate them to your team. Show them how these values drive your organization forward. Make these core values a part of your everyday communications.
Your brand values should guide your decision-making process. If you value honesty, then building trust should be your priority. However, this can only happen if you lead by example, so always be honest with your stakeholders.
7. Optimize Your Communication Channels
The efficiency of your communication channels depends on the channels you use. Consider your paperwork, for example. It consumes time and creates clutter. Using SaaS-based systems & you can prevent this and free up some of your space. This practice can optimize communication between employees & increase operational efficiency.
To ensure your communication channels are always open, your leaders need to be accessible. This means being responsive and available. Encourage your employees to be approachable to all.
Your CRM, meanwhile, lets you track customer interactions, allowing your sales team to follow up with leads faster, and the same goes for invoicing. With your ERP, you can quickly generate invoices and fulfill orders.
To increase operational efficiency, you also need reliable lines of communication. If your customers can't reach you, they can turn to your competitors.
Your message needs to be clear, so you can always relay it to everyone. You also need to be consistent with how you communicate your message. Leadership should be transparent with their communication and decision-making. This enables your field teams and other groups to work together.
The Bottom Line
As you can see, the many ways to increase operational efficiency don't have to be complex or costly. You need to look at your processes and review your mistakes. Much of it is a matter of knowing the right strategy to help you maximize how effective you are every step of the way.
Analyze your lag times, and find ways to eliminate them so you can meet your target deadlines. Your ultimate goal is to run your production smoothly. Use everything you need to streamline operations efficiency, from improving culture to using productivity monitoring software today.