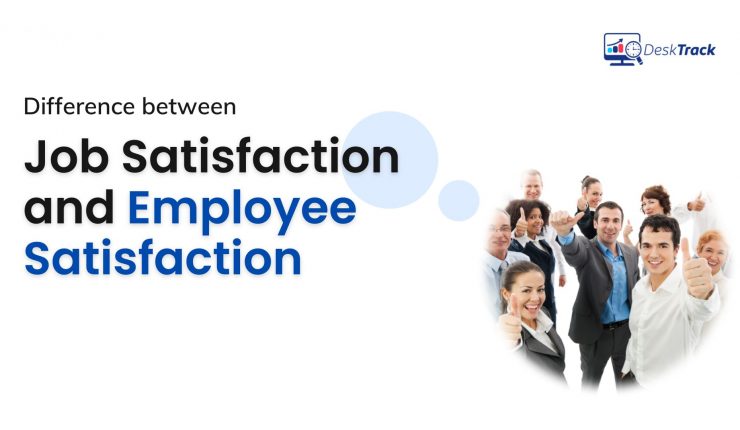 The aim here is to emphasize the importance of job satisfaction and employee satisfaction both. Also, to eradicate the misconception that job satisfaction and employee satisfaction are the same concepts.
Table of Contents
Difference between Job Satisfaction and Employee Satisfaction
What is Employee Satisfaction?
Employee satisfaction is the state of mind of an employee where he feels contended and satisfied to work with the organization that he has joined as his workplace. 
There can be various reasons for the same such as payouts, reward structures, working conditions, etc. 
Employee satisfaction does not become a reason for adding value to the company's turnover.
Employee satisfaction can lead to employee retention for many years on the job.
Employee Satisfaction Survey
An employee satisfaction survey is conducted to strategize and modify employee policies toward achieving more employee satisfaction in an organization.
The employee satisfaction survey can be categorized into three types :
Measuring Engagement – This category measure employee's engagement towards his work, his discretionary efforts to work beyond his KPIs, advocacy, and intent to continue working for the organization for a long.
Drivers of Engagement

– This category figures out the drivers of engagement for an employee. This includes the organization figuring out the conditions where the employee finds himself engaged or distracted. It also measures how well the employee is doing on teamwork or collaboration with other teams across departments.

Scope of open-ended Comments

– This includes leaving scope for open-ended comments for the employees to dive deeper into the understanding of employee satisfaction for them.
Examples of Employee Satisfaction Surveys
How satisfied or dissatisfied are you with your job role?
Extremely Satisfied

Moderately satisfied

Slightly satisfied

Slightly dissatisfied
Do you see yourself working in our organization for the next 2 years?

Are you clear about what your role demands in meeting our organization's goals?
What is Job Satisfaction?
Job satisfaction is the state of mind where an employee loves to do the business to which he is assigned at the workplace. The behavioral trait of the employee in job satisfaction is that he puts in extra effort, time, and labor to achieve his daily goals, keeping in mind the organizational goals. Such employees are also responsible to convert satisfied customers to repeat customers for the organization. This in turn leads to enhancement in profit as well as organizational trust and credibility for its customers.
It is one of the most researched and studied topics in industrial and organizational psychology. 
The major components of job satisfaction are engagement, fair compensation, respect, and motivation.
Job Satisfaction Survey
Job satisfaction survey can include questions like the given below:
Do you feel you are paid enough for the amount of work that you do in a day?

Do you find enough opportunities for promotion in your work?

Are you satisfied with the benefits that you are provided?

Do you like the people you work with?

Do you receive fair recognition/rewards when you perform well in your job?
Conclusion
Nowadays, sustaining a better quality workforce in organizations is a pertinent concern. Therefore, whether it is about job satisfaction or employee satisfaction, the more such parameters are given importance, the more it would enhance the chances of understanding your employees and framing the organization's culture, and policies accordingly.