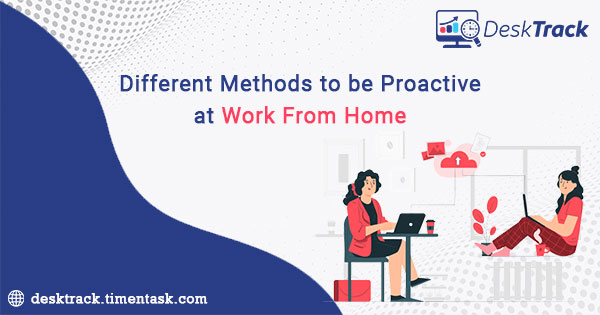 Is it essential to be proactive at work for remote work? Yes, this is because today's highly competitive world requires hard work and effective strategies to be successful. With the advent of the Covid-19 pandemic, the complexities of today's business world have been enhanced. 
Today, one needs to be more productive and efficient than ever before. This is because the employee output has increased by 3.8% in 2020, i.e. it has doubled the average of 1.4% recorded in 2005.
Employees working remotely are under more surveillance than the ones functioning on-site. Every minute they need to prove that they are working, they are required to be proactive despite all the distractions at home to be efficient.
Being proactive is the best method for remotely working employees. Employees working proactively have a positive impact on the team's workflow. They anticipate and address issues more confidently than others. A remote workforce exhibiting proactiveness can identify potential challenges and set strategies to achieve business goals.
Proactivity helps remote employees to be successful at work, do good in their personal lives, and maintain a work-life balance. They can confidently manage their work and be ready to take on more challenges and responsibilities.
In this blog, we will discuss the positive effects of proactiveness on remotely working people. We will also look into different strategies to be proactive during the work. Lastly, we will also elaborate on how to be proactive at work in today's digital age.
What is the Meaning of Being Proactive at work?
Proactive employees are the ones who anticipate future issues and are ready to achieve things once they decide, no matter how many obstacles come their way. They focus on things they can control instead of worrying about what is not in their control. Unlike the proactive people, the reactive people try to control every situation. Proactive employees do not follow a "wait and see" approach. Instead, they suggest ideas, interrogate and even be a part of discussions that are outside of their regular job roles.
Methods to be Proactive at Work
Having known who a proactive employee is, let us now find out different methods to be proactive while working remotely. Some prominent methods to be proactive are as follows:
Understand Your Organization's Processes
It is important to analyze your organization's work trends to act proactively. When you know the work pattern, historical facts, and relevant trends, only then you can find ways to be proactive at work.
Be Organized
Proactive Employees use their data analytical skills to organize their skills and meet important deadlines. For instance, they mark upcoming tasks and use relevant data from past projects. They also set different reminders so that they do not miss any deadlines. Also, proactive employees leave scope for additional tasks if assigned.
Decide Your Goals and Objectives
For proactive people, it's not only important to be proactive. They also prioritize becoming more proactive with time. So, to act more proactively, they decide their goals and objectives. Such people mark outlines that challenge them. Proactive people decide goals so that they can ensure efficient workflow. They also create a to-do list as per upcoming events and their responsibilities.
Make Plans 
After deciding the goals and objectives, the next step proactive people take is making a plan to accomplish the goals. They plan everything from beginning to end and follow it rigorously until they achieve goals. However, their proactiveness also keeps them ready for unexpected challenges.
Discuss Your Plans with Others
Besides creating plans, proactive people also communicate their plans and strategies with others. This helps them to get their plans reviewed by the experts. This is one additional quality of proactive people: they do not hesitate to seek help or advice from others. Also, they are ready for productive criticism.
Be Efficient
While being proactive, people work with high efficiency and maintain the quality of their work throughout the process. They are responsible for everything from planning to delivering the final result. They are outstanding at identifying risks, and managing stress at different levels till delivery dates arrive.
Find Ways to Improve
One can be proactive at work by finding ways to improve their tasks and work. When one finds methods to improve they refine themselves for future projects. This also encourages an environment of professional development at the workplace.
Well! DeskTrack can help your workforce be more proactive at work. Want to know how? Read the next section.
Being Proactive in the Present Digital Age
In today's digital age which has numerous distractions for remote employees, the need for advanced and innovative tools to be proactive has been enhanced. Employee monitoring software can help remote working employees stay focused at work, get rid of distractions, and manage time effectively so that they can have additional time for planning and acting proactively.
Productivity Monitoring software is also helpful for the remote workforce to act proactively. They can provide them with data for making improvement plans.
Wrap Up
In a world where remote work is the new norm, being proactive is essential due to enhanced competitiveness. Remote workers must be ready to tackle constant scrutiny and distractions. This necessitates proactivity for people.
Proactivity is the key to success for remote employees, enhancing efficiency and positively influencing team functionality. Proactive individuals anticipate challenges, proactively strategize and extend these skills to their personal lives, including work-life balance and an eagerness for new challenges.
In the digital age, distractions have increased, but tools like DeskTrack can help remote employees stay focused and minimize interruptions. They can create a proactive work environment.