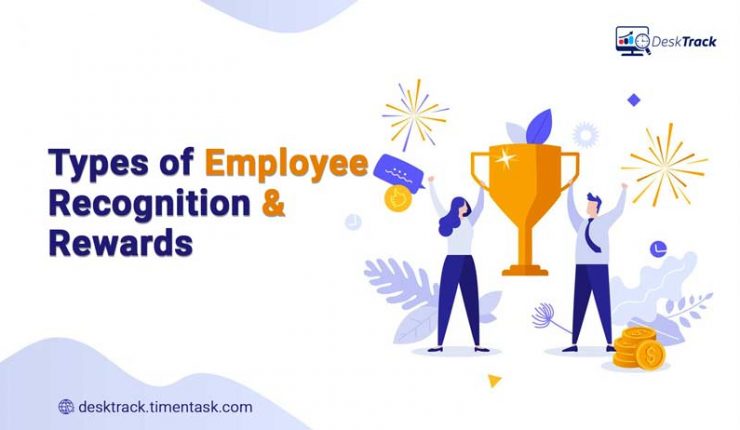 According to a survey by HBR, 40% of American employees are ready to put energy into their work if they are recognized timely and periodically. As per a study, employee rewards and recognition can increase your organizational sales approximately by 35% whereas an unhappy employee is 11 times more prone to customer dissatisfaction/complaints.
It goes without any doubt that employees are the backbone of any organization, therefore their enthusiasm and high spirit directly influence your customer satisfaction/dissatisfaction. No provision of fear or strictness works wonders than boosting your employees' morale by bringing up R&R programs in your organization.
Let us understand the actual meaning, importance, types, and everything about the Employee Recognition and Rewards program.
Table of Contents
Types of Employee Recognition & Rewards
Employee Rewards & Recognition Meaning
It is a system in an organization to acknowledge employees' efforts and engagement toward their accomplished work (either in intrinsic or extrinsic ways). Such an R&R program is organized for employees who have given exemplary performances in their work in this era of the ultra-competitive world. An organization that doesn't have such staff recognition and rewards plan tends to have more employee turnover than the ones which already have.
Therefore, to reinforce a positive attitude and passion toward work, there need to be employee rewards and recognition programs in the organization. Additionally, R&R needs to be planned wisely as per the nature of business. Such programs carry the potential to increase employees' morale, retention, and engagement towards work, reduce turnover and enhance productivity.
What is the Importance of Rewards and Recognition in the Workplace
In this competitive world, the value of rewards and recognition in the workplace is increasing day by day for the following reasons:
1. Productivity Factor
As per a survey, 79% of employees find rewards and recognition as a motivation to work harder whereas the other 78% find themselves more productive after being rewarded.
2. Employees' Happiness
It is found that happy employees are 12% more productive when they are rewarded or recognized for their accomplishments.
3. Build-up Trust
As per a study, 90% of employees who have been rewarded or recognized for their work tend to have a higher level of trust in their superiors/bosses.
4. Rewards are More Powerful Than Fear
It is a strong myth that fear brings more productivity out of employees' work whereas it has been observed that employees who are rewarded and recognized timely are said to have 'dopamine' secretion in their brains as a result of which they feel happy which directly impacts their productivity at work in a right way.
Types of Rewards & Recognition For Employees
Well, when it comes to types of rewards & recognition for employees, there is no one size fits. R&R may vary as per your organization's demands. However, below are some effective types of R&R:
1. Top-down Recognition
It is a type of reward or recognition where an employee's supervisor acknowledges his work. Below are the mentioned ways for the same:
2. Spot Awards
Such recognition is done by the supervisor when he finds his employee doing something momentous. Such recognition brings instant gratification to the employee.
These kinds of awards are pretty unpredictable as you never know when your employee is going to outperform
3. Service Award
When an employee achieves a certain milestone, he is rewarded with a Service award.
4. Annual Bonuses
This type of reward is given either to a team or individual generally at the end of a year apart from salary. 
5. Peer to Peer Recognition
According to a survey by Globoforce/SHRM, 89% of HR leaders believe that an organization's doings are positively impacted by peer feedback. It is a type of recognition and reward for employees done by empowered coworkers for the outstanding performances of their colleagues at work. 
There is a number of ways of doing it, the following are mentioned:
Thank You notes

– This form of recognition is one of the less complicated ways of showing acknowledgment of contribution at work. 

Also, it is a very cost-effective form of recognition in the office. This can be shown either in the form of a handwritten letter or a small note on the office board.
Social-media shout-outs

– Here you can recognize your colleague's exemplary work to a large number of people.

Intra-office WhatsApp groups or team collaboration tools like Slack can be used to socially recognize your colleague's work.
Peer Nominations

– This type of recognition and reward for employees is all about nominations. Here, peers are supposed to nominate each other for an award. The one with the maximum number of nominations wins the prize.
6. Day-to-day Recognition
In order to maintain a positive workflow, motivation, and encouragement to your employee's recognition of their work on a daily basis are required. 
For example, high-fives, down-lows and thank you's are some of the effective ways to fulfill the purpose. Daily basis recognition maintains the constant flow of passion and enthusiasm in the employee's mind.
7. Informal Employee Recognition
This recognition is given at per manager's discretion as to when and where they want to recognize your contribution to work. The nature of such recognition and rewards for employees is personalized, spontaneous, consistent, immediate, and meaningful.
Following are some examples of Informal employee recognition:
Comp off – It is a compensation leave provided to an employee against his extra working hours or working on holiday (generally due to project deadline).

Shout out in the office

Give employees more responsibility/freedom to handle individual projects

Opportunity to learn more skills through seminars/conferences/courses

Acknowledgment of work anniversaries

Food can be a great motivator. Offering the employee a chocolate/muffin/cookie on a good performance would too make his day.
8. Formal Employee Recognition
It is the opposite of the Informal program recognition and rewards for employees. This includes setting up a well-tailored formal employee recognition program to control and moderate recognition.
Know More About Employee Rewards & Recognition Ideas
Want to know more about employee rewards and recognition ideas? below are given points for the same:
1. Sing Happy Birthdays Your Way
Simply wishing your employees a Happy Birthday is not enough. Instead to make them feel more special, celebrating it with a cake and an old-school birthday song is something that would make them feel special and valued.
In case you have a huge workforce, sending a handwritten note too would give them the warmth of being valued. Besides, celebrating your employees' personal milestones like wedding anniversaries, work anniversaries, and promotions to is a great idea to increase their morale in the workplace
2. How About Meet, Greet, and Eating?
Who doesn't like food and that too combined with lots of gossip and chats and the top of that with your own office people?
This can be a great way where employees can strengthen their bond with their colleagues and would love this way of gratitude from the organization's end.
3. Recognition Delayed is Recognition Denied
Today we are living in an era where the word 'instant' is worshiped. So the moment you are thinking of showing gratitude towards your employee, the same moment they should know about it!
But how?
Adopting digital R&R platforms like Vantage Rewards would fulfill this wish of showing gratitude towards your employee.
4. Why don't You Feature Your Employees in a Short Film?
Well! Generally, people love to see themselves on the screen. Then, how about creating a 5-10 min small video featuring them and making them feel like stars?
You can ask your employees to share their likes and dislikes about the organization.
Such practices are great to make your employee feel like an important 'part' of the organization.
No wonder you find your employees participating in huge numbers.
Also, you can ensure to share the video with everyone once it is ready.
5. Gift of Acceptance
The whole and sole purpose of recognition and rewards for employees is to emotionally connect with them.
Practices like putting your employees on a company's website and acknowledging their contribution are effective ways of making your employees feel important.
6. Promote Wellness at the Workspace
Offering a gym membership or subsidizing a wellness program can be the best reward and recognition for employees. After all, what can be better than offering sources of developing great health as a healthy mind and body are both required to stay productive at work?
7. Create the Magic of Gift Cards
If someone tells you that gift cards are outdated now, they must be joking!
A gift card is something which is available for all sorts of products and services. Be it shopping or traveling or dining, you have just got to know the interests of your outperforming employees.
More Examples of Employee Recognition and Rewards Programs
Here is all about what more you can try on setting an example for your employee recognition and rewards
1. Years of Service Award
Such type of award is meant for tenured employees to acknowledge their years of contribution and dedication at work.
Organizing such an R&R program sets examples for new hires and keeps them motivated.
Also, looking at the years of experience of seasoned employees would also help in employee retention.
2. Employee of the Month Award
Organizing such a monthly award program for employees would motivate employees to get recognized every month and hence would boost their performance. You can ask every related employee in the department to vote for the nominated employees along with giving reasons why they are voting for a particular employee.
Conclusion
"Appreciation can make a day, even change a life. Your willingness to put it into words is all that necessary."  – Margaret Cousins. Though saying Thank you is good etiquette not enough to praise, and appreciate your employees for their exceptional and continuous hard work. Therefore, in order to ensure employee productivity, engagement, and retention, coming up with unique and suitable ways of employee recognition and rewards programs is not at all a bad idea.
To know more about Employee engagement and Employee retention, read – 
How to measure employee engagement in the workplace?
How to bring employee retention in your organization without money?
Since no one else is more aware of your organization's culture, and demands, therefore definitely it is a good idea to customize your R&R program keeping in reference the above-given ideas.