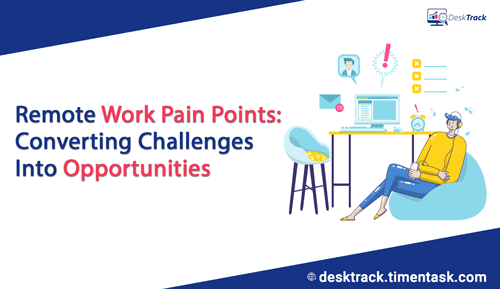 In the era of remote work, automation has become a blessing and a challenge. On the one hand, it gives smooth teamwork and communication but on the other hand, it introduces us to a bunch of distinctive remote work pain points that we can't ignore.
These challenges can sometimes lead to a great loss but their one productive way to fight these consequences is with the help of the tactical execution of remote work monitoring software.
Tech remote work pain points
There are so many tech-related remote work pain points that affect the overall surrounding of remote work, varying from data security issues, and network issues to managing scattered work teams and to ensure accountability.
These all tech challenges want new and innovative solutions that maintain a balance between creativity and flexibility. Lets us discuss more tech remote work pain points:
1. Communication problem
There is a lot of misunderstanding and late responses due to text-based responses and also there is the problem of conveying actual thoughts in chat-based communication.
2. Absence of IT desk
Some technical issues and glitches can only be solved by a proper IT team member but in remote work, there is a lot of problem due to the absence of an IT Desk. 
3. Virtual meeting exhaustion
 A large number of video conferences or virtual meetings can lead to the exhaustion of employees and also raise the screen time of employees. 
4. Lack of proper equipment
Office setups at home with old devices and insufficient gadgets affect the overall work productivity of employees. At home, there is no proper space for all work equipment.
5. Connectivity Issues
This is the biggest challenge that every remote work employee is facing, Wi-Fi issues, VPN problems, and unstable connectivity issues affect the collaboration and communication of employees. 
These tech remote work pain points can only be solved by using proper and effective monitoring tools.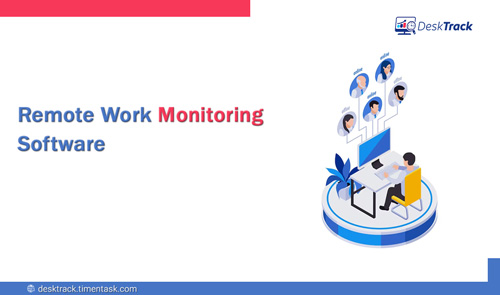 The character of remote work monitoring software
Remote work monitoring software is a tool that is made to label these consequences by supplying awareness to employees' work, productive activities, and the whole performance of employees. 
This Employee remote work monitoring software not only supports an understanding of tech remote work pain points but also provides an effective solution for following this process. 
Advantages of
remote work monitoring software
1. Immediate activity tracking
Many software permits managers to check employees' real-time tasks, activities, and also the total time spent on each task, application, activity, and assignment. 
2. Performance examination
By computing and measuring the performance and by examining data through various work monitoring software, employers can easily calculate the performance of individuals as well as teams.
3. Increase accountability
If there has a proper and actual record of employees' work, time spent on each task, and performance report so employees become more productive and dedicated to their work. They started taking ownership of their task completion. 
4. Training and feedback
By analyzing the work and tasks of employees via remote work monitoring software, managers can provide them with appropriate reviews according to their work, which helps employees to do better, and training on weak points boost their knowledge.
5. Data security
There are various employee remote work monitoring software that transfers data from one team member to another but with full privacy and security. 
6. Remote work management software
Managers can make a proper work environment and also arrange beneficial resources by analyzing the overall workflow of remote work management software teams. 
7. Handling of distractions
Many employee remote work monitoring tools can compute the common distraction while doing work such as using unnecessary or non-work-related apps at the time of work.
All Employee Remote work monitoring software helps in building the organization for proper remote work management software, by implementing these tools the company can achieve its organizational goal and save itself from Remote work pain points.
Important characteristics to look for 
1. Application Tracking
This characteristic checks the status of which app or site is being used and also authorizes employers to analyze the important tools for productivity and tools which are not so useful.
2. DeskTrack
Many software provides the option of tracking desk characteristics like DeskTrack that monitors employees' productive time and idle time. They also help employees to analyse work distractions. 
3. Activity logs
This property provides visual proof of employee overall activities and this feature also helps to determine the pattern of work. By capturing screenshots these activity logs are generated.
4. Productivity determination
Complete determination gives employers data-controlled insights into the actual productivity of an employee, with the help of various monitoring tools managers can collect data about productivity.
5. Rules and regulations
Many software can help the company to be knowledge-ful about the rules, regulations, and policies by analyzing data usage and by guaranteeing organizational guidelines. 
This Employee Monitoring software provides various benefits to save the company from Remote work pain points but it is very important to ensure privacy, safety, law and ethics of the company.
Stabilizing Productivity and Trust
Remote work monitoring software provides a lot of advantages but it is very crucial to stabilize between Productivity and monitoring. Free communication about the execution of important tools promotes transparency and also supports employees to understand that the objective is to accomplish productivity and collaboration.
So, it is very necessary to always maintain a proper balance of productivity and respect the privacy of employees for a smooth flow of remote work. Organizations can only do this through clear communication, flexible schedules, Regular check-ins, Support and training, and good incentives.
Selection of appropriate software 
Choosing the right employee remote work monitoring software is a very important process for the overall success of a remote team. After considering and analyzing all the factors only an organization has to choose the correct software, some points that need to be analyzed are:
1. Level of security
While choosing a proper monitoring tool it is necessary to check the level of data security because all the important data is sometimes transferred via these tools. Every employee has some confidential data that needs not to be shared with everyone. 
2. Match with the existing system
It is very important to ensure that software works properly with the existing system of remote work and can reduce distractions. The compatibility check is a crucial step.
3. Easily understandable
The tool or software which an organization selects must be easily understandable to avoid various circumstances. Every employee must understand the software then only they will work properly so it is important to have a user friendly software.
4. Bugs and Virus Free
The software must be free from various bugs and viruses because they can create disturbance in work and can also affect the overall work equipment of an employee.
5. Personalized option
This feature is very important, it is necessary to select software that has the option of customization according to the requirement and needs of the company.
Conclusion
These all factors should always be kept in mind while selecting an appropriate monitoring software because this can free any organization from remote work pain points. 
With this, we can easily conclude that by adopting proper remote work monitoring software, any organization can solve the technology-related issue of remote work and also all the remote work pain points. These tools not only handle technical issues but also give awareness that increases the efficiency and productivity of employees. 
With the appropriate and right software selection organizations can navigate the hindrances of remote work and pick its advantages while solving its consequences. Sometimes right monitoring software can lead to the overall success of an organization.