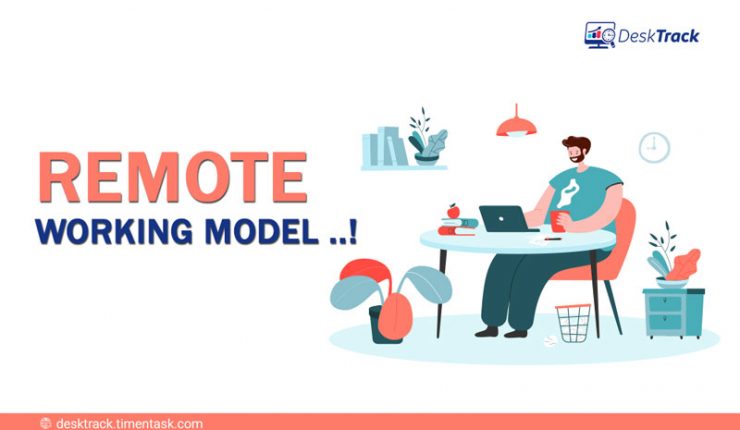 When we talk about remote working, it is not a completely new concept that is being discussed now, but it was earlier limited to one or two people in the business at higher ranks of founder or CEO level who can do their work while traveling to different locations and working on their own schedule. Yes, the basic definition of remote working is working from home rather than in an office. As modern technology is evolving, the concept of remote working models is gaining acceptance, and businesses with tech staff are looking for the best remote working models to help their businesses grow at a rapid pace. Businesses may quickly complete projects and access a large talent pool thanks to globally accessible remote work.
Continue reading to find out more about the best remote working models, the challenges of creating effective remote working strategies, and the efficacy of remote working.
What is Remote Working?
When you work remotely, you conduct your business from a location other than the company's headquarters, where a large number of workers congregate to do their jobs.
Remote working places can now be anyplace other than a normal corporate office building or campus, including your home, co-working spaces, other shared apartments, your own private office, or any other site.
Why are there now Choices for Remote Working Models?
The basic answer is: why? People were accustomed to working from home when the COVID-19 virus caused the world to momentarily stop. Working From Home then proved to be quite advantageous for many companies offering current services and technology. Now that the epidemic is over, people have discovered that they can work remotely in numerous fields.
As a result, the companies in these industries strive to keep up a particular level of employee care and avoid an uncontrollable increase in their workforce. The idea of remote working arrangements emerged as a result, making it simpler for companies to monitor their workers' work and boost efficiency.
The advantages it may offer, such as shortened or eliminated commute times, recruiting and hiring rewards, and enhanced productivity, are what have made remote working so popular over the long haul.
How to Choose the Ideal Remote Working Arrangements for Your Group
You must take into account three fundamental aspects when choosing a remote work model before determining which one is appropriate for your business: 
First, consider the size and nature of your business. 

Second, consider the size of your team and the quality of their work. 

Third, and most importantly, what is your operating budget and cost layout?
But, regardless of the answers to all requirements, there is already a model available that meets your requirements — especially when you will work with Desktrack. 
Let's explore some of the best remote working models so you can make the best decision for yourself and your employees.
1. Regular On-Site Work but Occasional Remote Working:
We all know that the most common and simple are always welcome approaches in any scenario so is this in remote working models.
A company can choose this model that wants to see their employees in one place in a big office working regularly but also offering their employees to work remotely for some specific time in a week or a month or a year as per company standards.
The emphasis in this model is primarily on being in the office and bringing a particular number of days laid aside for working from home. What that looks like depends on your team and workplace. When you are going to consider this remote working model then start with two or three days of remote work in a month and have observations on your employees for the next move.
This model looks kind of a perfect balance between work-life balance and not taking any special leave for family.
2. Remote Working without Any Office:
This model, as you can see, does not have the concept of an office. So, if you want a team that is not limited by time zones or geography, this is the team for you.
In this model, you can hire anyone in the world from a large pool of talent, particularly from the lower regions, and you can reduce your employees' costs based on different living standards in different cities around the world.
If you choose this model, your top priorities should be transparency, effective communication, and  Remote Team Management. 
Holding regular video call meetings on specific days allows you to plan your schedule and keep track of your projects. All of this can be made easier for you and your team if you use Desktrack, which provides a one-stop-shop solution on a single platform.
Remember that today's employees place a high value on work-life balance, which means offering some form of remote work is one of the most effective ways to attract the best and brightest minds from the vast pool of global talent.
Challenges While Not Having Proper Remote Working Strategy
It is evident that you will experience issues with remote work when the best practises and guiding principles for how your remote teams will function are lacking. This presents difficulties like:
1. Loss of Productivity:
Your Employees will lose motivation and productivity if there are no clear strategies and policies in will e there to help them. They will start getting pissed off.
2. Micromanagement and a Lack of Trust:
If you micromanage, which is the same as monitoring your employees' backs to make sure they are doing their jobs, you risk damaging the morale of your team. As a result, stress levels rise and work satisfaction declines.
3. The Inability of a Distant Worker to Perform their Job:
If neither the employee nor the employer decides to work remotely, you may run into another problem: remote workers may struggle to find the motivation to complete their tasks. We are all aware of the advantages that remote work may provide to those who seek them out, both personally and professionally.
Tips for Making A Long-Term Remote Work Strategy
Working remotely is here to stay, and it's up to you to be proactive in developing the best remote work strategy for your team. Although there is no single "right" way to work remotely, there are some general best remote working strategies to help you succeed. Among these are:
1. A Clear Set of Guidelines and Policies is Necessary:

 
When your company has a healthy understanding of expectations which is often the foundation of a trusting culture.
Everything should be crystal clear for your team so that productivity and employee trust do not suffer.
2. Trusted Team Building:
Whether you work in an office or remotely or virtually, you are still part of a team. As a result, if you are a manager, you must accept responsibility for developing collaborative, communicative teams that are invested in each other's success. This is accomplished by meeting in person on occasion, such as for a vacation or social get-together, as well as other practices such as celebrating both team and individual accomplishments.
3. Associated with Cutting-Edge Technology:

 
Companies that have high-performing remote teams invest in the technology that their employees need to do their jobs. Remote desktops and mobile devices, high-speed broadband, dependable and simple-to-use applications, and other business-specific requirements must all be available to you.
Working Remotely Pros and Cons
Given that most companies have seen an increase in remote work productivity, your organization must have been planning to go fully remote to provide their employees with more balance between work and life while simultaneously saving money on "infrastructure for remote working" costs.
But, before you take the plunge, you should be aware of both the Working Remotely Pros and Cons.
Pros of Remote Working:
Better Work-Life Balance for Everyone:
Remote work allows for a better work-life balance because it allows you to cope with personal responsibilities and work with greater ease.
You can work from anywhere in the world without difficulty if you have good internet connection at your place.
Infrastructure and Commuting Costs Get Reduced:
As working from remote places requires nothing to travel to the office of a company and in full time remote work, there is no need for a physical office so it will save you these costs.
Increased Productivity and Efficiency:
As a remote worker, you will have less distractions and can often better handle your workload, resulting in increased productivity.
Cons of Remote Working:
One-to-One Meetings with Each Client are Tricky:
Without one-to-one interactions, employees who work remotely may face communication issues and may be dependent on technological advances for communication and teamwork.
It can be Incredibly Isolating and Lonely:
Working from home can be lonely, especially if you live alone or have little social contact outside of work.
Team Members May Feel Uncomfortable:
While reaching out to your coworkers, you start facing challenges or problems. when you work remotely as employees you may miss out on in-person networking and visibility and this way you will be unknown to each other working in the same company.
Remote Working vs Office Working: Which One is Better?
Although technological advances have made remote work easier to achieve, businesses are coming to realize that keeping employees on-site is more effective. There are a few disadvantages to working remotely as well as significant advantages to working in an office or vice-versa. 
If We Talk About Remote Working
It eliminates commute time, saves office space and costs, etc. This is what is considered in the case of a company. After all, with the digital age's communication capabilities ranging from submitting materials via email or Dropbox to affordable teleconferencing and video-conferencing, the old causes of needing your employees to travel to the office every day no longer apply.
Now Talking About Office Work
Working in an office allows you more social interaction and face-to-face collaboration, which can lead to more creativity and better teamwork. This is the best-case scenario of office work. You get a well-built environment that can help you with time management and work-life balance as well.
I feel personal that work related to an internet connection can be done by remote working in a better manner as your team can get anything regarding projects online without any problem.
But there are some jobs that can't be done remotely. Let's take a simple example of the manufacturing and agriculture sector as here you can't demand remote working. 
It's all about how smoothly your company works and treats its employees, either at office working or remote working. DeskTrack is all the way helpful for you in managing and tracking your projects as well as your team with its best Remote Employee Monitoring Software.
How to Plan an Infrastructure for a Remote Working
A successful infrastructure for remote working is an extensive collection of technologies, policies, and procedures that enable your employees to work effectively and reliably from anywhere in the world. Your businesses require a solid infrastructure as well as remote working models that enable their employees to work from anywhere, at any time.
Go for the best and most reliable internet connection: 
Remote Work can't stand alone without internet services. You may prefer your mobile hotspot or a better wifi connection
Tools for Remote Working:
1. DeskTrack:
If you work remotely or with a distributed team. DeskTrack is an essential remote working tool for ensuring your team's productivity and growth.
DeskTrack makes your Remote Team Management and project tracking easier:
The best thing about DeskTrack is it provides services to only remote working as if you are a freelancer, doing work from home, etc.
2. Google Drive:
It is self-explanatory on its own and the best suitable remote working tool. You want your ability to store and share important documents to be improved by remote work. Google Drive provides all of this and more. It allows you to store and organize documents, collaborate with team members in real time regardless of geographical location, and share documents, spreadsheets, or presentations with anyone you want.
Google Drive provides you with superhuman abilities in file management by
You can access your Google Drive account from anywhere.

Providing you with robust version control features

Cloud-based file management for teams of all sizes
3. Asana:
Project and task management are critical for completing projects and delivering them on time. Asana brings together your team's work in a shared workspace. In Asana, your team can communicate, monitor development, look at goals for the project, and share files. It makes sure that all significant paperwork for the project is kept in a single, well-organized location.
Asana makes project and task management easier.
Helps you to customize project views according to the working style of your team.

Simple assignments can be automated using rules. 

providing over 200 integrations for connecting all of your software
How Effective Remote Work?
While there are some clear benefits and drawbacks to remote work, as you can see, the benefits far outweigh the drawbacks. 
Likewise, you can mitigate all of the disadvantages by using proper remote working strategies and providing your employees with Remote Work Software that will allow them to remain productive and efficient even when working from home or anywhere in the world.
Conclusion
The business community is searching for multiple remote working models to help them adjust their growth and productivity to a certain level to compete with their conservative market competitors.
Now that we understand how remote working models work effectively. Remote working can become the place of the New Normal, accessible to every millennial who is evolving with modern technology. So, why live in the past and completely oppose millennials' approach when adopting remote working models with Desktrack has become very subtle and simple for your millennial team and company?