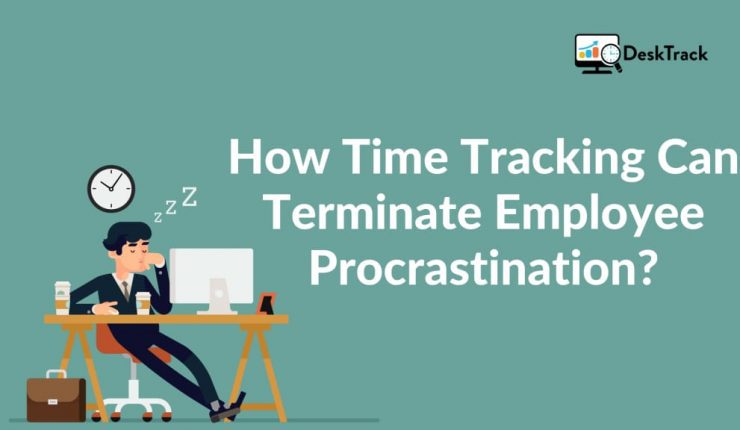 Workplace Procrastination is the habit of putting off or delaying completing tasks or responsibilities & spend valuable time on things that are unrelated to job. This is a bad habit that can cause workplace problems and employers may be more likely to lose customers due to poor service. There are several ways to procrastinate, like taking longer breaks than are allowed, having lengthy conversations with coworkers, or surfing the internet.
In a survey, it was found that 65% of employees waste time on irrelevant activities every day. The average time wasted by an employee is around two hours a day and around 40 hours are wasted monthly of project tasks.
What are the Causes of Procrastination at Work
Procrastination at work can be a real problem. You might be procrastinating in the workplace, but that doesn't mean you have to feel bad about it. Here are a few common symptoms of procrastination at work:
1). Anxiety
Procrastinators often experience anxiety when they're about to start a task, or when they think about the task in general. This anxiety can lead to procrastination at work and prevent them from completing the task.
2). Aversion to completing tasks
Procrastinators often avoid completing tasks because they don't want to feel any stress or anxiety while doing so. This means that they end up delaying the completion of their tasks and make things worse for themselves in the long run.
3). Delays in task performance
Procrastinators tend to delay their performance on tasks because they don't want to feel any stress or anxiety while doing so. This means that they end up delaying the completion of their tasks and make things worse for themselves in the long run.
4). Distractibility
Procrastinators often become distracted by other things during their workday, making it harder for them to focus on their assigned tasks at hand which leads them into more delays with time spent on these tasks as well as increasing stress levels overall which further
5). Increased Stress
People who procrastinate tend to get more stressed out during their workday, which makes it harder for them to perform well at work. And if you don't perform well, it's hard to stay motivated and engaged with your job.
6). Lower task performance
If you're feeling too stressed out, it's likely that you'll have trouble focusing on your tasks and getting stuff done. This is why experts say that people who procrastinate tend to do less well than their counterparts who don't hold themselves back from getting things done on time.
7). Reduced well-being
Procrastination at workplace is associated with lower levels of happiness, which can make it harder for you to enjoy your job as well as enjoy other aspects of life (like family time).
Regret
When we delay gratification and put off doing things that we know will improve our lives later down the line, we end up feeling like we've wasted time or lost opportunities because we failed to act sooner on those things we knew would matter in the long run—and now they're gone forever!
Negative Impact of Procrastination
A procrastinator can waste a few hours of work by using Facebook, watching YouTube, or browsing the web. It is completely unproductive and harmful to the company's growth. Here are some negative impacts of procrastination:
Loss Of Time: By delaying the time of task you will be left with no time for reviewing the work and sometimes your task will reach the deadline. 
Opportunities Lost: Many opportunities can get wasted as individuals haven't taken them seriously when they are relevant.
No Career Growth: It stops an employee from reaching the deadline and achieving set goals. This will lead to no career growth.
Poor Decision: Due to procrastination, one can take wrong decisions according to the criteria that most likely won't happen.
Steps to Overcome the Procrastination at Work
By implementing some great strategies at the workplace you can avoid procrastination at workplace. Here some salient points you can follow:
Be With People Who Inspire: Meet people who are passionate and excited about the things they do. They can make procrastinators feel inspired. It is the best answer of how to avoid procrastination at work
Set Achievable Goals: Make small and achievable goals. This way you will feel achievement whenever you hit your small target.
Make a To-Do List: This comes alongside achieving goals as by making a list you will know the tasks they have completed and what are pending.
Avoid Multitasking: To overcome procrastination at work try to prioritize tasks and work accordingly. Finish one task and then move to next one. This way things will be clear in their mind.
How Employee Monitoring Software can help to Stop Procrastination?
Employee Activity Monitoring Software offers many advantages such as improved productivity, identifying the areas of improvement, ensures invoices are correct, and proper future project planning. It also keeps track of non-project work, ensures time spend on correct project or task and get up to date Time Tracking information. This way it helps in stopping procrastination in the workplace.

Summary
Procrastination is harmful at a personal and professional level for any individual and organization. By this habit, your employees will always be delaying the task. Above mentioned points can help you identify why do employees procrastinate and how stop procrastination at workplace.
Using Time Tracking Software like DeskTrack is one of the best choices for an organization to stop this problem and increase employee efficiency and productivity.