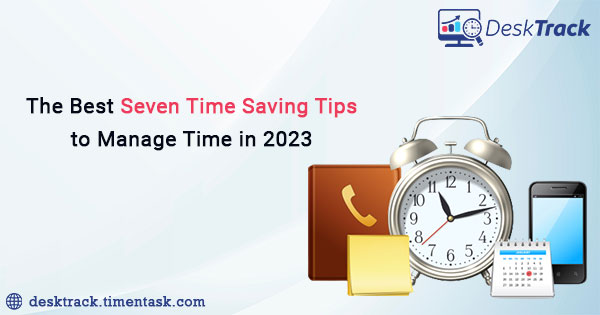 People complain about not being able to do certain things because they do not have time. For such people, it is a reminder that everyone in this world has the same 24 hours a day. It depends on your interests and what you do with your 24 hours. What makes you different from other people is how you manage your day. Effective time management and time saving tips allow you to complete more tasks without hustling.
In this blog, we will learn the best time saving tips for employees to manage their time effectively. 
So, let's get started.
How to Save Time?
Here are a few crucial time saving tips that employees must follow to effectively manage time in offices and deliver every task before the deadlines. 
Track Where You Spend Time
Before learning time saving tips, it is essential to know where exactly you are spending your time. Identify the activities that take most of your time. To track your time expenditure you can use a paper strategy or use modern-day spreadsheets. One better and less time-consuming option is time tracking software for employees. Using them one can easily gather data on how much time is taken by every activity.
Prioritize Tasks
Identify tasks on priority, and decide which tasks need more attention. Make a to-do list where you give ample time to tasks on priority. This will help in completing tasks before hitting deadlines. It is one of the most essential time saving tips.
Also, you can break tasks in your to-do-list, like
Immediate Tasks:

You can place the most important tasks here.

Schedule Tasks for Later:

Place tasks that have no defined deadlines so they can be done once tasks with deadlines are complete.

Tasks to Delegate:

Tasks that you want to assign to your team members can be segregated.

Eliminated Tasks:

Place the tasks that are already completed, but that are not critical for your goals and missions.
Make Daily Schedule
Rather than complaining again and again that you only have eight hours to complete all tasks, you must follow the time saving tip of making a realistic daily schedule and stick to it. Strategize your day as per your goals and missions, and make a timeframe for different tasks. During this schedule, you must stay away from all distractions, especially keep your phone away.
Try to Complete the Bigger Task Before Lunch
Since we are not productive all the time, our energy keeps draining with time. Especially a few hours after lunch people are the least productive and in the morning they tend to be the most productive. It is essential to finish major tasks requiring more attention and time before lunch. You can keep your post-lunch time for tasks requiring less time.
Utilize New Technologies
The best part of living in the 21st Century is that we have multiple technologies to make our lives easier. These technologies complement our time saving tips to manage time. In offices as well, we can use different technologies to make us more efficient. 
For instance, using Excel formulas can help you in performing more advanced spreadsheet functions in less time. Using AI for different tasks like integrating it into daily writing and spreadsheet work can be of immense help. 
Using advanced software such as employee monitoring software can help in reducing HR and administration tasks like recording attendance, tracking projects, etc.
Learn To Say "No"
Your time and energy are limited and valuable so you need to spend them wisely. Saying yes all the time for everything can be the leading cause of your burnout and overwork. Although you cannot say "no" all the time, especially when in office, you must be practical. You must say "no" when you feel it. This is a must-have time saving tip. The best situations to say "no" in offices are when you already have a lot of work, when you are under a deadline, or when you already have tasks on priority.
However, you cannot be arrogant while denying work to your colleagues. You should be assertive but be ethical, and diplomatic at the same time. Learn to deny politely so that others don't get hurt.
Also Read: Ways to Reduce Stress and Prevent Burnout in the Workplace
Plan and Prepare in Advance
You must make your plans, and schedule meetings in advance. The best practice is to plan your day. You can do it the previous night or early in the morning. This will give a clear scenario of what and how you need to carry forward your day.
How can Time Tracking Software Help in Saving Time?
Today organizations are using different time tracking software to help employees save time. Some of the best help employees get from time tracker are:
Planning and Strategizing

Identifying Tasks on Priority

Noting Down Distractions

Finding Key Productive Areas 

Tracking Apps and URL Time Consumptions

Alarming for Deadlines
DeskTrack is the best employee time tracking software that helps not only manage time but also identify time leakages.
Conclusion
Time management is essential to improve quality of life. It helps to do more tasks in less time and get extra time to spend on leisure activities, or time for family. It promotes discipline in you. It is essential to be punctual not only in your profession but also in your personal lives as well. Having read descriptive time saving tips in this blog, time management will become a cakewalk for you. Learn more effective ways to save time and resources with us here.