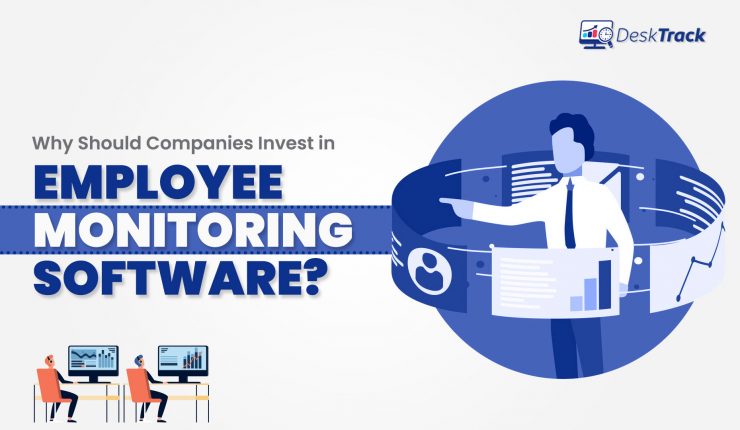 When an organization witnesses its growth, it starts adopting new policies that manage employees and the work environment. However, one of the critical questions that run into the debate is should an organization invest in employee monitoring software? Many would prefer trusting their employees without watching their work nature. For many commercial organizations, workplace monitoring is not required according to their owners. Still, some would take this step to help employers monitor and perform activities for the smooth functioning of the business. Unprofessional work ethics can damage organizational goals in the long term.
According to one report, it is found that 64 percent of employees claim they visit non-work-related websites during their working hours. 39 percent spent one hour or less per day, 29 percent spent two hours, 21% spent five hours, and 3% spent ten hours or more per day.
Table of Contents
What is Employee Monitoring Software?
What Does a Monitoring Tool Do? 
7 Reasons To Invest in Employee Monitoring Software
Types of Employee Monitoring Software
Conclusion
In the last few years, there has been massive growth in the investment of employee monitoring software- on the floor and remote. According to an Opinium study of 2,424 remote employees in the UK, 32% said their employers monitored them in October 2021, up from 24% in April 2021. 
When implementing the software, an employer should ensure that the tool doesn't act as an enemy of employees but creates new ways of a robust workplace environment. Like these, there are more reasons why invest in an employee monitoring software by the organization.
What is Employee Monitoring Software?
Employee monitoring software is a tool that can help companies hire, retain and manage their employees. The software allows managers to access employee records and track their behavior. It also facilitates communication between managers and employees.
The following industries can benefit from Employee Monitoring Software:
Human resources management (HR)
IT
Customer service
Retail
Manufacturing
Health
Transportation and logistics
What Does a Monitoring Tool Do
The key benefit of employee monitoring software is that it can help your employees keep track of their time. You will also be able to ensure they are doing the job correctly and aren't wasting time. It will also help you to keep track of how much work each employee is doing. This means that you can stop paying for overtime or hiring people who aren't needed.
Monitoring employee productivity with employee monitoring software can ensure that employees are making the most of their time at work. You should use this kind of work from home monitoring software if you have employees working in remote locations, such as telecommuting or on-site employees who may be working from home.
7 Reasons To Invest in Employee Monitoring Software
1. Activity Tracking on Real-Time
Even when employees are sitting in their cabins performing their work, it appears unusual to micromanage your company's personnel. You may have no idea how much time they spend on their given assignment. Using the employee monitoring software, you can monitor the overall activities of employees in real-time through the advanced automated screenshot tools. This is a critical factor that all companies should be aware of to identify the bottleneck involved in managing the tasks assigned to their employees.
2. Effective Project & Resource Planning
Another major why you need to invest in employee productivity monitoring software is that it allows employers with practical project & resource planning. For every project, there is a need for proper planning to implement resources in the form of employees. Using the monitoring software data, the employer can check which employee or the team fits the individual project and the timeline to finish the same. The tool offers complete data of the project work done by employees helping in upcoming project planning. You will be able to plan the resources required for your project by estimating the time and effort.
3. Helps in Making Data-Driven Decisions
Using the monitoring software, you have the method to improve to measure the data. With employee tracking software on hand, assessing your team's performance becomes simple. You can check project and task length and reasons for delays by comparing past data. Your employees' performance trends and KPIs are all in one location, making analysis and decision-making simple. You can use automated time tracking to keep track of your employees' working hours. Data on each employee's performance will help make informed decisions when it comes to performance reviews.
4. Creating of Trusted Environment
When it comes to managing a remote team, trust is crucial, but you can't just trust your staff blindly as an employer. You must establish a transparent environment for all of your employees to trust you, and you can trust them. Investing in remote employee monitoring software becomes a no-brainer at this point. This type of app establishes a trusted environment by providing robust evidence-based performance monitoring.
The remote employee tracking tool tracks the entire productive time, verifies their attendance with auto system login, and certifies employee involvement throughout the working day. Companies have information about their employees' working hours. 
5. Making Employees Responsible
When employees are aware that they are constantly under the tracking mode by software, they will be more cautious of their working hours. When employees are left unsupervised at work, problems develop. When the manager is unaware of his subordinates' activities, he is frequently left in the dark. Using the software, managers can keep an eye on their staff and their activities with employee monitoring software. Some tools allow you to demonstrate evidence of work, manage time, keep attendance records, and track performance KPIs, among other things. Monitoring software improves transparency and, as a result, makes employees more accountable at work.
6. Boosting Productivity
Another reason to invest in employee work monitoring software is, that employees can concentrate more on their everyday activities thanks to remote work monitoring tools. When people are aware that they are being watched, they tend to operate more efficiently and successfully. The application has a time-tracking mechanism that shows how much time employees spend working productively. Employees are more willing to work hard to increase their productivity if they are given proof indicating their productive work hours are low. As a result, remote workforce monitoring software helps remote teams stay focused and productive.
7. Increase in the ROI
The return on ROI majorly depends on the business performance. Your business will witness a better when your employees remain engaged and productive. Good performance will lead to more satisfied consumers and profit in the long run. Furthermore, keeping remote personnel focused prevents your company from unintended losses and ensures that operations and goals are met.
To safeguard your company from unintended losses, it is best to invest in remote team monitoring software. A robust staff monitoring system ensures business growth and higher performance. With remote employee monitoring software, you can ensure that you are not paying for wasted work hours and protect your bottom line.
Types of Employee Monitoring Software
Once you know the reasons to invest in employee monitoring software, you also need to check out the types of such tools. There are three different types that you can choose that fit perfect for your organizational purpose-
Productivity Monitoring Software
Using Employee productivity monitoring software, you can measure the performance of your employees. It helps you identify areas where employees could be doing better, and provide training and coaching to help them improve. In addition to reporting, workforce productivity software is also a learning tool that helps employees improve their performance.
Time Tracking Software
Tracking your time and calculating how long you spend on different tasks is easier with Employee Time Tracking Software. This can be used not only by business owners, but also by employees who need to keep track of their hours in order to get paid properly. It is important to note that companies may require their employees to use this type of software so they can keep track of how much time they spend on each task.
Surveillance Tool
The surveillance tool is the best if you're dealing with ongoing asset and resource losses or serious employee productivity concerns. Employee monitoring software can be set up to regulate file access privileges, track documents, monitor emails, and monitor worker inactivity.
Project Supervision and Management
There are employee monitoring tools having options for distributing and tracking tasks and time usage among team members located worldwide. The analytics and reporting tools made it simple to evaluate the efficacy of new procedures and approaches.
File Tracking System
Employee File tracking software is a type of monitoring software that helps you monitor the files, and doucments in your office. The best part about File Tracking System is that it allows you to track the files and folders across various locations. This will help you keep track of all your files, without having to manually search for them.
Conclusion
You can do so much with an employee monitoring tracking tool, from tracking your employees' activities to simple record keeping to extensive and sensitive jobs like data compartmentalization. The ultimate aim is to bring uniformity and smooth workplace functioning among employees. Organizations have options when it comes to choosing the best tool to invest in employee productivity monitoring software, and DeskTrack is one of the significant tool providers. 
Most organizations invest in employee monitoring software developed by the DeskTrack, thanks to its updated features and easy-to-handle functions. When you have productive monitoring software by DeskTrack, you have accurate data for better productivity. Do check now and go for the trial version.