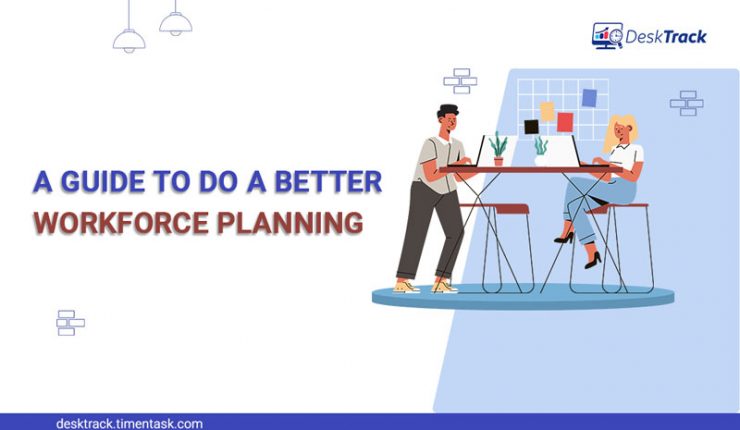 Workforce planning Strategies are a valuable HR process that ensures that your organization has the right number of employees for you to achieve your organizational goals or business strategy.
It aligns your business goals and needs with people strategy. Here you are going to learn every aspect of workforce planning, its value, benefits, phases, etc.
Table of Contents
A Guide on Workforce Planning Strategies- Benefits, Challenges, and Tools
What is Workforce Planning?
Workforce planning is a process that includes analyzing existing employees on the basis of talent gap assessment, planning for future recruitments, and developing procedures for employee management. Effective workforce planning targets possessing the necessary talent, knowledge, and experience to enhance productivity within the organization.
Moreover, it needs to be ensured that the strategy for retaining, recruiting, and training your workforce is cost-effective along with employee performance assessment.
As per a survey by American Productivity & Quality Center (APQC), 89% of 236 organizations have integrated workforce planning with their business operations. Some basic components that can affect workforce planning are as follows:
Business Growth

Skill Gaps

Age of the current workforce

Talent availability
What are the Effective Workforce Planning Strategies?
Include the cycle given on the National Institute of Health-Workforce Planning Strategy Cycle. 
Here are some efficient workforce planning strategies are given below:
1. Strategic Direction
This process of strategic direction includes defining and understanding future goals set forth by the organization and strategically aligning the workforce to meet the goals.
2. Supply Analysis
This process demands remaining aware of your current workforce and observing the trends and changes taking place with the time that can affect your present and future hiring.
3. Demand Analysis
This process expects you to know your organizational needs and goals and hence plan the present and future demands of your workforce ( skills, cost, size, etc).
4. Gap Analysis
To figure out the gap between demand and supply in the workforce, an analysis is required as to where and how the workforce is encountering the gap. Moreover, you need to figure out how such a gap can impact your organizational performance.
5. Solution Implementation
It includes the process through which you can close the gap to enable the organization to meet its goals.
6. Monitoring Progress
Once you are done with hiring the workforce, implementing the solutions, and deploying the required technology, now you need to monitor to check whether the implemented solutions are resolving the identified gaps or not.
Tools for Workforce Planning Strategies
Below are mentioned some top workforce planning tools for your organization:
1. Desktrack
Desktrack is one of the workforce planning Strategies and forecasting tools that ensures appropriate time and workforce utilization through its below-mentioned features:
Timesheets

Cost Report

Application Usage Report
To explore features on workforce planning and strategy, visit DeskTrack Employee Monitoring & Time Tracking Software.
2. Runn
Runn reports give insights into how your organization's staff is being utilized and assign tasks to them based on their availability.

Its reports give planning, tracking, and forecasting all in one place

This tool knows well how to do real-time resource management for effective workforce management strategy.

Be it remote, hybrid, or onsite workforce, the tool knows well which employee needs a break, or is overbooked, who is on standby, etc.

The tool ensures that the projects are delivered on time and within the allotted budget.
3. Paymo
Paymo's team scheduler gives you insights on which employee is available or overbooked.

The People module feature gives insights to Project managers / HR regarding legal leaves, employee performance, and timesheets.

With just a few clicks, managers can set days off (parental leaves, sick leaves, paid sabbaticals, etc) or holidays in bulk for the entire team.
To explore more features of Paymo and check whether your human resource team is in the right workforce planning or not.
4. Bizimply
Bizimply brings expertise in the retail, healthcare, and hospitality industry for workforce planning Strategies and employee scheduling.

This tool incorporates functionalities customized for service businesses as mentioned below:

Employee Scheduling

Time & Attendance

Payroll & shift reporting
5. Quinyx
Quinyx incorporates workforce planning Strategies for short-term as well as long-term rostering by providing analyses on optimal labor hours and the number of employees needed to meet the demand.

This tool also solves overstaffing and understaffing concerns – by its demand forecasting one can know the required headcount at the moment and what is going to be in the future.
Succession planning is considered to be one of the effective tools for Workforce Planning.
In this process, the organization prepares some current and efficient employees to fill key positions as soon as some other employees leave the relevant designation. An organization needs to be prepared with such succession planning as it is very common to find key players leaving the organization due to retirement/resignation or transfer within the organization.
The types of designations included in Succession planning may vary from one organization to another. However, earlier such planning used to be for executive-level positions. Though nowadays, companies have started preparing successors throughout the organization.
Additionally, such succession planning is highly required at times of economic upheaval or during wavering economic situations when the economic security of the organization and its staff are uncertain and therefore mergers and acquisitions become more likely.  So, in order to reduce the employee turnover rate, such succession plans come into the picture.
Also, such succession plans can foster faith and belief in employees' eyes as the organization is concerned about their professional and financial growth.
Workforce Planning Benefits
Below are mentioned some important workforce planning benefits to throw more light on their importance:
1. It prepares you for the future
With workforce planning, you can estimate future staff requirements as per the growth forecasts of your organization. This may lead you to increase the number of employees to accomplish your set goals.
2. Helps to Discover Workforce Gaps
A good workforce planning model helps to discover workforce gaps whether in terms of recruitment, redeployment, or training.
3. Leads to Succession Planning for Employee Engagement
By identifying employees who carry enough potential to outperform, you can choose to prepare a succession plan which would also have a positive effect on employee engagement.
As per a survey, it was found that with a succession plan, 62% of employees would be "significantly more engaged" in an organization. Additionally, 94% of employees believe that having a succession plan enhances employee engagement
4. Improved Retention Rate 
Effective workforce planning Strategies give you a clear understanding of your staff's weaknesses and strengths so that you can strategize accordingly which operation/business suits a particular employee and plan redeployment for him instead of terminating him. Such a process when implemented increases employee retention rate.
Read more on Employee Retention – How to bring employee retention in your organization without money?
5. Brings in Flexibility
When your organization has clear workforce planning Strategies and forecasting with a proper recruitment and training structure, then bringing flexibility to your business becomes easier.
This can lead you to reduce overall staffing costs by increasing your workforce's productivity, retaining talent, and reducing overall costs related to employee turnover.
Moreover, workforce planning leads you to map a correct talent to cost value and check whether the cost spent on your workforce is delivering the best results or not.
Workforce Planning Challenges
1. Poor Data Quality and Lack of Clearly Defined Roles
The lack of clearly defined roles & responsibilities is some of the key challenges in strategic workforce planning.
2. Lack of Methodology
Lack of support and methodology across the whole organizational unit is another prominent challenge of workforce planning.
3. To AlignTalent Strategy with Business Strategy
It is not very challenging to form 'productively' sound business strategies but aligning the same with the workforce skills is one of the challenging tasks.
4. To Deepen the Leadership Pipeline
When it comes to visualizing the word 'leadership', talent managers seem to consider some top 10 or top 100 layers of employees. However, the focus on widening and deepening leadership skills through tools like succession planning should be a part of workforce planning.
5. Holding Business Leaders Accountable
To consider human resource management only accountable for talent management is a myth. In fact, business leaders should also be held accountable for the same because talent management also means people management, therefore it should be the responsibility of managers across the organization.
Conclusion
The importance of workforce planning Strategies is integral. Any organization cannot develop without staff training and development. Moreover, training of the workforce should be such that it leads to continued growth and expansion of the organization. 
In today's rapidly changing technology, employees should be trained or retrained to ensure that the overall goal of the organization is achieved with the help of modern principles, methods, and procedures which are aimed at the success and the company's prosperity.