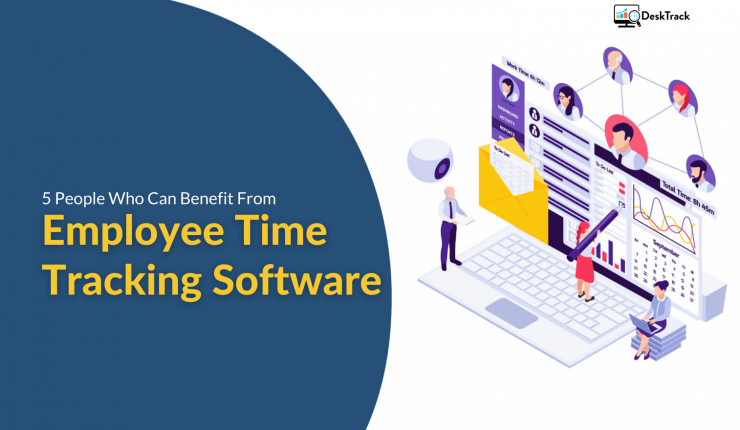 Love it or hate it, time tracking software is undoubtedly becoming one of the most useful tools in today's world. As offices shift to either remote or hybrid work settings, more people are working from home.
In fact, Bloomberg reports that remote setups will raise productivity in the US by 5% this year. And time tracking software plays an important role in analyzing employee working habits. Leading to data-driven decisions that can help increase their productivity.
Let's take a look on who can benefited from the Time Tracking Tools.
Time Tracking Software for Business Owners
Employees find it difficult to work under superiors who exhibit hypocritical behavior, so if they're having a hard time adjusting to the software, take the lead and use it too. Eventually, office productivity will increase.
Additionally, the data generated by time tracking software can also give owners and executives insight into the current status of the company, both in terms of productivity and profitability. Such data can also help give the company additional value in case the owner decides to sell!
---
Time Tracking Software for Project Managers
CHRON notes that office managers get training from business degrees, and time tracking software can only serve to complement the skill sets they develop. It can help project and outsourcing managers keep track of their team, review their performance, areas for improvement, and dole out incentives or rewards for a job well done.
The data generated by the time tracking tool can also help managers see if any of their team members are becoming overworked. So they can prevent burnout by re-distributing tasks accordingly. Finally, managers can easily see the progress on a job and even compare projects over time. Allowing them to strategically line up future projects in a way that will encourage productivity and profitability, as well.
---
Time Tracking Software for Employees
Employees have more to gain from the best employee time tracking software than just improved productivity. It helps them gain employee autonomy, which involves a full understanding of one's capabilities, limitations, and priorities in order to work smarter.
It also helps encourage self-improvement by determining exactly how much time is spent on each task — or, conversely, how much is wasted on interruptions or distractions. Eventually, it helps them become more effective workers and improves their standing with their employer.
---
Time Tracking Software for Educators
Along with the workplace, the face of education has been drastically changed by the pandemic. More than being a consequence of the crisis. However, the digitalization of education is a change that has actually been a long time coming.
And with this change on our doorstep, educators need to be able to adapt well not just to new teaching paradigms, but to new ways of task and time management, too. Indeed, this overview of the online higher education leadership program at Maryville University highlights the need for a future-focused leadership. Such leadership applies learning theory to new technologies, like remote learning and time-tracking software in education sector.
In particular, time tracking system is great for school administrators to determine if time is being spent wisely and effectively by both students and faculty. And can help teachers better track students' attendance and productivity. Overall, the automated time tracking tool can produce a more productive working and learning environment. By automating many manual processes, allowing educators to do their job well.
---
Time Tracking Software for Freelancers
Finally, time tracking software is beneficial even to those working outside the conventional employer-employee dynamic. For one, keeping such precise records helps boost professionalism, attracting more and higher-priority clients.
Software for Time tracking can even improve a freelancer's quotes and estimates by providing data on how long it takes to complete a project & by boosting their own productivity. Freelancers can eventually raise their rates & even generate bills worth the exact amount of time and effort that was put into satisfying client needs.

Whatever your role may be, freelance time tracking software is a great way to work better and smarter, so consider checking out the time tracking solution offered right here on DeskTrack!
---
Time Tracking Software for Consultants
Time tracking software is a great tool for consultants who bill clients on a regular basis. Consultant time tracking tool can be especially helpful when you're working on multiple projects at once, as you can easily track your time spent in each project and see how much time you've worked on each one.
It's also a great way to show clients how much time and effort you put into a project. You can see exactly how much work was required from each member of your team and what resources they used. Also get how much revenue is generated, and how much profit is being made.
---
Time Tracking Software for Lawyers
Time tracking software for lawyers can help attorneys track their time and create reports on how much time they spend on different tasks. It also helps them to know where they spend their time the most and what areas need improvement.
Lawyers can track time in real-time and see exactly how much time you spend on different tasks or projects (e.g., researching an issue, drafting an email, etc.). They can also see how long it takes to complete each task as well as how much time you spent on other unrelated tasks (e.g., checking emails). Time tracking software for lawyers give  alerts if there are any suspicious activities such as billing claims that were never filed; client meetings that should be recorded in their notes; or meetings where no notes were taken at all!
---
Time Tracking Software for Accounting Firms
Time tracking system for accounting firms is a great way to keep track of your time, billable and non-billable. By using these time tracking apps, you can accurately track the time that you and your team spend on tasks and jobs, helping you to understand key things such as efficiency and profitability.
The best time tracking software for accounting firms is not only easy to use, but also affordable. There are a number of free and paid options available, so you can choose the option that best suits your budget and needs.
The most important thing when choosing the best time tracking software for accounting firms is to consider what you need from it. The first step is to determine how much time you will spend on each job or task and how much money you want to save on staff costs. If you have small teams with just one or two employees, we recommend using an online time tracking app like DeskTrack with easy-to-use functionality.
---
Time Tracking Tools for Developers
Time tracking software for developers helps you keep track of all of your project work and other activities. You can use it to see how long it takes you to do certain tasks, such as writing code or debugging a project, which will help you determine what projects are taking up too much of your time and which ones should be given more attention so they don't get stalled out. Developer time tracking software is a must for any developer who wants to track their time. It helps you stay organized & efficient.
The first thing that you need to know about time tracking is that it's not just about what you do on your computer. It's about how much time you spend doing the things that take up your time, whether it be writing code, debugging a project or working with a client.
---
Time Tracking Software for Remote Employees
Time tracking software for remote employees is perfect for those who work from home, but want to keep an eye on their time. It allows you to keep track of how much time you spend on each project and creates reports that show you how you spent your day.
Time tracking software is a great way to keep track of how much time you spend at the office and how much time you spend working remotely. The software will also help you stay organized so that you know what tasks need more attention or which ones can be delegated away from your desk altogether.
Time tracking software for remote employees can also help you manage expenses, allowing you to keep track of how much money each person is spending on various projects. This will allow you to make sure that each person isn't overworking or underworking in order to get paid properly.
---
Conclusion
Time tracking software is an incredible tool for professionals to keep tabs on their time spent and work portfolio. The most organized and disciplined people who use time tracking software often see huge benefits from using it, no matter who they are in the business world.