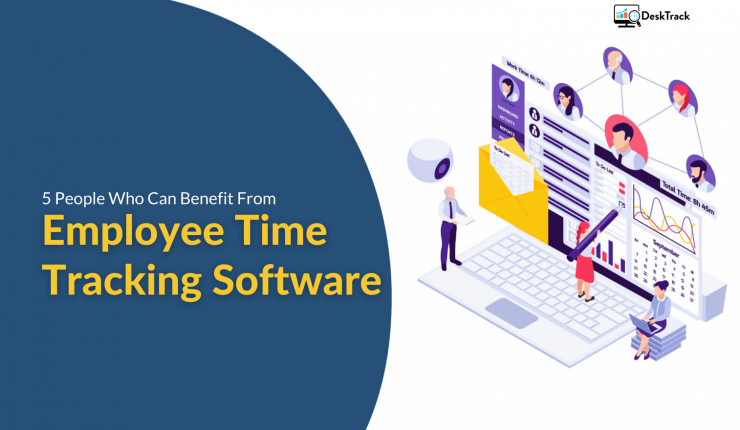 Love it or hate it, time tracking software is undoubtedly becoming one of the most useful tools in today's world. As offices shift to either remote or hybrid work settings, more people are working from home.
In fact, Bloomberg reports that remote setups will raise productivity in the US by 5% this year. And time tracking software plays an important role in analyzing employee working habits. Leading to data-driven decisions that can help increase their productivity.

But employees aren't the only people who can benefit from the Time Tracking software. Read on for the full list!
Owners or executives
Employees find it difficult to work under superiors who exhibit hypocritical behavior, so if they're having a hard time adjusting to the software, take the lead and use it too. Eventually, office productivity will increase.
Additionally, the data generated by this move can also give owners and executives insight into the current status of the company, both in terms of productivity and profitability. Such data can also help give the company additional value in case the owner decides to sell!
Project and outsourcing managers
CHRON notes that office managers get training from business degrees, and time tracking software can only serve to complement the skill sets they develop. It can help project and outsourcing managers keep track of their team, review their performance, areas for improvement, and dole out incentives or rewards for a job well done.
The data generated by the software can also help managers see if any of their team members are becoming overworked. So they can prevent burnout by re-distributing tasks accordingly. Finally, managers can easily see the progress on a job and even compare projects over time. Allowing them to strategically line up future projects in a way that will encourage productivity and profitability, as well. 
Employees
Employees have more to gain from time tracking software than just improved productivity. It helps them gain employee autonomy, which involves a full understanding of one's capabilities, limitations, and priorities in order to work smarter.
It also helps encourage self-improvement by determining exactly how much time is spent on each task — or, conversely, how much is wasted on interruptions or distractions. Eventually, it helps them become more effective workers and improves their standing with their employer. 
Educators
Along with the workplace, the face of education has been drastically changed by the pandemic. More than being a consequence of the crisis. However, the digitalization of education is a change that has actually been a long time coming.
And with this change on our doorstep, educators need to be able to adapt well — not just to new teaching paradigms, but to new ways of task and time management, too. Indeed, this overview of the online higher education leadership program at Maryville University highlights the need for a future-focused leadership. Such leadership applies learning theory to new technologies, like remote learning and time-tracking.
In particular, time tracking software is great for school administrators to determine if time is being spent wisely and effectively by both students and faculty. And can help teachers better track students' attendance and productivity. Overall, the software can produce a more productive working and learning environment. By automating many manual processes, allowing educators to do their job well.
Freelancers
Finally, time tracking software is beneficial even to those working outside the conventional employer-employee dynamic. For one, keeping such precise records helps boost professionalism, attracting more and higher-priority clients.
It can even improve a freelancer's quotes and estimates by providing data on how long it takes to complete a project. And by boosting their own productivity, freelancers can eventually raise their rates. And even generate bills worth the exact amount of time and effort that was put into satisfying client needs.

Whatever your role may be, time tracking software is a great way to work better and smarter, so consider checking out the time tracking solution offered right here on DeskTrack!
About Writer
Romaine Jovie is a freelance human resources consultant who specializes in training and development. In her free time, she participates in marathons and other sports events.