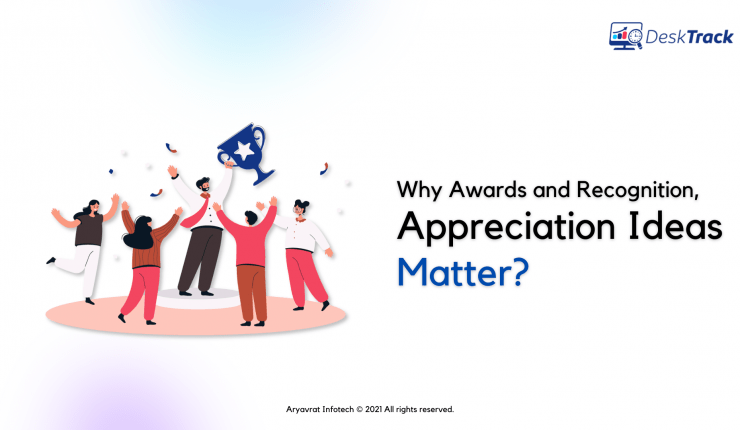 Employee recognition should be the core value of any organization. It is the act of acknowledging people for what they are and what they do. Obviously, money is undoubtedly a great motivator but this alone cannot be the sole reason an organization wins the loyalty and commitment of its workforce. Money is certainly the award for the physical and mental labor of an employee but when it comes to overall employee recognition, money is often the last factor. 
FContrary to the popular belief, money does not motivate employees as other motivators do. Rather, a healthy working environment and a little appreciation do the needful.
How Employee Recognition Works with Employee Appreciation
The moment an employee is appreciated for even a tiny bit of work performed, the person immediately feels a positive vibe and continues to work with renewed energy and focus. Appreciation not only acknowledges the result but the entire process that led to the result. The mind, the skill, the diligence, and the responsibility of the employee are applauded. The work satisfaction derived from praises is much more valuable than the money earned.
Employee Appreciation Ideas for Workplace
Appreciation is an abstract thing; it's not a tangible product. It's the sum of organizational behavior that impacts the morale of employees. Here are certain appreciation ideas that could be easily implemented in a small or big organization.
 #1 Wellness Memberships
One thing that taught us is the importance of wellness and no organization can ignore this facet. Gifting employees wellness perks like fitness bands, meditation app subscriptions, or online/offline health maintenance packages go a long way in making employees feel appreciated by the organization.
#2 Gamification
Humans have a competitive nature. They always do better when someone is in their competition. Desktrack software creates a leadership board that shows the top-performing team members. Every employee can see their teammate's performance. This feature influences our employees to do better work with their team members. Through this process, we can get the top-performing employees and give rewards to the highest scorer. Some situations occur when two team members are on the same level. Cricket, for example, is a tie if two teams have equal scores. To determine the best playing team, the team plays another match. Likewise, if two employees are on the same level, we can compare their performance on the next task.
#3 Virtual 'Thank You'
Even though we have successfully transitioned from an in-office workforce to a largely remote workplace where the primary medium of interaction is a productivity monitoring software connecting the whole team, feelings of discontentment and isolation can easily creep in. A simple 'thank you' can make anyone's day better. It makes employees feel valued, motivated, and appreciated by the organization.
#4 WFH Equipment
No, we are not talking about a laptop and an internet connection. When organizations plan to become remote, they should provide their team members with the best project management tools like Jira. You can integrate the Jira to manage projects' progress when they are at home. Also need to use employee monitoring & time tracking tools to see how productive employees are. These practices make remote working easy for both employees and employers.
#5 Virtual Game Nights
Host a virtual happy hour, a game night, after wrapping up the day's work. Get everyone online via Zoom or Google Meet, and encourage them to unwind just as they would do in an office. Interactions beyond the working hours in a hybrid team should be strongly encouraged. Of course, turn off productivity monitoring software at this time! Send everyone a food voucher and let them enjoy the time.
#6 Public Shout Outs
Appreciate in public, reprimand in private: this should be the motto. Since appreciating in-person is becoming tougher, having weekly or bi-monthly shout-out sessions on a video call makes sense. Call out the employee who has performed well and share a note of genuine appreciation. Post about the person on the company social media handles as well. 
#7 LinkedIn Recommendation
LinkedIn recommendations, when given by the management without asking, are extremely meaningful. It shows employees how much the organization cares about them and trusts them to give a professional endorsement in public for their commitment, skills, and dedication towards their job. It barely takes a few minutes but is one of the best ways to show employee appreciation and recognize their worth. 
#8 Skill Development Courses
Whether online or offline, nothing spells appreciation better than organizations realizing the skills and talent of their employees and encouraging them to excel further. Investing in the professional development of employees matters. Organizations can sign up on platforms like Coursera and encourage employees to join in paid courses of their choice and gain certification. 
 #9 Award Programs
The cornerstone of employee engagement is employee recognition, and awards are one of the best ways to achieve it. When an organization recognizes its employees, it improves retention and reduces the employee turnover rate. A 2017 article on Forbes says that 66% of employees are ready to quit if they feel underappreciated by their organization; the number is even higher with millennials – a whopping 75%!
Irrespective of the nature of the workforce, begin with the "Employee of the Month" award where managers can nominate their team members for specific awards and send out emails to the entire team to submit votes. Winners can be announced in-office or on a video call, followed by announcing it on the organization's website and social channels, and other gifts.
Endnote
Small gestures go a long way. Whether your employees are working from their office or whether the organization is using Employee Monitoring Software to manage a remote or hybrid workforce, there should not be any shortcoming in appreciating the workforce or in making them feel recognized and valued.