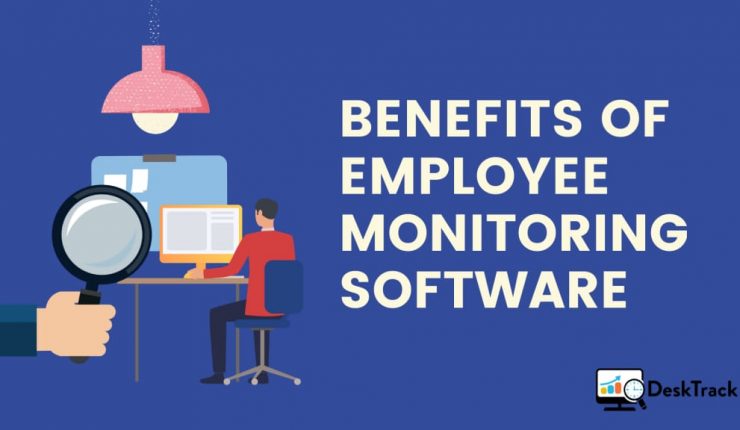 There are times when employers want to take advantage of their employees' output, but they struggle with monitoring. So in the digital world companies try to find solutions and develop software that gives a lot of benefits to the organization. In this article, we take a closer look at the benefits of employee monitoring software.
Table of Contents
Benefits of Employee Monitoring Software
Employee Productivity is the topmost concern of organizations nowadays, especially in the form of lost productivity in the workplace. Employee monitoring system reviews are essential in helping you choose the best employee monitoring software that meets your needs. It happens too often that employees will misuse their privileges causing lost productivity for the company, deadlines not being met, and an overall longer time to complete the job at hand. Now It is necessary to take advantage of employee monitoring software. The benefits of system monitoring are too many to count. One of the major benefits is that you can get to know how well your system is performing and there are indications if it is having troubles.
The benefits of monitoring staff performance include a more productive work environment, improved efficiency, and higher employee satisfaction.
This causes a huge amount of money lost each and every year which many companies do not even realize if they are not actively controlling it. The main benefit of workplace monitoring is to ensure that employees are working at all times.
Nearly 64% of employees visit non-work-related websites each and every day on the job.  Of these people spend an average of 2 hours per day.
Internet surfing of non-work-related nature results in up to a 40% loss of productivity each year.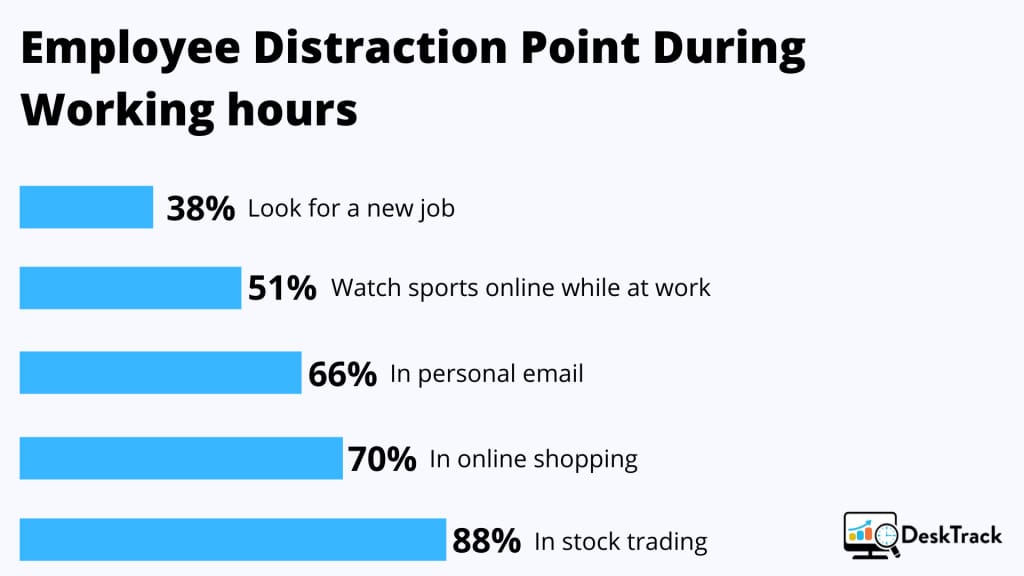 Pros and cons of employee monitoring software There are both pros and cons to using employee monitoring software. To get rid of that organization is moving towards the pros and cons of employee monitoring software. A survey found that nearly 45% of organizations now monitor employees' activity performed during working hours. This figure continuously increased from 2015 when only 18% percent of companies monitored employees. Employee Monitoring Software Definition: employee monitoring software is a software application designed to help employers monitor the computer use of employees, especially at work.
What is Employee Monitoring?
In general terms, Employee Monitoring tracks the activity of an employee on the job. Through software, employers can watch the online activities of employees.
Every company or organization pays money to its employees on a full-time basis. If a company strategy is 9 hours as its full time, then the employer will pay accordingly. But in every organization, some employees are there who are wasting their productive hours by doing unwanted things. How do avoid such things? 
Well, there is much Employee Monitoring Software now available in the market, and you can use them which helps your organization to increase employee productivity.
The benefits of employee tracking software are one of the best things in a company. It is because, every time, it is impossible to keep an eye on the workplace of every employee. But if you are using top employee monitoring software in India, then you can easily keep your eyes on your employees at any place.
You must enable important features in employee monitoring software to get the most out of it
A list of some basic features and benefits of employee monitoring software can help your organization reach the top of its field.
Computer Activity Tracking: One of the best benefits of employee monitoring software is computer activity tracking. Employers & managers can track what employees are performing on their computers and how much they are productive.
Alert according to company guidance: Use alert features to notify employees of the block, redirect, log out, or lockout and stealth conditions of employees.
Employee Live location: Live location tracking is one of the biggest benefits of employee monitoring software. You can track field employee location and visiting points and how much time they are spending at the visiting points.
Keystroke Logging: Use keystroke features if your employee is doing fraud with you and creating cheating. This feature monitors keyboard and mouse activity.
System File Transfer: You can track file transfers from one point to another.
Doc Title Tracking: Track word, notepad, pdf, and ms excel file transfer with the help of employee monitoring software features. These features provide full security of your company data.
System URL Tracking: The benefit of employee monitoring software is browsing URL tracking that represents which URL is productive to your company and which is not.
Application Tracking: Using these features you can ban unproductive applications from your employee's computer.
Stealth Employee Tracking: Stealth employee monitoring software features also give the best benefits to employers. This feature works in hidden mode on employee computers.
Screenshot monitoring: The benefit of Employee time tracking software is screenshot monitoring. It provides more safety and security in an organization.  it captures the employee's computer screen within a set time frame and gives a screenshot to you
Benefits of Employee Monitoring Software
There are many advantages of employee monitoring software in India. Employees can track their time, and also improve their productivity with this software.  In this pandemic time, every organization wants to take advantage of employee monitoring software. Because every employee is doing work from home & their employers want to track their every activity. Here, we share some benefits of employee monitoring software, take a look below.
Manage projects effectively

Is your company growing so fast that you can't keep track of things? Maybe it's about time to consider investing in employee monitoring software for project management.

If you are to get the most out of your workforce, you need to make sure they are productive, efficient, and accountable. This will help build the foundation for a successful project management process. By implementing software that helps give teams visibility into one another's work, you can create accountability and drive productivity.

Improved and Streamlined Communications
If your business is struggling to ensure that employees are following workplace rules and are communicating effectively, then workplace monitoring software can help. remote workforce monitoring software offers many benefits to employee tracking software to employers including improved communication, better employee relations, and a reduction in loss of work time due to office distractions.
Plan Resources Effectively with Time Tracking software

Time tracking software is an excellent resource for businesses, especially when you have multiple departments with separate divisions and projects. With this software, you can see where your resources are being spent, how much time you're spending on each task, and whether or not your employees are working efficiently.
Easy to evaluate
Employees can easily be tracked by productivity monitoring software, so they can spot their mistakes during work as soon as they occur. Tracking employee productivity in real-time allows employers to evaluate their workers. As well as highlighting the errors, they can also be corrected immediately. Achieving project deliverables is easier with enhanced work quality.

Performance Insights in Real-Time

Real-Time Employee Performance is software that collects real-time data from your business to help you make better decisions and to keep track of key financial indicators. There are established ways of managing employees, but the way of understanding their productivity has gone through a revolution due to this software.
Real-time employee performance helps managers plan the work and to be able to judge the progress of each employee. This helps keep the employees motivated and deliver greater productivity.
Establish a Strong Relationship
In today's 24/7 world, people are increasingly connected to each other. Because of that, building a relationship based on trust and understanding is key to the success of any good business. Communication skills and love for what you do will ultimately help you find your perfect employee with the help of a strong online presence.
Be on the lookout for errant employees
Employee monitoring software is software, which keeps a check on the activities of employees. It is put in place so that companies can help ensure that their employees are working according to their job descriptions. By installing employee surveillance software, companies can identify and correct inappropriate performance or behavior in order to prevent employee abuse and worker mistakes from occurring.

Recognition space for employees

In the end, we believe that recognition is something that should be a cornerstone of any healthy workplace. Ideally, every organization wants and promotes an environment in which employee recognition is alive and well. That's one reason why these employee monitoring software programs exist—they help managers stay in touch with the pulse of their employee base in a way to facilitate this very type of communication.
Improves the efficiency and productivity of employees
Productivity and efficiency are vital in any business if you hope to have any hope of achieving your goals. The motivation of your employees plays a big part in this, as does their environment. An office lounge is a good step towards employee satisfaction. It gives them somewhere to relax and recharge when needed, socialize with colleagues, and even gather ideas for further work.
An easier way to manage attendance
Being able to keep track of your staff's attendance can be a difficult process, especially if you rely on employees to manually check in and record hours spent at work. Fortunately, with the right employee monitoring software, you can easily manage this on your own. All you need is the right tool and a solid software package to back it up.
Work from home solutions

In any organization, remote working is possible. It is important for employers to know when and how their employees work remotely.
Try to manage their work from the beginning. These solutions give companies the perfect opportunity to provide detailed information about remote-working policies and track which employees are complying with them. If you choose a good employee monitoring solution, you'll be able to manage the performance of your workers remotely while they perform their duties in faraway places like Delhi, Mumbai, or London.

Improving Productivity and Flexibility
Flexible working hours and working remotely are trends that employee monitoring plays a part in. It is being used by companies as a tool to track working hours and more importantly measure productivity.
With Best Employee Monitoring Software Indian companies can determine how employees spend working hours and whether or not their actions are productive or non-productive. It can indicate whether or not there is a need to intervene and take action or provide further training.
The summary report that it generates user activities will give you a great overview of which employees are productive and which ones are not.
Data Security:
Insider threats represent a big risk for companies nowadays. Whether intentionally or unintentionally there have been a number of data breaches. An employee monitoring software can check out the hiding things. Employees can't hide anything from employee monitoring and that is the most significant thing that they can't do any bad things which can affect their workplace.
Improved team performance:
One of the best advantages of employee monitoring software is related to team performance. We can track employee desktop activity to monitor employee working styles and where they are spending their time with laptop screenshot monitoring. Employers also decide on unproductive URLs or doc files to count employee productivity.
Cost-effective
Employee monitoring software is very cost-effective and provides a good ROI of team working performance. you can take benefits of the desk track lite plan which is only on RS 99/- per month per seat. It improves your remote and office team performance approx 40% per day.
The advantage of monitoring employees is that it allows you to keep track of the productivity of each individual worker. This way, you can tell which employees need training and which ones are doing a great job.
Read More: Benefits of Employee Computer Monitoring Software
All in all, you should have a clearer understanding of the trends and statistics that gives insights into the benefits of Employee Monitoring Software India.
One of the biggest disadvantages of monitoring employees electronically is that it may be an invasion of privacy.

There are numerous benefits to using network monitoring tools, and there are many situations in which they can be beneficial. Network monitoring tools are used by IT professionals and technicians to ensure that networks and systems stay up and running smoothly.
The benefits of employee surveillance are plentiful– an Employee Monitoring Software. It is an all-in-one centralized and the best Support provider for Employee Monitoring Software.