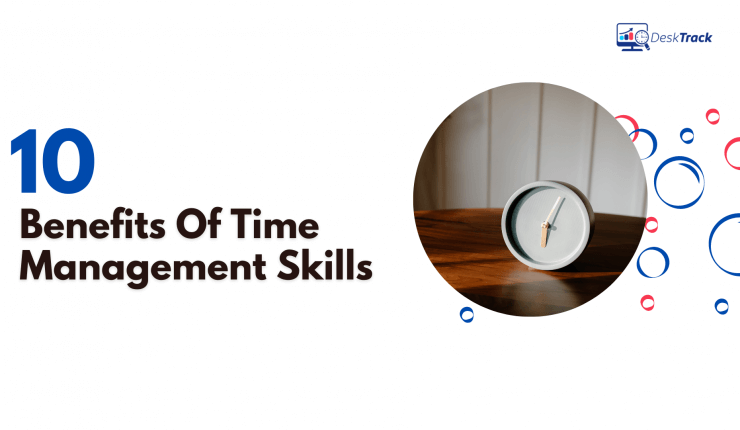 Effective Time management is one of the most necessary skills that everyone should learn in their life. Managing time and balancing daily tasks are important to increase productivity. Anyone who wants to build a positive work-life balance should explore and understand the benefits of time management skills for the workforce.  Good Time management helps you prioritize your daily schedule as per the importance. 
Table of Contents
Top 10 Benefits of Time Management Skills
As per the latest research of 2021, 82% of people don't use any time management system, and the rest are doing things they have prioritized for themselves. Whether a job holder or a student, you should follow effective time management. If you were feeling frustrated and stressed out the whole time, learning "what is time management skills for student or workforce" can make a person more successful!
If you want to do everything the same way you have planned, adopt time management skills. You can complete your task with minimal effort with effective time management skills. In this article, we have discussed what are the benefits of time management skills. 
Here Are the Top 10 Benefits of Time Management Skills:
Decreased Stress:


Decreased stress is the best benefits of  time management skills stay employee in relax mode. Are you distressed because of the peer pressure of the professional workload? Learning to manage your time can reduce your stress level. If you manage your working time properly then you will find your work is done always on time so time management skills remove working presure from you. It allows you to schedule the smaller parts of your day so that the projects and tasks can be completed in a given period of time. Even if it takes a long time, you still feel confident.


Increment in Productivity

Once you are getting mastered about what are the benefits of time management skills, you can complete the task in a better way. When you learn to manage your time,  your productivity will be increased & you can complete your deadlines in a limited time without stressing out so much. If you want to reach your home at the right time with complete peace of mind, you should know what is advantages of time management are.


Positive Reputation:


Due to Batter time management you will always doing work on time without error or presure. So it is the biggest benefit of batter time management skills for employees or employers.   So emoloyees time management skills build a positive reputation in your surrounding? When you schedule your work, your colleagues and employer will impress with you. You can leave a different aura in your friend circle. You will be known as someone who doesn't push tasks off for the next day. You can make other people motivated and confident. Building a positive workplace reputation can increase career advancement, salary growth, and satisfaction.

Get energetic All Day

If you are feeling tired and showing zero productivity after working hours, it means you need to build up your time management skills. Effective time management strategies will let you know when to complete a task. It ultimately helps to reduce your amount of energy. You can plan your additional time to spend with your family and friends. It will let you know how to balance your personal and work-life balance. 

Fulfill your Daily Goals:


Do you have goals for what you need daily? By 'what is advantage of time management skills,' you can simplify the day and spend less time deciding what to do. It will teach you how to plan out the daily objectives and determine the problems you should battle.


Improved Focus

Want to build up focus? Learning to manage effective time management improves the focus. Through this, you can learn how to dedicate a specific amount of time to each project. When you deal with multiple responsibilities, you might be juggling so many things in your mind. Therefore, it would be better to schedule the daily task to eliminate this. Time management skills make a person more focused.

Improved Decision-Making Skills

Managing time and building schedule work help improve decision-making skills. It can improve the other aspects of your life. Time management made some tasks simple and quick. The process of making decisions also improves the ability to prioritize things.

Reach your Goals

Knowing time management skills helps to reach your goal faster. Developing goals doesn't matter until you have the frequencies to reach them. The time management technique teaches you how to set bigger goals and reach them in the shortest time.

Improve the Quality

Want to improve the quality of work? When you make time management your habit, you can spend more time improving your ability and quality of work. You can complete each task in the assigned time, making you confident and enhancing your professional career. You can be the best employee of the year. It allows you to find better ways of working and processing. If you desperately want growth in your career, you should start adopting time management skills.

Build Self-Discipline

When you practice time management skills, you can improve or adhere the schedule planning. Time management will train you in the best possible way. You can give your full attention to your career and put all your energy into completing the work at the right time. Learning time management skills will open thousands of opportunities. 

Read More: Benefits of Time Tracking Software for Developers
In addition, there are so many other points which we can talk about 'what is the advantage of time management.' Time management is the way of processing and organizing things in a straightforward way. It teaches you how to divide your time between specific activities. 
By learning the benefits of effective time management skills for the workforce, you can make changes in your habit and improve productivity. Improved time management skills for adults or students can build confidence and focus, allowing you to plan your time more effectively. Effective time management skills will help you to reach the position where you want to reach. Want to balance your work life with your personal life? Learn skills of time management and achieve your goal faster and easier.
To Sum It Up
After going through the above content, now you have a clear idea about the benefits of time management skills for employees. A good time management skill will show you how to invest your time correctly. Managing time makes a person smarter! It tells how to achieve the goal in the smartest way, not the most challenging way. It will help you to maximize your strength and ensure better productivity.