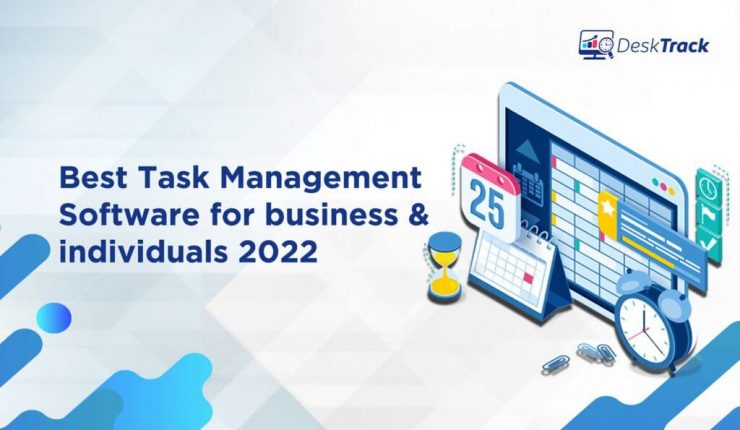 Managing your workforce and their work progress has never been easy because it requires a lot of time and effort. Planning, tracking, and delivering projects on time shows a good impact on your clients and leads to better outcomes. Therefore, if a team loses control of its tasks and deadlines, it directly affects its productivity. At this place, the best task management software in India takes place.
It allows teams to complete tasks in the given period, within budget and with the proper resources. Enhance your task management with solutions and tools that provide flexibility and better performance, full collaboration, and allow you to work without limits. 
Table of Contents
Best Task Management Software for Business & Individuals 2022- 23
What Is A Task Management Software?
The best task management software in India is essentially required for project management, managing teamwork progress, and helps to deliver projects on time.
Majorly the employee task management software well organizes the method of handling tasks, providing users and managers with a detailed report of project allocation as per roles and responsibilities. It allows managers to monitor task and work done by their employees and ensures projects are completed before deadlines. 
Organize all your tasks in one place, which ought to be done for different projects. Managers can allot tasks as per the roles and responsibilities of employees so that they can complete their work on time. Also, it helps them to know the requirements, deadlines, who has to do it, and which tasks need to be completed first.
Why Do We Require A Task Manager?
Managing all your tasks together can be unproductive and ineffective because you may start concentrating on less vital tasks and might neglect the crucial ones for later. You might even begin multiple tasks together and not finish even one in the given time. Without a proper schedule, it is easy to fall back on unproductive work methods.
However, the best online task management software for teams can help you complete your projects timely. Time and task management are important as they will show you all your tasks, how far you are in achieving your target, and which task requires more of your attention.
Task management software for small businesses not only helps you work more efficiently but also improves the quality of your work by making you focus on vital tasks. 
Mainly task tracking apps help you to:
Planning

Assigning 

Tracking

Reporting and many more
Top Features of Task Management Software for Individuals or Small Businesses
The business task management software helps you to schedule and manage all your tasks in a place with ease for every type of industry, whether it will be small businesses, large organizations, etc.
The employee monitoring software helps you schedule all your tasks on time so that you can have a grip on the left ones. Also, proper management allows you to track the accurate progress of each task. 
When your team is operating on multiple tasks scheduled, it is challenging to track the deadline of each task. To make it effortless, go for the best task management software for individuals that allows you to track work progress and completion.
The software helps you specify the tasks as per employee roles and responsibilities. Therefore, it provides the benefit of planning, scheduling, and managing your tasks and projects under a console. 
An effective task scheduling app helps your team members to enhance their collaboration. Team members can easily exchange the needed information or data and updates to know the progress easily and quickly.
You can easily share information regarding the task you are currently working on. You can even ask your supervisor to elaborate on any tasks that seem beyond you. It helps the whole team to work together efficiently. It can help the team progress by increasing their work productivity.
Essential aspects of proper task management are ample resources, a proficient project time tracking team and apt task planning. Among these, task planning is the first-factor one will tackle for proper task management.
It requires a strategic approach that is used to break down tasks into small milestones for better achievement of project goals. Also, it allows you the possibility to prioritize and manage tasks as required.
Resource management is another important feature of good task tracking software. It is necessary to have an organized list of resources you need for any project. You should organize those several resources in the way you plan to use them.
It will help against inappropriate use of resources and you won't exhaust them before completing the project. This will also help to allocate resources among the team members properly.
To have regular reports of your current project is vital. Many task management software for small businesses has features that allow them to create insightful reports with the data you provide. You can customize data according to different stages of projects.
This will help you to understand the team productivity better and will indefinitely increase the quality of your work.   
Documentation of your project details is necessary to use in the future. Project task tracking software helps to have a proper record of your task details which can be very important. Task management software for teams provides you with this feature also.
It helps you organize project data in one folder without any errors. People commonly use excel for this purpose. However, after using the best task management software for employees once you won't be able to go back.
Time tracking or time management is crucial to check whether the time is focused on vital tasks or unimportant ones. You can keep track of time for every task and comprehend which one requires more time. The task software you choose should have this feature too. 
The best task scheduling apps help you organize your budget expenses better and make you understand a clear picture of project expenses and budget performance. It will help you understand every detail of your project budget, so you can review if it goes over budget sometimes. 
When you have multiple tasks to complete, it is common to get confused about the same. Therefore, task management software for businesses helps you organize and understand the most relevant projects. So, you can achieve your goals on time.
Top 10 Task Management Software List For Individuals or Business
1 .  DeskTrack
Key Features
Project Planning and Allocation

Smooth and Efficient Workflow

Billable Hours Tracking

Project Budgeting 

Earn profits and overcome the loss
Pricing as per plans
DeskLite : $2.99/User/month

Stealth : $6.99/User/month

Tagger : $7.99/User/month
2. Todoist
Key Features
Recurring due dates

Subtasks

Priorities

Mobile apps available for iPhone, iPad, and Android devices
Pricing as per plans
Free: $0

Pro: $4

Business: $6
3. ProofHub
Key Features
To-do lists

Custom workflows and kanban boards

Gantt charts

Online proofing tool
Pricing as per plans
Ultimate Control : $99/month

Essential : $50/month
4. ClickUp
Key Features
Task Management

Time Tracking

Templates

Custom Task Statuses & Custom Fields 

Gantt, Kanban, Calendar, To-Do List, Notepad, Form, Activity
Pricing as per plans
Free forever: Free

Unlimited: $5

Business: $12

Business Plus: $19

Enterprise 
4. Basecamp
Key Features
Activity view allows managers to see everything related to project tasks 

Create to-do lists and choose assignees and set due dates for tasks

Share docs and files

Automated Check-ins
Pricing as per plans
Basecamp Business: $99/month flat
5. TaskLog
Key Features
Assign tasks to specific time entries

Time-tracking

Online billing and expenses

Client task assignment

Reporting and insights
Pricing
One Flat fee for everything: $99/month 
6. Teamwork
Key Features
Get an instant overview of team capacity using Workload

Keep every project and its tasks in clear sight with Portfolio

Gantt chart allows planning of project timeline

Meet deadlines by prioritizing tasks
Pricing
Free Forever : 0

Delivery: $10

Grow: $18

Scale
7. Podio
Key Features
Organization apps

Notes apps

Templates

Invoicing tools
Pricing
Free : 0

Basic: $7.20/month

Plus : $11.20/month

Premium : $19.20/month
8. Casual. PM
Key Features
Visual Project and Process Management 

Visual Task Manager

Workflow Management Tool
Pricing
Personal: $10/month

Starter : $25/month

Team : $50/month

Enterprise 
9. Proggio
Key Features
Manage tasks effectively in the Kanban board view

Customizable templates

Create visual task roadmaps with built-in Gantt charts
Pricing
Basic: $250

Business: $800

Professional: $1500

Enterprise
10. Trello
Key Features
Boards

Lists

Cards

Checklists

Attachments

Android and iOS mobile apps
Pricing
Free : 0

Standard : $5

Premium : $10

Enterprise : $17.50
Which Online Task Management Software Will You Choose?
In this digital marketing era, everything can be easily available in the market, but the thing is about priorities and requirements. There are numerous types of software available in the market which can fulfill your business requirements and help you to achieve your organizational goals on time. Before buying a specific one, you should test the best task management software as per your business and employee needs and then make the final decision. The above-mentioned are some of the best task management apps that can help your workforce to manage their work in every way.