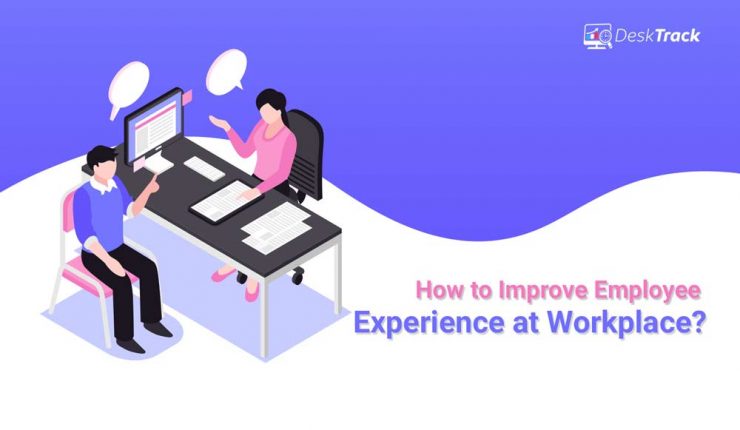 In this new era, companies are providing multiple advantages to their employees, more than just paid leaves and insurance plans. Employee experience plays a very important role from hiring to resigning, with a mixture of methods and understanding. According to a recent study, "Only 36% of employees are engaged in the Workplace". This means that there's a lot of room for improvement when it comes to employee experience. By checking this study we need to learn how to improve employee experience at work.
Table of Contents
How to Improve Employee Experience at the Workplace
The employee experience is the relationship and connection employees have with the company. It includes the environment, advantages, open communication, better work atmosphere, tools, and means you deliver for employee accomplishment. 
Studies have shown that 46% of employees presently report that they are not delighted with their workplace applications. Therefore, when employees feel free and happy to work in an organization, that leads to a better environment, growth, development, and more profit with a better outcome. 
Let's have a look at this blog which will help you how to improve workplace experience and enhancing the employee experience and efficiency in all aspects.
What Is Employee Experience?
Employee experience refers to the journey they spend throughout their work period, including performance, challenges, pay, progress, connections, job opportunities, perks, work-life balance, etc. 
Employee experience is dynamic: the comprehensive influence of the job and the company duty on the employee — how they handle, and sense their prospect and capabilities, their purpose and plan to stay in the organization, and the impact on their welfare and comfort with their productivity and engagement. Organizations with productive and engaged employees earn more and better profit rather than one who has disengaged employees. 
Why Does Employee Experience Important?
Nowadays, individuals find companies that can help them grow, make them learn new things, experiment, and innovate for purposeful work and experience. 
People do not like to work only for income. They search for some significant employee experience that can make them grasp new technologies and knowledge about the same. Same as companies wants to enhance employee experience at workplace to get productivity back from them.
Influential work helps in both employee and company development. Your organization's atmosphere shows your motive to achieve any goal and can influence your employee's experience and productivity as it streamlines day-to-day assignments. It makes it more manageable and more comforting for employees to perform. 
Engagement helps employees to stay motivated and focused on their perspective and goal to perform their job well. 
Top 10 Ways to Improve Employee Experience at your Organization
Here are some of the best ways to enhance employee experience at your workplace:
1. Enhance your communication channels
While working in an organization, an employee should feel comfortable communicating. They should have complete freedom to express their feelings and concerns so that the leaders can help them resolve issues and provide a better environment. Specifying a better communication channel is as important as monitoring and improving your employees. 
2. Career pathing
While working in an organization, an employee should understand their measures and struggles as all their efforts will help them improve at every level. Therefore, it is important for them to feel secure and safe about their future and work. 
3. Conduct frequent meetings
While working in an organization, an employee should have complete transparency, faith, and belief in their work and the company and this will make them stay for the long term. Therefore, it is essential for managers to have frequent meetings about what's going on and what's next to be done. Routine inspections help dodge any bottlenecks and mark problems at the appropriate span.
4. Conduct surveys
Conducting surveys can be the best way to know about your employee's progress and their issues. It will provide you with complete data about your employees, and that can help you make better decisions about their issues, improvements, and employee-related operations. One should conduct these surveys regularly so that one can communicate with your employees without any concern, and that will help you enhance the employee experience at workplace. 
5. Salary and additional advantages
While working in an organization, an employee can not only depend on salary but should have other benefits as well. The advantages can be training, health insurance, employee wellness agendas, or flexibility among added entities. Therefore, for many people, advantages or benefits matter more than salary while working. 
6. Empathize
It's important to understand your employees and the environment they work in, before you try to improve it. Your empathy can help you understand what makes them happy and sad, as well as how they feel about their work.
7. Employee wellness
Health and finance are two areas that have a direct impact on employee experience at work. This is why it is so important for companies to invest in their employees by offering health insurance coverage and offering financial aid to employees who need it most.
8. Conduct one-on-ones
One-on-ones are an excellent way for managers and supervisors to get to know each of their employees on a personal level. In these meetings, managers should ask questions regarding the employee's career goals, recent changes in life, and anything else that could help them better understand how their employees are doing in the workplace.
9. Wow them at onboarding
Onboarding is an important part of an organization's overall human resources strategy because it helps employees feel welcome into a company culture that already has been developed over time by management teams and departments within the company itself
Employee Experience Vs. Employee Engagement
Here are some of the specific differences between employee engagement & experience:
Input/Output
Employee experience is the input an organization sets to achieve more promising engagement and employment. While employee engagement is the output. To fulfill your organizational goals and earn better outcomes, you have to manage and maintain your employees better. If adequate employee engagement is the objective, advancement of management is the method to achieve that intent.
Bottom-up/Top-down
Employee experience is a bottom-up notion, whereas employee engagement is top-down. Likewise, employee experience will help organizations to know the gaps and requirements of the employee for a better work environment. It also helps them open up in front of their superiors and provides them with the right tools, technology, and vision to accomplish their tasks with enthusiasm. 
Whereas employee engagement means the requirements or desires of the managers ought to fulfill a targeted goal. They need employees to be more engaged, involved and committed to their work. So they can make better decisions to achieve organizational goals. 
Focus
Employee experience focuses on the employee, while employee engagement focuses on the company. Employee experience is the method of how employees think and perform on their own. Whereas employee engagement leads to the overall functioning of a workplace, the business, and its efficiency and productivity. 
Closure of employee experience and engagement in your organization
Employee experience and employee engagement both are the very essential aspects of a company or a business. Therefore, it needs exemplary administration to assure both a better experience and engagement measures. In fact, businesses with increased employee engagement draw in 2.5 times better earnings than businesses with lower engagement statuses.
Benefits of Building an Excellent Employee Experience
Find some of the benefits of building an excellent employee experience:
Engagement and productivity
An optimistic employee experience leads to more profitable business outcomes and improved respective welfare and comfort. Employees lead to more loyalty and dedication towards their work and progress. 
Lower employee turnover
Employees who feel more comfort and satisfaction while working in an organization stay for a long period rather than those who feel unfortunate. They leave the company more often. Therefore, it affects the company and employee morale, productivity, and many more. 
Enhanced client experience
Providing a better employee experience leads to better engagement that improves customer experience and employee work performance which can help in more profitable outcomes with complete transparency and confidence. 
Job fulfillment
Better employee experience helps employees to be comfortable and pleased with their job. This allows them to contribute 100% to bring targeted profit and accomplish upcoming tasks with complete dedication.  
Profitable business outcomes
Employee experience authorizes employees to bring profitable business outcomes. Therefore, if the managers or leaders invest a specific amount of effort and investment in their employees, they will provide you better results in return. 
Conclusion
We hope you got the entire purpose of investing in a great employee experience through this blog. It not only assures you draw and maintain ultimate skill but also improves your company's prestige in this digital market. 
In the olden days, only working and maintaining results was necessary, but nowadays, employee well-being and work-life balance play the same important role compared to work and organizational goals. Knowledge and comfort while working are the most essential aspects for people who want to grow in every field. Therefore optimizing employee experience at workplace may lead to better results and employee satisfaction.