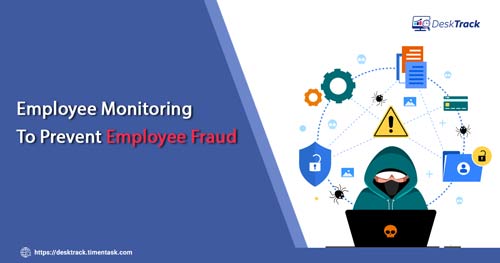 Nowadays, Business completely depends on technology and remote work is becoming common in today's digital age. Employee monitoring software has become an important tool to stop fraud, ensure productivity, and also for keeping data protected. 
The increasing demand for employee monitoring software has provided organizations with complete awareness about employees' overall activity and also to help the workplace from every fraudulent activity. 
Let us explore different features of Employee Monitoring Fraud Prevention.
Development of Employee Monitoring Software
Employee monitoring software is the chief way to track employees' attendance and overall productive hours. It has been growing very fast since the day it was established. Although, growing technology has converted these tools into complete solutions and is able to survey various features of employees' overall nature. 
 At present, employee monitoring software and employee tracking software have become a very multi-worker tool as it measures task status, the overall productivity of employees, and also Employee monitoring fraud prevention. Every organization is using such software for the growth of the organization and also for smooth remote work.
Kinds of Employee Monitoring Software
Employee Tracking Software
It is a type of technology solution that allows managers to check and manage every activity of employees. This software goes far away from other software but it has many characteristics like time logging and GPS Tracking. It is mainly designed for remote employees and field employees. 
Employee tracking software allows managers to track employees' location at the time of their working hours. It also helps in companies' smooth operations and overall performance of an organization.
Employee Screen Monitoring Software
This kind of employee screenshot monitoring software enables employers and managers to immediately check the computer activity of employees. These employee monitoring software screenshots the record of all apps and sites an employee used during his working hours.
By observing and watching the real-time status of employees, the manager can make sure that the employee is working and not engaged in any other non-work related activity. 
Internet Monitoring Software
This software tracks the usage or consumption of the internet and also all the websites an Employer checks during his working hours. It makes sure managers about the work concentration of employees who are working remotely and also informs managers about every suspicious or non-work-related website usage of employees during working hours.
Productivity Monitoring Software
Software like DeskTrack and many others compute how skillfully and ably employees are working and using their time. It checks the status of various assignments and tasks and gives awareness to a single employee or even the whole team about their productivity. By recognizing the parts of improvements, an organization can improve its work and secure itself from fraudulent activities from infertile employees.
The Character of Employee Monitoring Fraud Prevention
Spotting Suspicious Activities
Employee monitoring software enables organizations to spot every suspicious activity in employee actions. Unexpected or abnormal movements such as more time spent on non-work related sites, unofficial software installation or uneven login time can sometimes lead to fraudulent activities. Timely spotting of these suspicious and fraudulent activities can save organizations from misuse of data or any other loss related to monetary. 
The real time tracking software for employees detects every irregular and suspicious activity immediately. If any employee tries to open any important data or confidential sites then this software immediately triggers suspicious activity. It permits organizations to respond instantly and make decisions according to real-time reports or information. 
Many employee monitoring software captures screenshots of all the suspicious activity of the employee. These types of monitoring software keep a complete record of employee's infrequent logging and they serve as a piece of evidence in front of employers. 
They detect and capture every abnormal activity done by the employee on the computer and also the activity logs of the employee monitoring fraud prevention.  
In the remote work era, it is very difficult for managers and employers to keep an eye on the employees who are working from home but many employee monitoring software gives access to employers regarding every activity of an employee during his/her working hours.
They give information about the apps and sites employees are using during their working hours so that it may prevent an organization from any suspicious or fraudulent activities. Sometimes they use employee monitoring fraud prevention software for this purpose.
Many software not only detects the activities of employees but also scan the overall behavior of employees. By setting accurate behavioral lines, Employers can easily get to know about the fraudulent or any bad intentions of employees. In case, frequent changes of logging time or any other activity could be triggered as an attempt at fraud or suspicious activity.  
Applying Employee Monitoring Software Fruitfully
While applying any monitoring software it is important to inform about the purpose of applying, benefits for employees, its work, and also its scope. Always asking about employees' consent before setting up any monitoring software on their devices is very necessary because of privacy respect and it also builds a fruitful relationship between employee and employer. 
Stabilizing Privacy and Reliability
Monitoring software is a good tool but it is also important to stabilize a proper balance between employee monitoring fraud prevention and employee own privacy. Always choose monitoring software that focuses on work-related things mainly not on employee's personal things. 
It is very necessary to take care of an employee's privacy and also it builds positive and good relations at the workplace. 
Proper guidance about the usage of software and work of software should be provided to each employee as well as the managers to avoid consequences. Explain the work, usage, and benefits and also solve concerns of employees regarding software. Proper training saves time as well as energy in the software understanding. 
Every organization is different from each other so it is very crucial to select monitoring software according to the needs and plans of the organization. Customization of software according to the motive and plans of the organization is a very important step. 
Also to check whether it is matching and is compatible with the existing system or not, after selecting a proper employee monitoring fraud prevention software always guides employees about that software's work and behavior. 
As monitoring software indulges in the collection and storage of confidential data, it is important to cross-check checks about data security and protection. Managers and Employers should always make sure that the software is compatible with data security rules and regulations and also about the privacy of collected data.
Each and every little piece of data related to work or organization should be very confidential or else it will lead to a huge loss or fraud. 
Conclusion
Employee Monitoring Software has become a very precious tool for companies who want to increase their productivity, maintain data reliability, and also prevent an organization from fraud activities. The development of this software from normal time tracking software to important things like employee screen monitoring software, Employee monitoring software screenshots, and Employee Tracking software.
By productively applying these tools, Organisation can maintain a proper stabilization between Employee monitoring fraud prevention and the privacy of employees. In today's age, remote work will go on so monitoring software proves to be a very important asset in sheltering business against all fraudulent activities and also to make sure about productive activity and safe work culture.