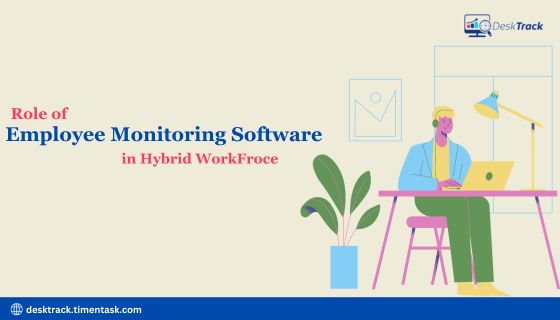 In the past couple of years, the world of work has taken a major shift, like literally everything (including employees) has shifted. From a traditional office setting to a comfortable home setting, a lot has changed. The upscaling standard of hybrid workforces is, but is not limited to, on-site and remote work choices. But hybrid or not, employee productivity and proper time management are the keys to success for any company or business. Having hybrid Employee Monitoring software on board that enables you to monitor hybrid employees' productivity is one way to do this.
Understanding hybrid workforce
Any team that alternates between working on-site in an office and remotely is considered a hybrid workforce. Teams that have members who work remotely and in the office on various days of the week are examples of hybrid teams. Other types of teams with members who work remotely and in the office on the same days are also possible. 
It gives your employees more flexibility and inclusion since they can now choose when and where to work, and it gives companies a chance to reconsider their geographic footprint, reconsider their real estate demands, and widen their search for talent (no bar to recruiting).
Why do you need Employee Monitoring Software for your hybrid employees?
Well, you might have heard of the saying "You never know," which in fact is true. When your employees are working in hybrid mode, you truly never know what exactly is going on, or do you?
It is hard to keep an eye on the work when your employees work from the office, and it is almost practically impossible to know what happens behind your back. 
It goes without saying that remote and hybrid employees are less visible than their in-person counterparts. Although any competent manager is aware that trust is essential to success, there can still be some engagement problems with digital workforces.
And that's why you really, really need work-from-home monitoring software. 
What is Employee Monitoring Software?
Employers can use employee tracking software to keep an eye on the output, locations, and computer usage of their staff as long as employee privacy is respected.
The software utilized may be used to keep an eye on employees who are on-site or working remotely during business hours.
Remote workers could be motivated to falsify the amount of effort required for their employment or, worse, decide to stop working completely in order to take advantage of this lack of visibility. The management of hybrid teams may rest easy knowing that their teams are accomplishing their goals wherever they work by using a hybrid Employee Monitoring System.
Reasons why you must have Employee Monitoring Software for your team
When overseeing a large workforce or hybrid or remote personnel, it is essential to keep an eye on them at all times to fully grasp their roles. After all, you are not paying them to use the office Internet to stream videos, check social media, or browse pointless websites.
You can immediately look into each employee's activity, whether they are working on-site or remotely, by installing the finest employee monitoring software. Additionally, it will uplift their will to work harder. They will enforce discipline since they are aware that their bosses are keeping an eye on their job actions. A better work product and more proficiency will result from it.
Skyrocket The Output and Productivity of Your Team
Just one ad pops up, and it's game over. Two hours went by scrolling, checking out, and doing other stuff. That isn't the case, though, because remote work monitoring software makes sure everyone is concentrating on their task. The use of excessive idle time is monitored by employee monitoring software. 
You may combat technological distractions like time spent on social media sites, pointless movies, etc. with the use of a reliable personnel monitoring system. To identify and eliminate these distractions, your staff may check the productivity data with you. 
A Significant Drop in Operational Costs
By using the amazing and best employee monitoring software features, you can ensure that your hybrid employees are fulfilling their responsibilities as rigidly and quickly as possible. Employee monitoring software may help cut operational costs, quite significantly. Businesses that use monitoring software have witnessed an average 15% decrease in operating expenses, according to recent research.
The Employee Monitoring System generates thorough reports to pinpoint areas where resources are being misapplied or time is being squandered. It also notifies you of any violations of certain rules or policies, assisting in ensuring that procedures are performed correctly and expenses are kept under control. 
Enables You to Analyze Your Hybrid Workforce
Businesses may use employee monitoring software to keep account of the routines of their workers in real-time. With the help of employee monitoring software, you can keep track of hybrid employee attendance, create reports on the basis of hours they actually worked, and pay them accordingly.
This allows you to see patterns in the performance of your hybrid workforce and modify their work as necessary and accordingly.
Offers You an Insightful And Detailed Report

 
You will start getting precise and thorough information once you start utilizing employee time tracking software. They'll first act as evidence of the work that your employees did. Desktrack, a full-featured Employee Monitoring Software, offers in-depth reports with various indicators to take the development of the business or corporation into account.
A Sought and Improved Work-Life Balance
Improved work-life balance is one of the top benefits that remote workers cite, and hybrid workers may benefit from Work-from-home monitoring software to keep this trend going. Employing workforce monitoring technologies successfully allows managers to discover areas where workers may be overworked and adapt working hours to avoid burnout.
Employees could find that improved workflows help them finish jobs on time, which reduces the need to work after regular business hours, which relates to the previous point about greater productivity.
Looking for the Best Employee Monitoring Software – DesktTrack is here!
Best Employee Monitoring Software provides great godsend features, including timesheet tracking, productivity tracking, in-depth data reporting, payroll management, and much more! By offering (you) employers insights into how your workforce functions, monitoring software enables better management of hybrid workforces
If you are looking for great, super handy, most prominent, and easy-to-use employee monitoring software, then your search ends at Desktrack, the best employee monitoring software in India. It is perfect for both in-office and remote monitoring since it includes time-tracking tools, browser and app monitoring, robust productivity reports, and more.