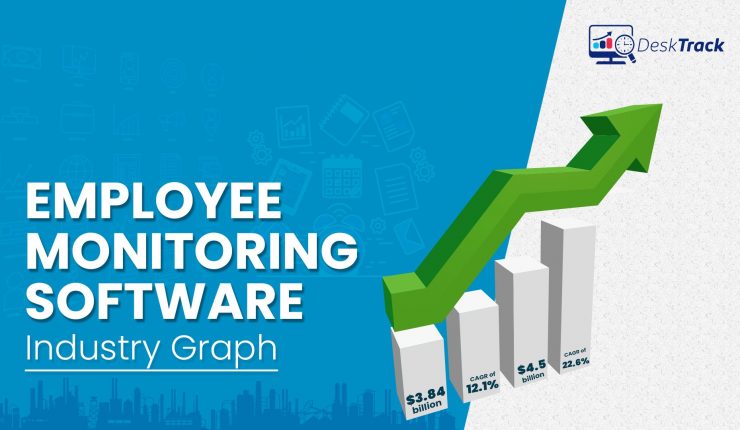 Employee monitoring or surveillance isn't new in the corporate industry. Irrespective of the size and type of business, organizations are increasingly adopting this software to monitor their employees.
whether in the office or working remotely. Simple, user-friendly, interactive interface features entice managers to adopt employee monitoring software. With the advancement in tools, employers can evaluate the overall productivity of employees. Employee monitoring software helps evaluate employees to increase productivity and also avoids fraudulent activities. Over the years, there have been many reports of loss due to unethical activities undertaken by employees. According to the statistics report presented by CompareCamp, a global loss of $2.9 trillion per annum was reported in 2020 due to employee fraud. Similarly, a report by Atlassian says, on average, employees spend around 60% or less in overall productivity in the workplace. This has pushed businesses to invest in the advanced version of monitoring software without unethically holding or collecting non-business data.
Table of Contents
Employee Monitoring Software Industry Graph
Market Forecast of Employee Monitoring Software
According to indurstryarc, From 2021 to 2026, the Employee Monitoring Software (EMS) market is expected to increase at a CAGR of 12.1%, reaching $4.5 billion. EMS systems are commonly used to track incoming and outgoing emails, website activity, software installs, and other activities. The increased penetration of monitoring solutions is being driven by the expanding digitalization and monitoring solution deployment, which is expected to be the primary driving force for the market.
During the forecast period 2021-2026, the numerous benefits and advancements associated with cloud technology, such as improved performance, engagement and less maintenance, cost-effective remote employee monitoring for end-users, will drive the adoption of cloud-based real-time monitoring software solutions. The cloud segment led the Employee Monitoring Software market in terms of deployment is projected to continue in the future years. Since the reports are available on the web, managers may use cloud-based employee monitoring tools to monitor employee performance.
Similarly, the global employee monitoring tool market is expected to reach $3.84 billion by 2023, with a CAGR of 22.6%. The market was developing steadily in 2021, and with significant players adopting more tactics, the market is predicted to rise throughout the forecast period. Employee Monitoring Software provides merchants with company overview, market involvement, global presence, Employee Monitoring Software industry deals and revenue generated, SWOT analysis, and product launch.

The forecast of the employee monitoring system is largely based on different parameters.
By Deployment-
By Organization
By Type
By Application
System Monitoring

Network Monitoring

Database Monitoring
These parameters give a clear vision for forecasting the total market size of these monitoring systems globally.
What Drives the Software Market?
Different elements are looked upon to know what drives the employee monitoring software. A growing number of businesses in the IT, automobile, e-learning, education, BFSI, BPO, Pharmaceutical, law firms etc. are using employee monitoring solutions, and bolstering market revenues. Furthermore, better software solutions are in demand as internet access improves and employee fraud incidents increase. The market is developing due to the increasing integration of artificial intelligence with personnel monitoring systems.
In the mentioned period 2021-2026, IT& Telecom is expected to expand at the fastest pace of 15.0 percent. The increased need for better control over employees and increasing expenditures by organizations in implementing innovative solutions to promote employee productivity, mainly related to the Work from Home situation, is driving market expansion. Furthermore, the widespread use of mobile devices in the workplace causes companies to invest in cloud-based employee monitoring systems.
In terms of Geography, organizations in countries like North America, Europe, India, and Brazil hugely invest in the employee monitoring system. Due to the high demand for sophisticated employee monitoring systems in the retail and hospitality industries, North America will be the leading region in 2020. With a market share of 34.1 percent. This acceptance is expected to continue beyond the return to office culture, particularly in large corporations, implying that employee monitoring systems will have a long-term adoption.
Different Domains using the Monitoring Software
When it comes to using employee monitoring software, no specific industry or company uses it. Organizations that utilize employee monitoring software might benefit from increased business growth and staff engagement in the long run. By tracking your team's desktop activity, physical movements, in-out time, internet usage, emails, and more, intelligent time tracking software may help you enhance their productivity. Industries that use employee monitoring software include-
1. IT industry
Employees also want their actual productivity acknowledged during performance reviews, as well as accurate reports that indicate their efficiency, completed tasks, total time spent on allotted projects, efforts made, etc. Employee Activity Monitoring Tool is advised to be used in the workplace to provide complete transparency and receive accurate employee reports.
2. Law Firms
Using employee tracking software, law firms may analyze accurate reports of a team member's overall time spent on a project, all legal problems, and cases. They can readily distinguish between billable and non-billable hours, resulting in more precise overall project budget expenses. Finally, it relieves you of paperwork, allowing you to concentrate more on your business.
3. Staffing and Recruiting Industry
In the Staffing and Recruiting market, tracking the work of their staff is also a problem. Managers will track correct time and better manage projects, budgets, and teams by implementing an EMS into the firm.
4. Accountant
s
The essential aspect of an accountant's job is good accounting. When working on tax or audit projects, bill-per-hour projects, or fixed-fee projects, accountants must account for all time spent on various projects. With clients during working hours. Monitoring software allows accountants to keep track of multiple projects and billable hours. Appropriately charge clients, and save time on accounting.
Conclusion
Players in the Employee Monitoring Software market use various methods, including technology releases and R&D. The market for employee monitoring software is projected to be dominated by big corporations. Which further increases its overall market share.