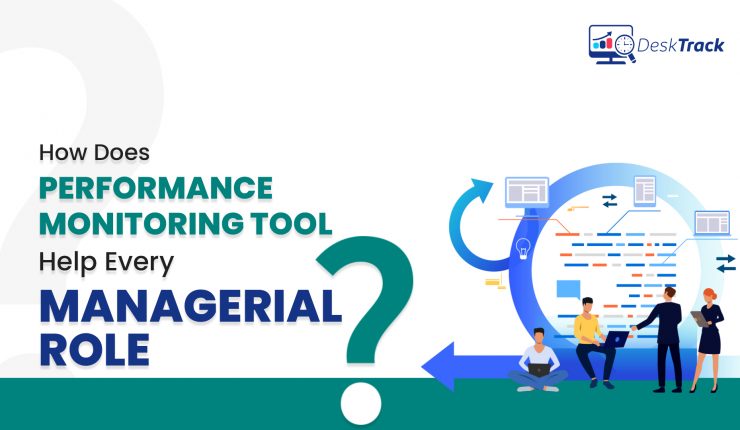 Running a remote team is not easy. Especially in the pandemic situation when you have zero options other than relying on your team members working from their homes, things can be pretty hectic. Without having a complete overview of their progress, there is nothing to blame if you find your employees a little too carried away with their personal lives. A performance monitoring tool helps you and your team members to keep a tab on their performance which eventually allows them to accomplish more. 
Performance management tools often come in the form of a productivity management tool or a time tracking software, even an application that comes with both features. The software helps to maintain transparency inside your team. Alongside that, you always know which employee is an expert in managing which Task by analyzing the data and the time they are spending on each task.
If you are in a managerial position where you are responsible for the performance of your team, the application aids you with hundreds of perks that are impossible to ignore. In fact, as more and more businesses shift towards a completely remote working model, these tools are becoming a necessity for them. Here in this article, we are going to discuss how performance monitoring or time tracking tools can aid managers and other employees in an organization. Check it out to know more on the same.
Top Managers
If you're in a top managerial position, you already know how important it is to track the bottom line of your organization to ensure good quality and quantity of the work. Starting from planning a project to directing it and keeping all employees on the same page to make sure you get the output as expected is quite difficult without project management software.
Yes, especially if you rely on micromanagement, it's going to waste most of your time while not helping you with the deadlines. That's why you should opt for making the whole process automated and transparent. From assigning the job role to each employee to getting the work submission, you must have real-time updates of complete work progress. That's where a performance monitoring tool comes in handy. 
As a performance monitoring tool, if you're going to use time tracking software, it'll help you check the productivity and work performance of every associate who is working with you. It not only helps in reviewing the performance of your team but also improves them to scale up your business. So, if you want to maximize your performance while making sure every employee is working for the same, get a performance management tool now. 
Line Managers
Do you want to make better decisions on how to run your team efficiently? Well, a performance monitoring tool is what you need to know the weakness and strengths of your team. Yes, such software leverages you to harness your team's strengths and work on the weaknesses to ensure better productivity. It does that by tracking the day-to-day activity of your team members and providing you with a complete insight into who is doing what at which time. 
Starting from tracking the visited websites to tallying the work with consumable hours and deciding the proper remuneration for it, you can accomplish a handful of tasks in no time. This is how you can cut down the idle hours or frequent breaks taken by any employee and motivate the person to deliver quality work. Also, since you'll have the complete report of what websites visited by whom, if you're working from the office, you can ask your network admin to block the websites or social media platforms if you think those are eating up your team's time. 
In addition to that, you get a better estimation of what time it will take while signing up for a task. Yes, knowing your team is the key to delivering top-notch quality work within a stipulated time. So, whether you're working on a managerial post of an IT company, media and entertainment, or any other industry, using a performance management tool as a time tracking software is the ultimate solution to reach the highest level of productivity. 
HR Managers
HRs play a crucial role in building a successful team. In fact, HRs are responsible for building a particular work culture of harmony and mutual respect in an organization. Performance management tools can act as the right equipment for your HR when it comes to building a healthy work culture in your company.
With a performance management tool, it will be much easier and more transparent for your HR to identify the top performers in your team and incentivize them or promote them as models for others. Also, it's much easier to find out the members having the best work-life balance and people who are handling their responsibilities better without causing any burnout. Thus, employee retention becomes much easier.
Not only that, but this tracking software allows HRs to find out coachable opportunities for basic competencies such as time management focus management for employees. Alongside that, it becomes quite feasible to trace employees exhibiting signs of burnout and needing help managing their workload.
How Employees Get Benefited from Productivity Monitoring Software?
It's always a good feeling to have that you are contributing to the greater good of your organization. If a leader or the persons in the managerial posts of your business is deciding the path to the success of your business, the employees who are working for them eventually walk down the path. Therefore, a high-valued team of employees who cares about performance is absolutely irreplaceable as far as business growth is concerned.
Having Productivity monitoring Software allows employees to understand how significantly they are actually contributing. Also, as an employee, having tracking software to monitor your day-to-day progress saves you from self-monitoring burnout. In fact, you can take your personal productivity metrics to employee evaluation meetings to highlight improvements. Thus, it becomes fairly easy to get recognition for your work.
Not only that, but performance tracking software can help employees recognize their field of expertise while working on a particular task. You will always understand which particular work in your KRA is taking most of your time and schedule your day accordingly.
EndNote
That's all! Now you know how a performance monitoring tool helps every person working in the managerial position and employees also. If you still have any queries and are wondering whether to incorporate one in your business, leave us a comment below. Lastly, thanks for reading!