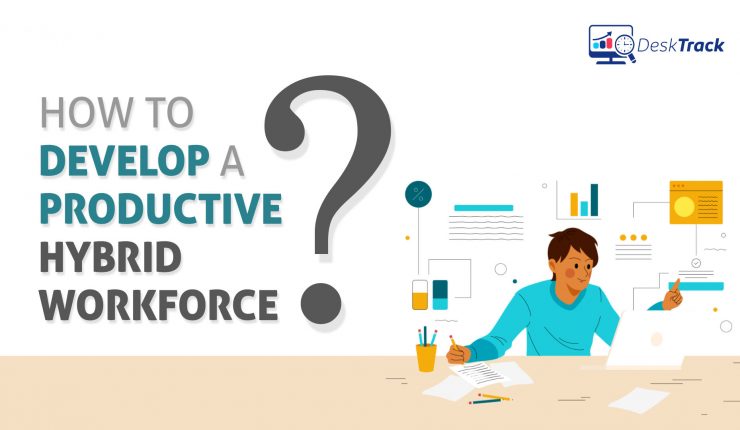 Since the start of the pandemic, remote work has transformed from a trend into a norm that many workers have developed a preference for. Survey after survey shows that post-pandemic employees demand more flexibility and ample opportunity to work remotely. As employees become more comfortable working from home, employers are looking into hybrid working productivity in response to increased interest in remote working. This new hybrid work model is a mix of office and remote working, allowing employees to work on-site, remotely, or both. 
As a large number of employees are seeking more flexibility over their work location and timing, businesses are hoping that the hybrid model will inject more flexibility and encourage employees to remain productive in hybrid work. Businesses that are succeeding in adopting hybrid work models are the ones to stay ahead of the competition. With technology, flexibility, autonomy, and communication is the core components of a hybrid work arrangement, it is important to know what elements to consider to develop a highly efficient hybrid workforce.
The Importance of a Hybrid Workforce in 2023
By now it is a well-known fact that the driving force behind hybrid work models is employee preference. According to a survey conducted by Accenture, 83% of surveyed workers prefer a hybrid work model. The hybrid work model allows employees to bring a better balance in work-life and allows them to spend more time with their family with an increase in hybrid work productivity. A hybrid work arrangement allows employees to continue to enjoy the benefits of remote work and also helps your business to improve hybrid work productivity and retention. 
Many giant tech companies like Google, Apple, Microsoft, Twitter, Facebook, and Spotify have officially made the hybrid work model part of the perks for their employees. When you are building a hybrid work model for your employees, it is important to choose the right tech solution to be successful. With a large number of people working from a distributed location, the ability of the workforce to communicate easily and quickly is paramount. The right tools- such as cloud platform, instant messaging, and employee monitoring software– can make all the difference in this hybrid work arrangement.
How to Thrive Hybrid Work Productivity?
As the concept of hybrid work is still new, many organizations find it challenging to know where to start and how to achieve success. Also, employee satisfaction is also important for a hybrid workplace. Whether your organization is still new to hybrid work or has implemented a hybrid work plan, here are a few key tips to help you build a high-performing, efficient hybrid work productivity. 
1. Set Clear Guidelines For Hybrid Work 
A hybrid work plan can vary from business to business. In some businesses they allow employees to set schedules for which days they work from home and onsite while some companies fix the days as per their business requirements.
To get the best hybrid work productivity, you will need to simplify the rules for your employees and set policies for both on-site and work-from-home practices. 
2. Choose The Right Technology To Manage the Workforce Efficiently
As you embrace a hybrid work model, using the right productivity tracking software for hybrid employees will be essential for your ultimate business success. In a hybrid workplace, employees can either work on-site or at home. To facilitate these activities, it is important to equip your employees with the hybrid workplace tools they need to work progressively.
You should provide all the hybrid workplace tools available to help your employees communicate with others effortlessly and work together from different locations. In a hybrid work model, tools for team communication, workforce scheduling, and work from home monitoring software solutions are even more essential. Using outdated software may lower their hybrid work productivity and overall employee satisfaction can drop remarkably. So while choosing hybrid workplace tools to support your hybrid workforce do proper research to help your team to work for the ultimate success of your business. 
3. Have Patience While You Develop Hybrid Work Culture
During the pandemic, maintaining a good work culture was one of the top concerns for employers to prevent burnout. It is not difficult to understand why it is still important while developing hybrid work culture. Given this reality, do not expect the organization's culture to immediately fulfill the new work environment. After all, moving to a hybrid work model requires time and space to adjust to new practices to make the workforce more efficient, flexible, and accountable.
4. Welcome constructive feedback 
In every workplace, it is important to understand employees' questions, concerns, and needs, the same goes for a hybrid workforce as well. Instead of assuming what employees may prefer, try to gather real feedback from employees to determine what makes the most sense for your organization. 
5. Bring Employees Together More Often
It becomes difficult for managers to bring all employees together when some of them are working from the office and others from home. For a hybrid workforce, team building and collaboration opportunities are a bit different. You can create a virtual event to help all your employees connect with each other and know each other better. It will help your employees to better understand each other and engage more in work activities. 
6. Routinely assess business plans and policies 
The development of a high-performing hybrid workforce does not happen straight away. If you closely watch your team, you will soon discover components of your plans and policies that require a change to match the ever-evolving company culture. Therefore, you should keep your eyes open to make necessary adjustments to increase the effectiveness of your hybrid work model. Try to periodically evaluate your practices to identify new opportunities for technology upgrades and employee improvements.  
Final Words
Effective hybrid workforce management requires solid planning and appropriate hybrid workforce solutions that help you track your globally distributed employees. In 2023 employees' location does not matter much, whether they are working on-site, remotely or hybrid, it is essential to have technology that makes it easier to increase productivity and keep them connected.