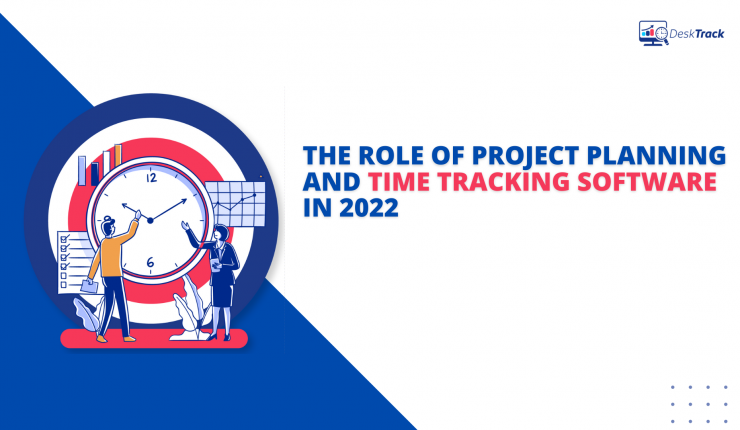 Hello everyone. in the following article, I am going to tell you about the best time tracking software for a project ever.
It's 2022; entrepreneurs are qualified and experienced enough to know how adopting new change in the organization can benefit long-term. Organizations that fall under mid-large size cannot manually monitor each employee towards a project. Large corporations are continually engaged in various projects, and there are large teams of individuals and a few leaders in charge of making each project a success. Without a software application, it can be difficult to complete a project as more individuals become involved in project management. One can complete numerous tasks in a well-organized manner. To make things organized and accessible, investing in time tracking software or project planning becomes a necessity. Project planning and time management play a very important role in any organization. It has become mandatory to manage a project properly with the requirement of scheduled closing dates, proper resource allocation, etc.
Employees can contribute time, examine projects, and work on them simultaneously using the project management tool's time tracking feature. The ultimate goal is to have a faultless work routine at a low cost. Entrepreneurs are continually bursting at the seams with new ideas, and they appear to have an unending supply of creative energies and energy to put a dent in the universe. To become a reality, ideas require a lot of nurturing, analysis, planning, and well-organized implementation. Internal and external elements that confuse, delay, miscommunication, and execution paralysis must be protected throughout the implementation of ideas. Businesses cannot afford to lose time, so investing in the best time tracking software. Project management and time tracking software aim to solve two main business problems – how to manage the deliverables in real-time, and how to record how each individual works on any given project.
How does Time tracking in project management software work?
The process of planning, organizing, and managing a project's budget, scope, and schedule is referred to as project management. It makes use of project management tools or software, as well as skills, techniques, and knowledge, to make project-related tasks go more smoothly. Similarly, project time tracking software allows users to keep a tab over a certain project, ensuring smooth flow and on-time finish. Project planning and time tracking software allow users or employers to add time entries for tasks, easily keep track of the hours spent on tasks and projects, and quickly create reports. Your team members should be able to add time entries to jobs using project management software's time tracking feature. Having a project time tracking app that is easy to use, yet highly productive can provide great enhancements in your daily tasks. After you've recorded the time, the software should allow you to view and print project time reports. This feature helps you keep track of your team's workload and generate reports for clients. In a recent survey, over two-thirds of organizations said that project management software with time tracking helps to improve the efficiency of their organization
Some of the ways how the project time tracking software works-
Adding Time Entries
Employees can use manual time tracking to select a task and manually enter the number of minutes or hours spent. The most significant advantage of this procedure is that it may be accomplished fast and effortlessly at any time. You won't have to worry about forgetting to set a timer as you go through your tasks. An alternative is to use a tracker to record and log the time spent on every job automatically. Employees start a task by pressing the play button in the software, then pause or stop the timer when they're not working on it.
Keeping Track for Hours
The employee time tracking software has features allowing users to keep a complete track of hours on work done. One of the ways the project time tracking software works is to control work at a detailed level without micromanaging people by seeing hours per task. You can quickly observe which jobs are going over budget and which tasks appear to be behind time. Time tracking in the different task levels will also assist you in estimating and budgeting for comparable tasks in future projects.
When you track time at the project level, you can see the larger picture. You can use this to examine your project's overall progress and performance rapidly. Using earned value management (EVMS) on larger projects requires this degree of detail. Conducting EVMS at the task level is too inconvenient if you have a project with more than 100 tasks.
Creating Reports
Having a complete report about the project's time gives employers a clear picture to select the right member for the next project. Using project time management software allows users to create- Timesheets and Time Reports.
Individual employees can use timesheets to get a quick summary of the jobs they worked on during the week and the amount of time they spent on each of them. As the project manager and other stakeholders, the reports that you will want to evaluate are time reports. These reports can view on CSV or PDF files from within the project management software.
Tracking Payments
The software carries features that enable managers to track the complete payment of an in-house employee and outsourcing team. The payment track is also visible to the team, ensuring full transparency in the organization.
Did you know that time management software increases efficiency, productivity, and employee performance?
Benefits of using Time Tracking and Project Planning system
Error-free Project Estimation
If you can track each team member's exact time on a task, you may apply the appropriate billable hours to a project with similar activities.
For instance, if you have a $4,000 budget for an upcoming project, the total time would be around 250 hours. You remembered from a previous project that your web designer spent 50 hours on work that you estimated would take 30 hours to finish. At that point, you can change your overall budget to arrive at more realistic figures.
Avoiding Work Overload
You can avoid heaping work on your team members by calculating how much time they require for projects and specific tasks using the best time tracking software. Work overload causes excessive frustration, which you may minimize by adopting this time tracking strategy.
Prioritize Vital Work
Every project has very important, less critical, and not-so-important tasks. Using the project planning software, the project leader can prioritize the work accordingly, which allows focusing on the highly vital work and finishing the project smoothly.
Increase in the Work Productivity
Work productivity matters the most in an organization, and timely planning and organizing the project allows employees to finish the project on time. Pre-scheduling the work will help in positive productivity among the team. Rightly use of project planning and time tracking software increases work productivity.
Take Away
Project planning and time tracking tool come with several benefits and are easy to adopt. In 2022, more projects will be welcomed as companies take more steps to go beyond borders and engage with new potential clients. This will require better coordination and a focused working environment. DeskTrack has been voted as the Top Best Time Tracking Software by a leading tech website. Cheers for DeskTrack!