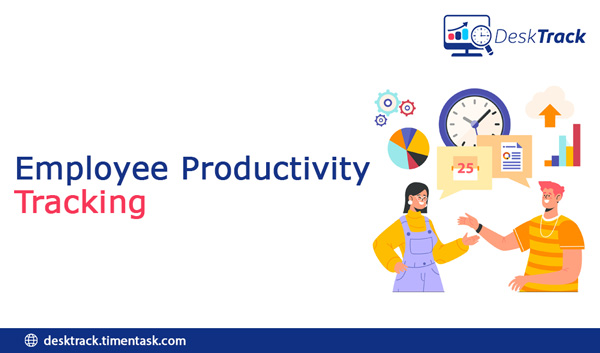 With the recent changes in the business and working environment, leveraging employee management software is no longer an option – it is a need, the need of the hour. Leaders are now more concerned with making sure that their remote employees are truly working when they are working from home, as corporations have begun to accept remote work as the new standard. 
In today's tough work environment, monitoring employee performance has become increasingly vital. The productivity monitoring software opens a whole new world of possibilities, wonders ad productivity; let's check it out.
Exploring the Growing Popularity of Productivity Monitoring Software
Whatever you choose to call it workforce analytics, productivity tracking, or employee monitoring software tech for monitoring employees is on the rise.
There is no longer a need for data entry personnel since modern productivity monitoring software is so sophisticated. With the push of a button, task monitoring is initiated, and reports can be generated automatically in accordance with certain specifications. Employers might spot potential areas for process simplification or work elimination by monitoring how employees spend their time.
It's like a digital VIP pass that allows you to watch your team's performance up close. That is the main purpose of productivity tracking software. The monitoring software is riding the tide of change as businesses and companies adjust to new work modes, whether they are remote, hybrid, or in-office, it is a one-fit-for-all.
What is Productivity Monitoring Software, and How is it Used?
Productivity monitoring software is an equipping tool for keeping track of work hours, whether your team is functioning remotely, hybridally, or in-office. A productivity tracker serves as an all-seeing, invisible supervisor. It documents nearly everything, (like really everything) a person does on the computer during working hours, from keystrokes to websites viewed. Amazing, right! 
Productivity monitoring software that is more powerful goes well beyond merely gathering data. They offer ready-to-use accurate data and information on each employee's productivity and payroll calculations, thereby saving you time.
But Why Should Businesses Monitor their Employees?
The primary goal of employee monitoring is to increase productivity and avoid inappropriate workplace conduct. Monitoring productivity entails taking measurements, keeping records, and doing analyses. It assists companies in locating problem areas and determining how to enhance performance.
To further grasp this, consider the advantages of employee monitoring.
What Benefits Does Productivity Monitoring Software Bring to the Table?
1.
Increasing Productivity
To increase their efficiency, businesses also monitor their staff members. Businesses may aid employees in developing their proficiency by keeping track of their performance and identifying areas that require more attention. Giving employees feedback and training to help them become more productive and efficient at work might fall into this category.
2. Identify and Prevent Time Wasting 
Without a doubt, the internet has contributed the most to time-wasting hobbies. Employees might have significant distractions while accomplishing their jobs, whether they are working in the office or from home. A workforce management tool can assist in identifying such a drop in production by monitoring the level of employee idleness and alerting managers to it.
3. Time Management is Improved
The fact that employee management software enhances time management across the board in the workforce is among the main justifications for using one. You may keep tabs on where and how much time staff are spending on jobs so that you can organize your future assignments properly.
4. Establishes Accountability
Everyone will immediately perform to the best of their ability once they feel responsible for their jobs. The nicest thing about staff management software is how much openness it fosters among your team members, encouraging them to take responsibility for their own work. Because everyone will be able to see whether they achieve or fail, after all.
5. Improved Understanding of Staff Performance
Monitoring employee behavior does more than just keep them on task. You have access to a lot of information through monitoring your team's activity at work that may not have been previously available. This data can be used to address issues in the workplace such as heedless behavior, idle time, and data security. But more crucially, it aids in determining each employee's level of productivity. 
Key Factors to Consider While Choosing Productivity Monitoring Software
1. Good, Efficient Features:
Make sure the productivity tracker you choose has capabilities that address the organization's most crucial demands by identifying them. Time tracking, activity & productivity monitoring, and communication monitoring are some typical characteristics.
2. Extremely High Security:
Software used to monitor employees gathers and stores a lot of information, including sensitive information. For instance, the keylogger can record a crucial password or preserve a vital piece of data in a snapshot. Make sure that the program prioritizes secure data storage before deciding to use it for staff monitoring. 
3. Comfortable Interface and Adaptability:
Scalable and flexible staff monitoring should be available. The process of adding or deleting a worker from the system shouldn't be cumbersome or time-consuming. Flexible settings are also a huge plus because you can customize them for each employee and enable and disable monitoring functions whenever you want. Until you utilize the monitoring system, it is difficult to know if it is as flexible and user-friendly as it claims to be.
4. Compatibility with Remote Work:
Barriers based on location are obsolete in this era of remote employment. Make sure the remote work monitoring software you choose supports remote team members without any issues. It ought to improve teamwork wherever your team is by bridging the gap between the office and home.
5. Precision and Insights in Data:
Although statistics are truthful, they must be precise. The best software analyzes project progress, spots bottlenecks, and unearths potential for efficiency. It does more than just count hours spent.
Monitor Your Team's Productivity for Better Results 
Well, that was everything you needed to know about employee productivity monitoring software. It's a booster of productivity and will help you and your employees do better. But do not forget that it is not about being "watched." Being supported, in control, and data-driven is key.
An employee performance tracking software is the way to go, quickly and easily. It enables companies to monitor employee activity, detect problems early, establish rules and regulations, and foster a good work environment that leads to efficient employee performance.
Productivity tracking software, such as Desktrack, is the best solution for any business since it combines efficacy with employee privacy. It is appropriate for both in-office and remote employee monitoring, with features such as flexible time tracking, productivity reporting, payroll calculation, and much more.