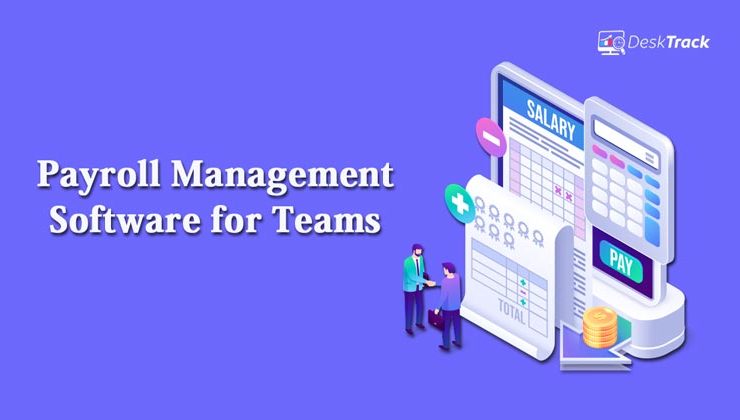 Payroll management is not an easy task, as many companies state it as a very tedious and time-consuming job. And when done manually, it holds a lot of errors during payroll. The payroll processing consists of employee salaries, bonuses, and deductions. 
Table of Contents
Payroll Management Software for Faster & Accurate Payroll Processing
Therefore, payroll management software can be the best option to resolve all the issues. It helps managers or HRs handle the complete life cycle of payroll processes end-to-end because it needs effort, time, and resources to bring out the whole operation monthly. The payroll tracking system is an approvingly helpful answer for organizations to manage better. 
Read more:- Employee work hours tracker for small business
What Is Payroll Management Software?
A payroll management system is not only used to manage the company's payroll but also the employee enrollment and financial records efficiently and automatically. It eases the payroll processing of the complete workforce by organizing large amounts of data. Therefore, it simplifies the procedure of payroll-related processes and allows managers to pay their proper and error-free pay to their employees on time. 
Payroll management does not bring any earnings to an organization, but it is an important task for every company that should be done with proper direction, and that is where the precise payroll solution takes place. These are the most beneficial and feature-rich tools that are invented to streamline payroll and other HR processing with ease. 
Read more:- Business cost optimization tips
Importance of Payroll Tracking App for Your Business
The payroll management system features enable organisations via workflow productivity, strategy automation, expense savings, data maintenance and safety, customisation, HR work processes and efficiency, and integration. Therefore, know the importance of a payroll tracking app to improve the overall productivity of your business:
Automating payroll
Manual payroll processing may lead to mistakes and inaccuracies that could generate high risk and loss. Payroll management software can help managers save time and manage payroll better by automating both uncomplicated and complicated tasks. The best payroll tracking app maintains the operation systematized, manageable, and efficient from getting payroll prepared to the end.
Tracking payroll expenses
When a business thrives with a better outcome, the payroll expense also increases, and at that time, a company requires comprehensive clarity of its revenue statement report every month. Payroll management software can develop all these statements and let you track payroll expenses, from employee salaries to bonuses. 
Tax processing
As we have seen, businesses have been penalized because of non-payment of taxes. Implementing payroll management software can help companies streamline the tax payment process, work according to the new laws, and handle other expenses. Therefore, the software can help your organization to stay up-to-date and make no errors while tax deductions.  
Integration with other apps
The payroll process is not an easy task as it needs multiple apps to coordinate and deliver to the employees every month. And with the thriving business, it becomes more complicated and time-consuming. So, the payroll management system software helps you bring transparency and collaboration among the apps that will help you access the complete data under one console. 
Read more:- What is Stealth Employee Monitoring Software
Advantages of Payroll Management Software India
The software will help your company save a lot of time and money and help you get rid of man-made errors and efforts as this can save you from examining the data manually. 
Also, it keeps a tab on the payment processing and provides the correct amount as per the employee roles. And by this organizations can easily pay their taxes and deliver added protection to sensitive enterprise and employee data.
Therefore, the payroll tracking app helps create more flexibility and clarity among the workforce as issues will be fixed via effortless arrangements, employee advantages, timesheets, organizational data, and many others. Below given are some of the advantages you need to know:
Document maintenance:
The payroll management software helps the HR department keep records of credentials, certifications, and other important data with details of each employee rather than recording them manually, as it leads to time-consuming and consists of multiple errors.
Processing of payroll:
The payroll management software India holds the entire processing of the payroll from beginning to end and helps to decrease the workload by removing the manual recordings of each staff member. 
More secured salary calculations:
The payroll management system syncs with the management, and that will allow payroll processing to be done automatically, quickly, without any errors, and with ease. 
Data Security:
By increasing payroll data security, the software allows companies to specify employee roles and responsibilities. Also, it allows the employees to have complete access to the payroll system as per their roles and work performances. 
Payroll reports:
With the help of payroll management software, managers can generate a complete report of user performance and systematic payroll anytime and anywhere. 
Payroll Management Software Features
There are many features of payroll management system that can help businesses to make their payroll management better and more accurate. Also, these features let you know the software delivers more safety to save the data of your workforce.
Streamlined onboarding
The best payroll processing software india should allow you to enlist employees onto payroll fast, providing complete details, including salary reports, tax, and income statements of staff members and their profiles under one roof. 
Custom salary details
The best payroll management system software for your organization will allow you to customize wages, funding, deductions, refunds, and adaptable advantages as per your organization's approach. 
Single-click payroll runs
Implementing time tracking and payroll software into your organization can ease a lot of things by which the payroll processing gets more flexible and pays on time. The software makes the processing automatic which pays the salaries in just a click every month by calculating taxes, payslips, deductions, etc. 
Online salary payments
Payroll management system software will help you deliver employee salaries on time and without any errors directly into their bank accounts associated with your organization. The software will notify you in advance and can pay the salaries with complete security. 
Employee self-service
Payroll management system software allows you to save a lot of time during working hours and permit employees to download their salary invoices, tax worksheets, investments are done, refund claim, and many more. 
Leave and attendance management
The modern payroll software with time tracking has multiple features that can be easily integrated with the existing applications and can help organizations manage everything from leave and attendance to payroll management. 
Aspects to Consider before Selecting Payroll Management Software
Selecting the best fit for any organization is an essential aspect as it needs proper inspection and investment. And that's why before implementing any software, you should check its factors properly, as a complicated and unproductive system can waste your time and money. So, before making any decision consider these below-mentioned points:
A free trial is a must.

The software should be flexible, effortless, easy to use, and have all the necessary aspects that can help your organization at every point.

The software you choose must be scalable and long-term because you cannot keep changing the software every month. It should be placed with your development plan and should develop with the organization.

A cloud-based software should be the best option as it is accessible to gather information anytime and anywhere. 

Many software has the ability to secure the data of your employees. So, select the one that can keep your employees' data properly and with complete security. 

Support is the most essential aspect you need in your software. Check with your dealers how much they are available to resolve your issues regarding the software or requirements before buying one. 
Conclusion
When a new business starts, it manages its work manually, but a proper development of an organization needs an appropriate hierarchy. From supervising and managing your employees to their payroll, everything needs to be done in a way that creates no issues for you to manage them. 
Therefore, before choosing payroll software, you should examine it properly whether it is relevant to your company's needs or not, and it's worth taking time to do some analysis to encounter the most suitable fit. 
Payroll software helps all types and sizes of the company, and some of them are built for the specific size of organizations which affects the price. So, choose the one who can specify and manage your company's payroll by providing you with all the benefits you need for your organization.