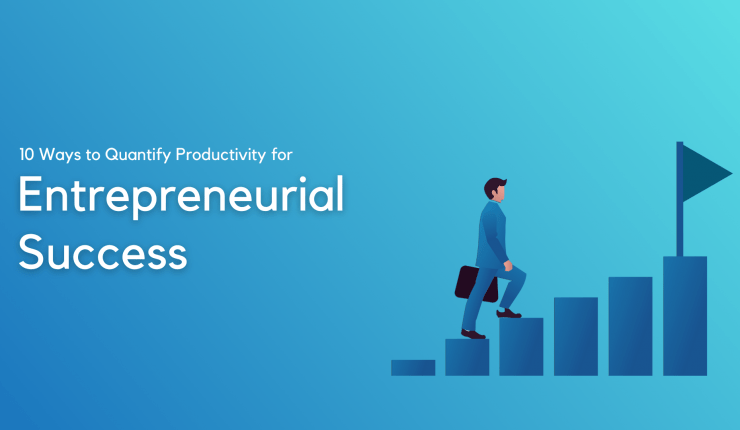 Quantified productivity is the key to entrepreneurial success. Motivation, focus, and inspiration are what drives productivity for entrepreneurs. If you want to achieve more productivity you need a better plan than being scattered. You also need to measure your productivity and make it a priority.
You handle endless activities and deadlines daily. To maintain productivity, a balance between your life, technology usage, and physical and mental health is a must. Managing a team and quantify productivity for entrepreneurs simultaneously is difficult. When the team falters on their achievable targets, it becomes difficult for you to meet goals. 
Have you ever thought about why it is becoming challenging for you and/or your team to give 100% productivity? How to improve productivity in business?
"Distraction" is the primary reason.
According to a survey conducted by Harris Poll, distractions like noisy co-workers, cell phones, social media, and gossip acts as a significant obstacle to productivity. 
Now, let's look at the Ways to Quantify Productivity for Entrepreneurs 
1. Do not suffocate yourself with ideas.
Innovative ideas are suitable for any business, but cluttering the mind can affect your skills. Ideating hundreds of concepts is not beneficial for any business. Zeroing in on one idea and transforming it into a new opportunity is what you need. Focus on one business aspect at a time. 
2. Avoid excessive multitasking, says science.
As an entrepreneur, giving 100% to one task is always good for efficient productivity. 
Noted studies published in the American Psychological Association like Executive Control of Cognitive Processes in Task Switching and Costs of a Predictable Switch between Simple Cognitive Tasks prove that multitasking is dangerous. 
A multitasking person suffers the risk of brain damage and cancer. Ninety percent of the top performers have high Emotional Intelligence (EQ).  Multitasking can gradually decrease the EQ level and negatively impact the performance level. Focus on one task and then move to the next, it is the best productivity tip for entrepreneurs' success. I know this is the opposite of what the hustle culture has taught but just be mindful of excessive multitasking. If nothing else, multitasking leads to quicker burnout. 
3. Learn to say "No."
Run your business with a roadmap. Learn to make a choice and say "no" to unwanted or unproductive suggestions.  Prioritizing activities helps to simplify your work and increase your performance level. Use the best business productivity tools. Prioritizing saves your time and contributes to achieving the product roadmap. As an entrepreneur, you must differentiate between right and wrong. It is good to say "no" to some suggestions. Don't be a "yes" person.
4. Do it and Delegate it
Understanding the importance and superiority of a task is vital. An entrepreneur needs to decide which work needs personal and undivided attention and what can be delegated to the team. Duties on the top of the priority list should be completed first. Delegating is often an intelligent choice. Your delegated personnel can add a better perspective to work. If you maintain a good relationship with team members, productivity improves, and they go the extra mile for your job.
5. Outsource projects
If you are short on internal resources, outsourcing some projects to freelancers and agencies can help you concentrate on priorities. It is effortless to hire designers, writers, consultants, developers, and HR personnel as a freelancer from various freelancing sites such as Upwork, Toptal, and Craigslist or to hire an agency to handle specific departments.
Instead of working on assumptions, set proper milestones to achieve the final goal. Divide your goal into small milestones and create an appropriate plan to achieve them step by step. 
6. Healthy work environment
People often mistake a grave and dull work environment to be productive. Instead, a creative and friendly atmosphere can prove to be a better workspace. Talking to your colleagues over a coffee or lunch is not only a good recreational method but can also prove to be the genesis of many innovative ideas. Seeking fresh perspectives and exchanging plans and ideas is not a waste of time.
7. Stay healthy, take breaks
A healthy mind and body can maximize productivity. Instead of pressuring yourself to work, take short breaks to relax. Sitting straight in a chair for 9-10 hours can cause various health issues like high blood pressure and spondylitis. Take a 5-minute break from your sedentary work life every hour.  It improves concentration, focus, productivity and vigor. These are the best productivity hacks for entrepreneurs. 
8. Let your team be expressive
The best product teams are those who coexist in a psychologically safe environment. A  2016 study by Google suggests that if your employees feel comfortable sharing ideas and expressing fears, they tend to be more productive. An environment where employees can freely ask questions and share thoughts builds trust among the team.
Set a dedicated time for team meetings. These sessions can be used as a stage where each team member can share, ask and improve. These brief meetings are best for query resolutions, brainstorming, sharing ideas, and petty issue settlements. Otherwise, it has often been observed that following the traditional hierarchical pattern and lacking open conversations tend to show reduced productivity. 
9. Time management
Set a deadline for every project and specify the hours and days it would take to complete. Evenly break your working hours based on the priority level of each task. You can also sync projects with automated employee monitoring software. With DeskTrack, you can quickly add and set time logs for various projects. 
You can set a start date and end date for your project, and it will give you a complete log time summary. It includes minute details like start date, end date, to-do task list, excluded task list, project details, and total time spent on the project. The automated project management software industry has changed the way businesses are conducted in the millennium era. Such software has the magnitude of developing, managing, organizing, planning, resource tools, and estimates. 
10. Motivate your team
A team is a group of passionate people with different mindsets and ideologies. Therefore, monetary motivation is not sufficient every time. Value appreciation and recognition are terrific ways of motivating teammates. Appreciation often works as a bonus for efficient and hard-working employees. 
Maintain a journal to write down daily achievements, such as tasks completed on time, accomplished goals, and happy moments at work. Spend a few minutes every week to appreciate accomplishments and set new jobs. A little appreciation can prove to be valuable and forge a strong relationship with the team and company. 
As an entrepreneur, you should invest some time to motivate and encourage your team. Also find best productivity apps for enterpreneurs
Endnote
Availability of time is the same for everyone. It depends on us how we utilize the time for better results.